My photos tanked from the Geminids evening. It was the f-stop. Doh! So stupid of me. I was too tired last night to try it again, but we did walk outside to see some really nice meteors. With the heavy light pollution from Los Angeles, we could only see the fairly bright ones. At that rate, it must have been slightly better than what we were getting at our dark sky site the night before. Very exciting, even when walking the dog to the dark hill in the neighborhood. Note: colored Christmas lights are generally very tacky and rarely pulled off well without corporate sponsorship.
To make up for the photo fiasco, I decided to create a birthday dessert for Kaweah tonight as she turned seven years old today. Here's the dessert (it looked delicious until I added the dog biscuits):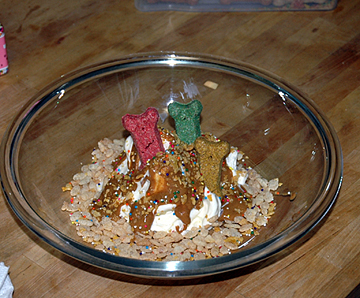 It's vanilla ice cream on rice crispies with peanut butter, cornflake crumbs, colored sprinkles and dog treats on top. She was so excited: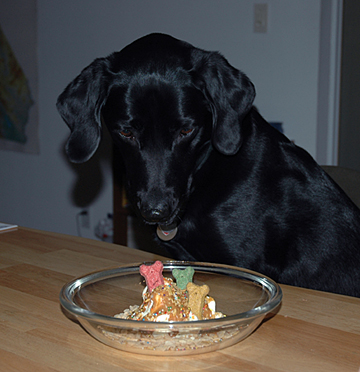 We're all set to go on making some crackers tonight, except that I need to bake a batch of brownies. I'm feeling tired, but perhaps baking will wake me up? I really don't want to make these brownies, but I opened my stupid big mouth and told someone I would. Now I have to. Next time, I should please remember to shut up. Jeremy and I tested one of the cracker elements this morning. We each tugged on one end and it went SNAP! and I screamed and then we laughed and I jumped up and down because I think Ben is really going to like the SNAP! I never played with this stuff as a kid. I didn't even light matches until I was 16. But here's a complaint. I can't find those nifty little chocolate bottles filled with sweet liquor syrup at Trader Joes! What's up with that? These aren't for Ben's crackers, these are the ones for adults. Just a day or two more to search and then I've got to give it up. Need to send Amy's surprise before she leaves for tropical island paradise.
Time to make the brownies. Happy Birthday, Kaweah. You're my best pup!