I enjoyed chilling out with folks last night. It was a small turnout, which means lots of leftovers, but also a more relaxed atmosphere to hang out and chat. Some of the goods…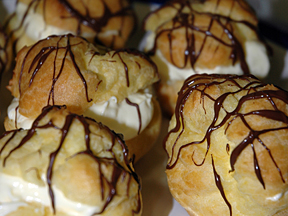 I noticed while cleaning up last night that the mousse looks a lot like brown vomit. A good thing not to tell people you're serving it to, but who on earth came up with this recipe, I wonder? I didn't like the CIA mousse recipe that much, mostly because it required 4 separate bowls and 3 whippings. Jeremy and I had an interesting discussion about organic coffee and how the flavor quickly falls off with elapsed time since brewing. Regular coffee doesn't have this problem (he tells me – I don't drink coffee). I wonder what sort of junk goes into non-organic coffee? Cooking for engineers has a great list of additives to foods. It's interesting, and gross, and scary.Making chocolate shells because no one in Pasadena carried them pre-made. I actually liked playing with the balloons more than making the shells.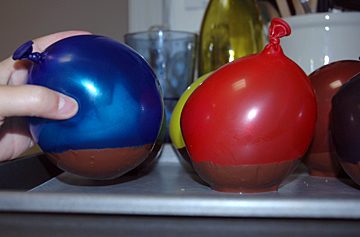 I guess that chocolate mousse isn't so bad once you get over the mental image of brown vomit. I tasted some tonight and it's very smooth with a good buttery mouthfeel, but not the bad buttery where it coats your tongue and you feel like you're eating wax paper.