Orchid Pavilion is touted as the best Chinese restaurant in Boulder. I hope you will forgive me if I am skeptical of Boulder residents' ability to judge good Chinese food, but I am skeptical… very skeptical. At 9 pm on a Friday, the restaurant was fairly busy, although we had a heck of a time finding it because there were no signs on the outside on the street unless you walked right up to the door and saw that it was indeed, the restaurant.

i will never understand the decor of chinese restaurants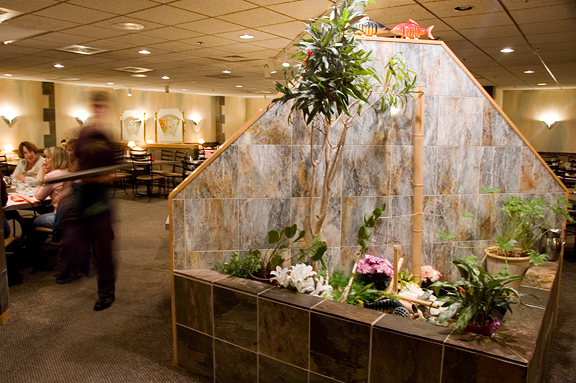 I felt encouraged when our server arrived and spoke Chinese (Mandarin) with me when I asked her about menu items. The menu offered several standard Americanized dishes as well as some of the more authentic plates I have enjoyed in Los Angeles and the Bay Area. The decor is as tacky and misguided as any Chinese restaurant, so this seemed like a good start.
standard pot of green tea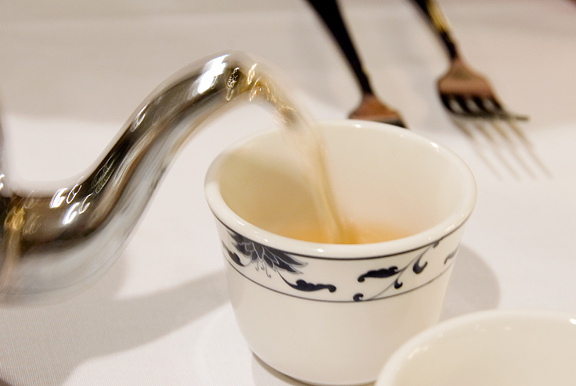 Orchid Pavilion is run by a Chinese family. The restaurant is clean, spacious, and has a somewhat sterile feeling to it. All of the other patrons were white, which is not too surprising in Boulder, but I was hoping to see at least one other Asian customer for validation. Our server brought us a hot pot of tea to start. There were no chopsticks among the silverware – testament to the clientele. The staff was polite and service was solid, timely.
sea scallops with crispy tofu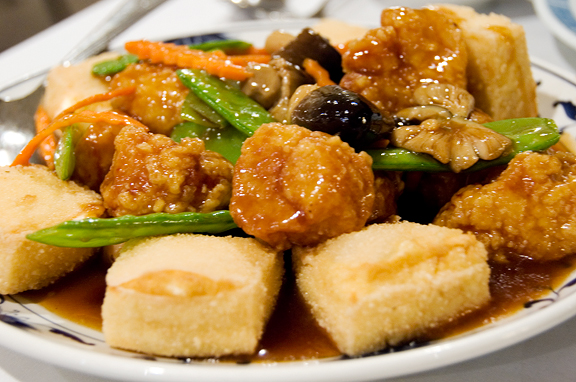 Our first dish was the sea scallops with crispy tofu ($13.95). In my family, part of the ordering process in a good Chinese restaurant is to interrogate your server about how food is prepared and to ask if the ingredients are fresh (particularly with seafood). Our server assured me the scallops were large and fresh, not small and frozen. Despite the scallops being deep fried, they were tender and delicious. Even better than that, the tofu was the best – lightly fried but silky on the inside. Straw mushrooms, snow peas and some token carrots were tossed into the mix and served in a light sauce.
crispy pepper calamari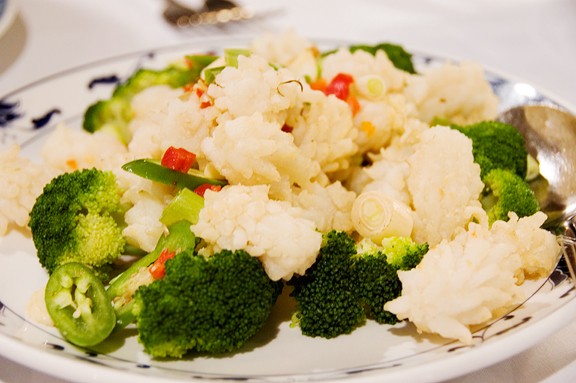 The next dish to arrive was the crispy pepper calamari (jiao yien yo yu) ($9.95). Traditionally, this dish should arrive hot, crispy on the outside, chewy and tender inside, with a salty and spicy seasoning. I was most disappointed in this plate. The squid was neither crispy nor spicy and the broccoli was a steamed, flavorless tragedy. The plate was accompanied by a small saucer of sauce (a cornstarch, soy sauce base) which is totally inappropriate if the squid had been seasoned properly. Don't order this plate.
grand marnier prawns with walnuts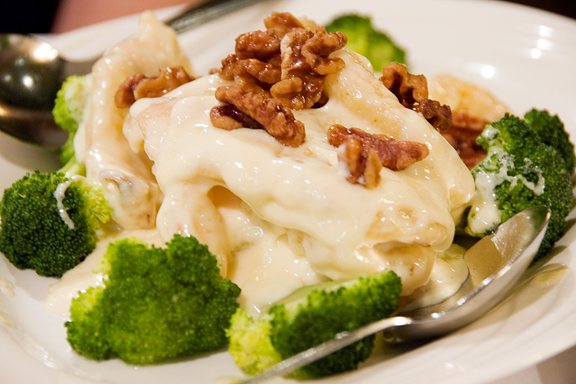 The Grand Marnier prawns with walnuts (hu tau shia) ($12.95) is another standard plate served up at several establishments in SF and LA. These prawns were butterflied, battered, and fried. They were strewn atop a bed of more steamed, flavorless broccoli, and topped with far too much mayonnaise-Grand Marnier sauce and candied walnuts. The shrimp were okay. The sauce was slightly pasty (flour-like) which isn't the right texture at all, and the walnuts were fine.
1/2 peking roast duck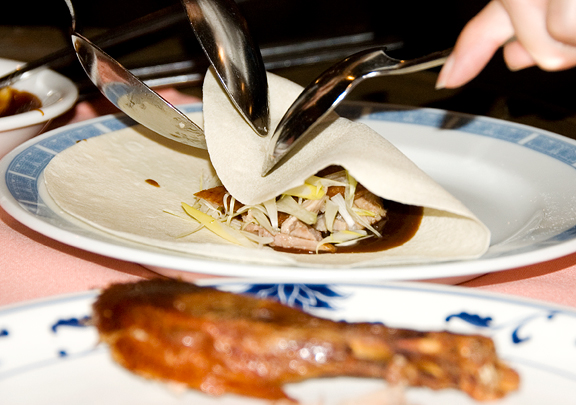 We got a half order of the Peking roast duck (bejing ya-tse) ($14) which was served to us in mu shu pancakes with hoisin sauce and scallions, tableside. Aside from being a tad dry, the duck was fine and the second best dish of the evening.
I'm not sure what I was expecting from this restaurant, but I came away feeling unimpressed and disappointed despite my little fire of hope. I think the cook knows how to make real Chinese food, but I am afraid that the business is trying to cater to a clientele that does not know and may not appreciate authentic Chinese cuisine. That is a shame. I know there are Boulderites who would love the real thing. At least, I hope.
Orchid Pavilion (permanently closed)
1050 Walnut St.
Boulder, CO 80302
303.449.4353
September 29, 2006
Chinese
$55.08 including tax (not including tip) for 2 diners
Rating: 75/100 (C)