I put together a bowl of leftovers this afternoon for Jeremy's lunch: mashed potatoes topped with asparagus, mushrooms, bacon, and gruyère cheese. I nuked it piping hot and handed it to him and his face lit up.
You see, Jeremy has been craving KFC's famous bowl monstrosity based on the pictures he has seen in those annoying junk mailings we get in our box every two days. He has never tried one yet – and the reason I know this is because he is still alive.

kfc's famous bowl: 690 calories and 31 grams of fat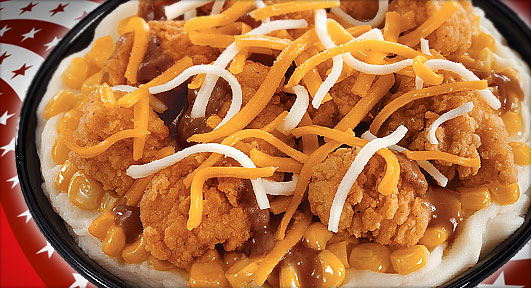 It's a bowl of KFC's instapotatoes with gravy, corn, popcorn chicken, and cheese. *shudder* It looks really disgusting to me, especially that tricolor cheese crap.
This is what his lunch looked like today:

leftover dinner party bowl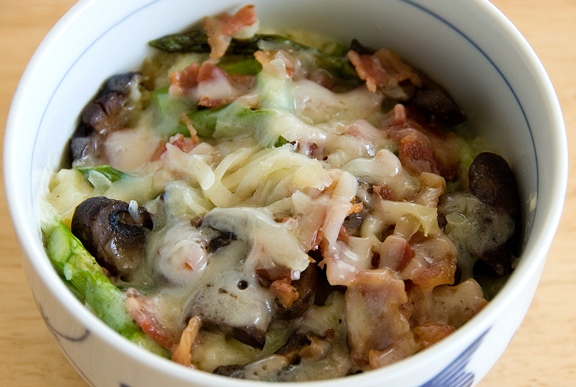 lovin' spoonful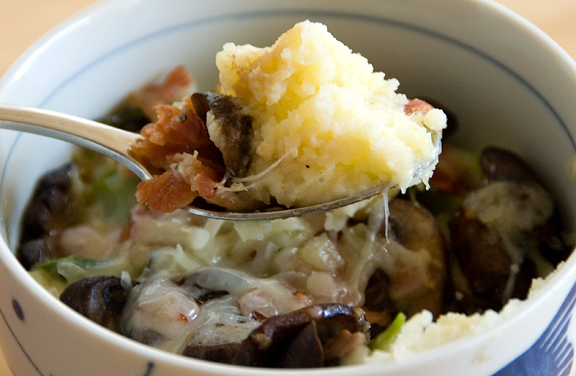 He said it was delicious. He said this was the upscale version of the KFC famous bowl and I wasn't sure how to take it, but I smiled and thanked him because he was grinning and munching and looking so happy.
Which got me thinking about food – something I think about at least 40 times a day. With Thanksgiving coming up, everyone is getting ready for their standard bird feast. I know all of those excellent cooks out there still have fond memories of junkie foods like hostess cupcakes, sweet potato casserole with marshmallows, or that Nasty green bean casserole with the cream of mushroom soup and those disgusting fried onions (from a can!) sprinkled on top. I think it comes from childhood conditioning and it requires a lot of mental and physical discipline to break yourself of it. I managed to do so with Hershey's chocolate – partly because it sucks and partly because I don't dig on chocolate except to make stuff with it. Some American traditions are really frightening. I hate that green bean casserole and I don't think there is any nutritive value to it either.
Why folks stress so much about making a Thanksgiving meal probably has more to do with family or social pressure. Why a woman is expected to make the meal annoys me to no end. When men hover about the kitchen wondering when food is going to be ready, I tend to want to skewer them with my Henckels Five Star. But that's no way to treat a good chef's knife and I don't invite sexist jerks into my house anyway – at least not knowingly and certainly not twice. The traditional meal can be whipped up very quickly with all of the Thanksgiving Made Easy products in stores today. [Hell, you can even have it made and then heat it up at home.] But from this cook's point of view, the quality of your food and the nutrition will be far greater if you make it from raw ingredients.
Cranberry sauce is as easy as boiling fresh cranberries, sugar, and water in a pot. Mashed potatoes require boiling potatoes, and then mashing them and adding what you like (the potato water, milk, cream, butter, etc.). Instead of that casserole, how about sautéed green beans with garlic and olive oil? I would also beg anyone to please omit the jello salad with marshmallows and cool whip from the menu. But you see, my Elitist Food Attitude has me altering the menu beyond recognition. I guess I consider a traditional Thanksgiving meal to be fairly mediocre as meals go. There is nothing particularly exciting or special except that the bird takes so long to roast and everyone feels like rolling under the dining table when the meal is over.
E asked me today what I was making for t-giving dinner and I emailed her my very non-kosher rundown (all of the shellfish and the prosciutto). We laughed about it and she told me that she didn't necessarily agree with the reasons for eating kosher (that whole god thing), rather it gives her a sense of connection to her culture. And I understand and appreciate that, not only because that is part of E's personality, but that I also have a similar feeling of connection between cooking Chinese food and being screamed at to get perfect SAT scores. Food is so much more than eating for me. Food is about tasting (know folks who just shovel food rather than taste it?), sharing, creating, expressing, experimenting, loving, celebrating, consoling, remembering, honoring, caring, achieving. Food is life.