Friday, June 22nd, 2007
I should just learn to accept that it is okay to purchase a cake. But not yet.
It's really hard for me to bake in someone else's house, mainly because their kitchen isn't outfitted the way mine is, but also because I need to dominate in the kitchen – no room for yackity yack, please get out of my way.
Today's endeavor involved two cakes that will be traveling with us. The first: lemon lemon with lemon cake. The second: chocolate with chocolate and chocolate cake. If the second cake was not for Jeremy's grandma, I might have gotten a lot more interesting with the flavors, but the Darlings like their chocolate straight up. Not the most sophisticated, but certainly doable.
The recipe I have for the lemon cake base makes a lot because I only have 9×2 pans. I like the 9×3′s they have at school. So we had enough batter for a mini 6-inch. I made all of the components for the cake and then packed them up since it makes more sense to assemble it at Elena's place. I wanted to test it out though in mini form, so I made the 6-inch version with limoncello simple syrup, lemon curd, and lemon buttercream. It's cute.

mini lemony lemon cake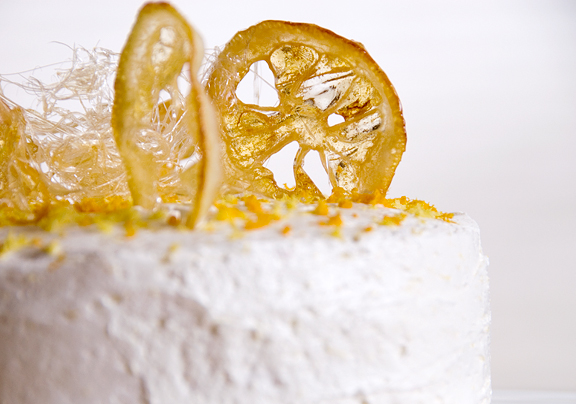 **Jump for more butter**