I felt like a new person (or rather, the old me) today! I got up, worked out on the rower and the bike, vacuumed, and then set to work in the kitchen. I had been feeling uninspired. We had a ton of fruits and vegetables threatening to go south if I didn't cook or prep them right away, so that's what I did – I attended to my produce. If you're anything like me, you 1) love fresh food and 2) hate to waste it. Having our compost bucket in the kitchen takes some of the guilt away when I have to toss slimy green onions, molded strawberries, or shriveled lemons. But really, I just don't want to throw my money (i.e. good produce) away.
* First I topped and washed 2 pounds of strawberries for freezing (to be puréed for buttercream frosting in winter).
* Then I simmered 6 organic chicken drums in a pot of water to begin making Brunswick Stew.
* Next I made soy sauce chicken by tossing 4 organic chicken drums in a medium saucepan with green onions, ginger root, star anise, soy sauce, sugar, and water. Simmer for 2 hours covered, then cool.
* While the pots were simmering, I assembled my teriyaki marinade for the pork chops: minced garlic, minced green onions, minced ginger root, soy sauce, sugar, sesame oil. Dumped it all in a ziploc and set the whole shebang in the fridge.
* Then I peeled, cored, and chopped a pineapple, honeydew, and cantaloupe.
* After that I roasted two eggplants and a butternut squash.
* With veggies roasting in the oven, I made Japanese cucumber salad to go with the pork chops.

making japanese cucumber salad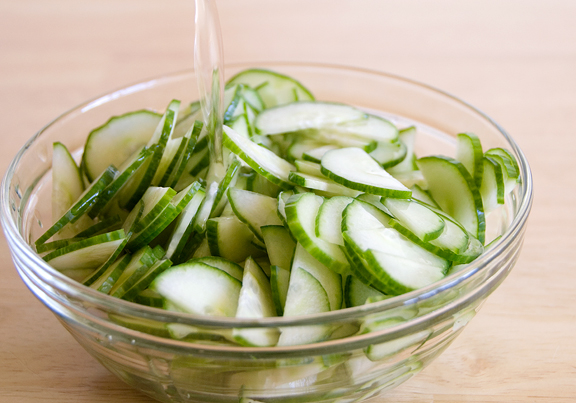 * When the chicken for the Brunswick stew was done, I poured the broth into a tupperware and refrigerated it (for defatting). I removed the bones and skin from the drums and shredded the meat which was stored in the refrigerator.
* I removed the eggplant and squash from the oven. I peeled the butternut squash, diced it, and put it in the fridge for salads later in the week. Cutting the eggplant tops off and slicing them in half, I proceeded to scoop the meat from the skin.

steaming hot roasted eggplant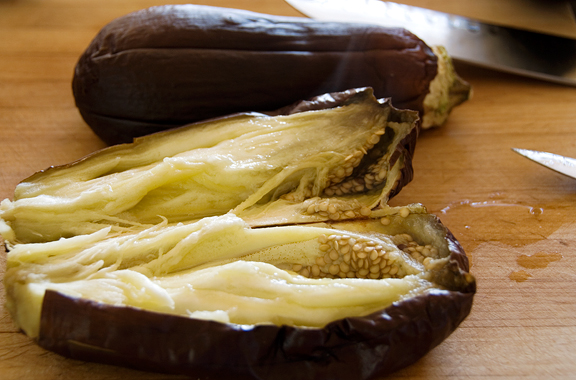 I dumped the eggplant guts, mashed garlic (with salt), and tahini into the food processor to make baba ganoush. Grabbing some leftover lemon juice from the fridge, I had less than one lemon's worth. As I juiced another lemon, I wondered what I would do with the excess. But that was decided for me when I felt lemon juice splattering on my foot because I had forgotten to close the juicer spout. Durrrrr. Turns out I had just the right amount after the spill. Mix that with the eggplant and voilà!
homemade baba ganoush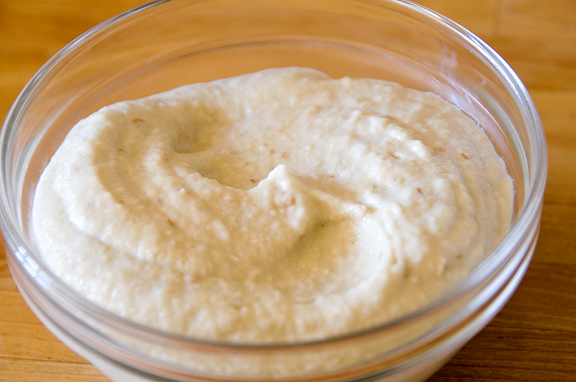 Tastes much better than that junk they sold in Whistler (which was some adulterated version of Lipton onion soup dip, if you ask me).
* Next I boiled some water and soaked fresh campari tomatoes for a few minutes, then scored the skins for peeling and diced the tomatoes.

peeling tomatoes for brunswick stew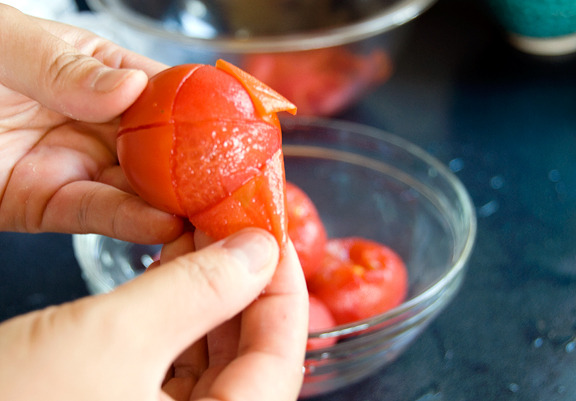 * I then strained the fat from the chilled chicken broth and set it for boil in a large soup pot.
* I diced onions, potatoes, and zucchini to add to the broth with the diced tomatoes. I chucked in a few cups of corn and lima beans too.
* While the stew was simmering, Jeremy came home and we went outside to treat our deck with protective stain! After an hour, I went into the kitchen and added the shredded chicken meat to the stew along with sugar, pepper, and salt.
* We finished the railings and half of the floor by 8 pm and came inside for a nice bowl of Brunswick stew for supper!
It feels so good to be alert again and excited about food and getting stuff done. Hurrah!
Now here are those recipes:
Soy Sauce Chicken
4-6 chicken drums (organic is preferable)
4-5 stalks green onions, trimmed and cut into 1-inch pieces
8 slices ginger root, peeled
2-3 whole star anise
2/3 cup soy sauce
2 tbsp sugar
enough water to cover the chicken
Place all ingredients in a pan with a tight lid (or use a crockpot). Bring to boil and then reduce to a simmer so that when you cover the pot, the liquid will not boil over. Simmer for 2 hours. I like to remove the bone and skin from the chicken and serve the meat with the broth over Chinese noodles with bok choy, napa cabbage, or spinach for a Chinese noodle soup.
Brunswick Stew
1 whole chicken (or equivalent in parts)
water for broth
6 potatoes, peeled and diced large
2 onions, diced
3 zucchini, diced
1 lb. tomatoes, peeled and diced
2 cups corn
2 cups lima beans
3 tbsp sugar
salt to taste
pepper to taste
Place chicken in a large pot of water (at least a quart, probably more) and bring to boil. Reduce to simmer and cover for 2 hours. Remove chicken from broth. (Optional: to defat the broth, chill in refrigerator until fat solidifies on top – skim to defat). Pick meat from chicken and reserve. Place broth in stock pot and bring to boil. Add all vegetables and simmer for an hour. Add chicken meat and seasonings and simmer for 30 minutes. Serve. *This makes an enormous amount, so I usually halve the recipe.
Japanese Cucumber Salad
1 English cucumber
3 tbsps sugar
1/4 to 1/2 cup rice wine vinegar (seasoned)
sesame seeds (optional)
Cut cucumber in half lengthwise. Slice thin into half-moon cross-sections. Meanwhile, heat 3 tbsp sugar and rice wine vinegar in a pan until sugar is dissolved and mixture is boiling. Remove from heat and let cool. Pour vinegar mixture over cucumbers and refrigerate for at least an hour. Toss with sesame seeds and serve.
Baba Ganoush
2 large eggplants
2 cloves garlic
salt to taste
1 lemon, juice of
4 tbsps tahini
olive oil for garnish (optional)
Score the skin of the eggplants lengthwise with a knife to allow steam to escape while baking – about 5 or 6 cuts per eggplant. Bake at 400F for 30 minutes to an hour (until you see the skin starting to burst). Slice the eggplants in half and scoop out the flesh. Slice garlic cloves and sprinkle salt over the slices. Mash garlic with tip of a knife until it resembles a paste. Place eggplant flesh, tahini, garlic paste, and lemon juice in a processor and pulse until creamy. Serve with olive oil.
Teriyaki Pork Chops
* works for chicken too
4 pork chops
1 cup soy sauce
2 tbsp sesame oil
1 tbsp sugar (or more if you like)
4 cloves garlic, minced
4 stalks green onion, minced
2 tbsp ginger root, minced
Mix all of this into a ziploc bag and marinate for at least 30 minutes, but I prefer overnight with occasional flipping for even marinate. Grill to appropriate internal temperature. Take remaining marinade and boil in a pan. Strain the sauce and thicken with cornstarch to serve with pork chops or chicken skewers. * I like to use chicken thigh meat – better flavor and juicier than breast meat.