I don't usually buy a lot of peaches and plums and nectarines, just because Jeremy doesn't dig on drupes and it's cheaper to buy fruit we both eat. But when they are on sale, I'll hazard a few from time to time. Sometimes I will pick a few up from a farmer's market when they are really fragrant and absolutely juicy ripe. Well, I fell sucker to a sale at Safeway recently and when I bit into one raw (because that is my favorite way to enjoy fruit), it was just a touch grainy. So I looked around for a recipe to use up the rest of the nectarines. Most recipes are listed for peaches and not nectarines, so I found: Georgia peach cobbler, Georgia peach bread, Georgia peach tea cake, Georgia peach muffins, Georgia peach this and Georgia peach that. Just in case you were wondering where peaches are grown…

wash, halve, and pit the nectarines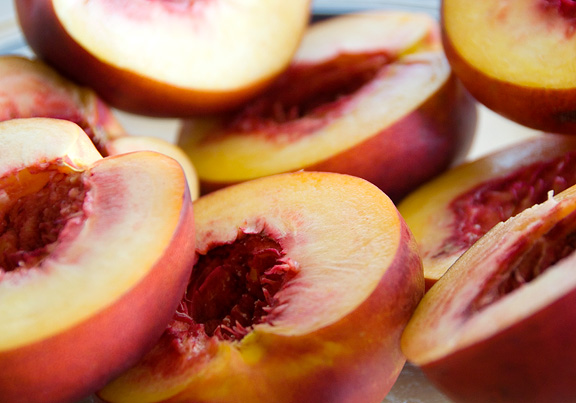 Not feeling like making something cakey – because I have a bready project in the morn, I went for something light. How about grilling? I've grilled pineapple with great success, and bananas, and why not nectarines?
brush with unsalted butter and sprinkle a little brown sugar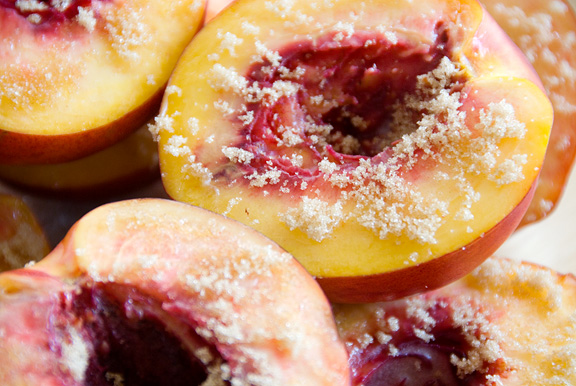 They grilled on medium high for 10 minutes, skin side down. Then I flipped them and grilled for another 7 minutes until they left gooey strands when pulled from the grill. Those gooey strands are good – that's caramelized sugar. I drizzled a little bit of lemon cream because I thought that would pair well.
grilled nectarines with lemon cream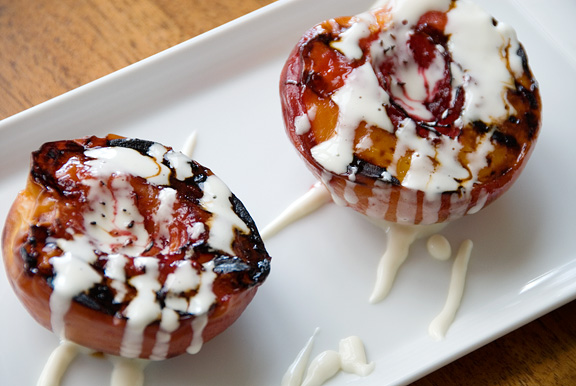 my that looks sweet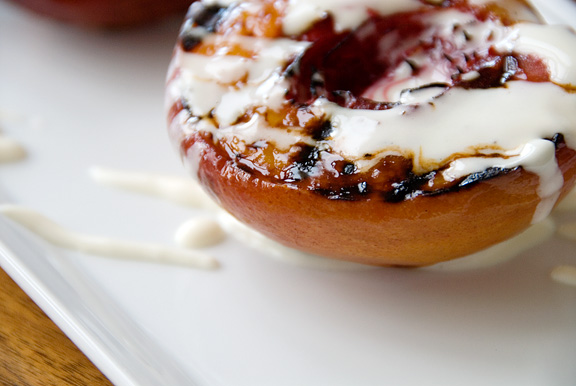 yup, it's really sweet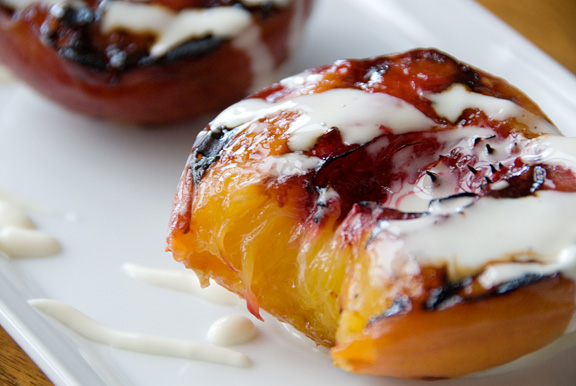 Not only is it sweet, it's incredibly intense in fruity flavor. I mean, it was a little too intense and I love nectarines. I couldn't even finish mine and asked Jeremy if he wanted to polish off the last few bites. He didn't, but he was a good sport and at least tried it. We were both gulping down the water. It's just very concentrated and rich. I think it needs something to really cut the intensity, like a bowl of vanilla ice cream, or pastry dough. Oy.