I've been cooking a lot, but not able to shoot much since my in-laws are visiting and we are entertaining them for the weekend. However, tonight as I was waiting for the dog to do her business out in the yard, I noticed the skies overhead had cleared. It's nice, the night sky. It's especially brilliant up in the mountains because the Milky Way practically jumps out at you and we have almost no light pollution to speak of. I look skyward a lot. I've loved astronomy since my childhood – it's why I studied science. It might be why I married an astrophysicist. No, I married him because it reduced our car insurance (and because he makes my heart go pitter patter).
Kaweah was taking her time looking for the Perfect Place to Poop. I knew Comet Holmes was somewhere in the north, but not sure where exactly. Jeremy poked his head out the front door and asked what was taking the dog so long. Who knew, but I told him I was looking for the comet. He went back inside and returned a second later with the binoculars. He looked around Cassiopeia, but couldn't find anything and handed me the binocs. I pointed in the general direction and just tried to get them focused. The object I pointed at was totally blurry, so I focused and nothing happened. I noticed the other objects nearby were nice pinpoints of light, but this thing… it was Comet Holmes.
Dog was now just screwing around in the dark, sniffing things and exploring. I ran in to fetch camera equipment and ran back out into the blackness to set up. I was shivering – it was maybe 20 degrees. But I got it – right in Perseus.

holmes-boy will be around for a while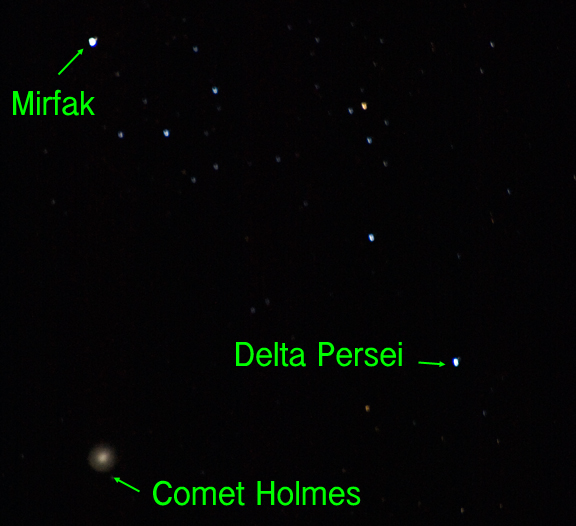 The first exposure was too long and the stars were dragging. My second exposure was the best I could do to reduce drag, but still expose for the comet. It is HUGE. There's no tail because the comet is coming toward us. Right now it is in the neighborhood of Jupiter. It has increased in brightness by more than 6 orders of magnitude over the past week. You can see it with the naked eye, but it looks like another star – a bright one.
Anyway, that's a nibble on science for you. Stay tuned, Comet Holmes should be getting bigger and brighter. Step outside and have a look for yourself.
Science!!!