Tuesday, November 13th, 2007

Recipe: soy sauce chicken
Hrm, some recent developments might require that I curtail the posting frequency. Not sure. We'll see how it goes in the next few weeks.
A few folks have inquired about the lunch I had in this entry, so I figured I should write it up seeing as it is a great dish in cold weather months.
Chinese noodle soups in my mind are as versatile as sandwiches. You can put whatever you want in them. I think of it in terms of a few major components: the noodles, the broth, the fixins. Noodles can be bean thread (aka glass noodles), soba, somen, iron man, ramen, rice noodles, and the list goes on. The broth is whatever you want it to be. The fixins can be vegetables, meat, leftover stir-fry, delicious spicy chili radishes (my fav!)…
We'll start with one of my standards: soy sauce chicken. It's just chicken drumsticks simmered for a few hours, but what you get is chicken and a lovely aromatic broth.

ginger, green onions, sugar, star anise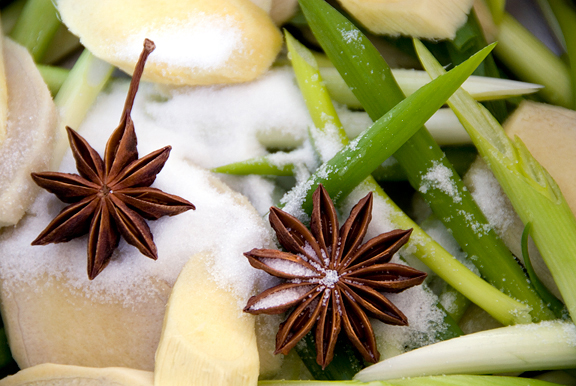 **Jump for more butter**