Wednesday, November 28th, 2007

Recipe: peanut butter dog treats
I'm sorry, were you expecting something to eat? Errr, it's not terribly tasty but… my best girl loves them. I'll be honest though, she loves anything. She'll eat rocks and sticks if you let her. I don't let her.
Kaweah, has made a few guest appearances on this blog in the past. She's my furry and somewhat faithful companion. Her faithfulness increases with the amount of food I am preparing. There are two behaviors she exhibits that amaze me (there are a lot of behaviors that make me nuts). Normally, she won't let us pet her unless she's lying on the bed with us. She'll even duck away when you try to pet her – unless there is food – see a pattern? But the couple of times I have received devastating news, she was there and she knew. She leaned against me and let me cry into her scruff. Best.Dog.Ever.
The other behavior is *knowing* when I'm baking something for her to eat. Like I said over Thanksgiving, I bake and cook all the time while she snores her brains out nearby. As soon as I make anything intended for the dog, she's right there – like Chucky from those horror movies.
I found this recipe on this website with a nice selection of dog treat recipes. It's not as hard or brittle as I was hoping. Maybe I just need to bake them longer. They taste dull and flavorless, but we all know labs could care less about taste – the act of scarfing down food is their raison d'être!

a simple dough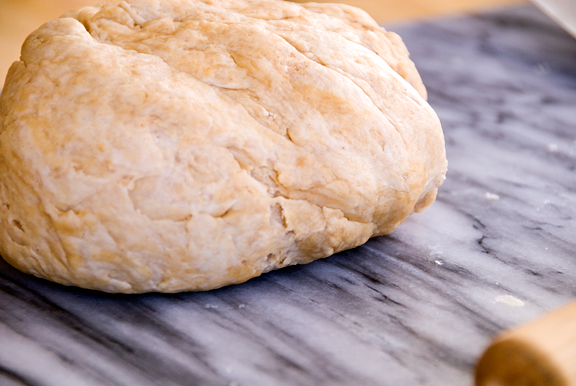 **Jump for more butter**