We have some well-traveled visitors staying at our house. SIX of them to be exact. Normally six guests might be a bit much, but these guys have been delightful and the easiest guests ever. Naturally we're going to take anyone visiting in March (as long as they are able) skiing!

from the parking lot of the local hill this morning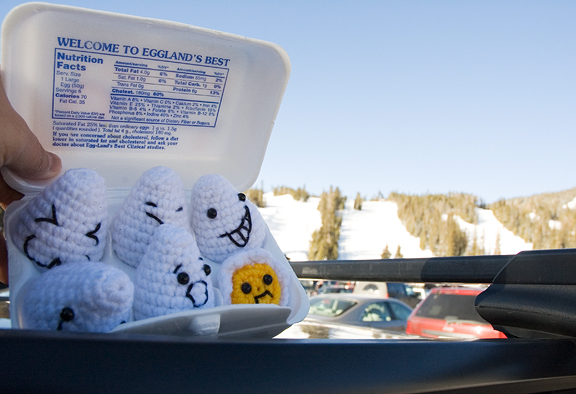 Yes, our guests are a half dozen eggs that Hannah of
Bittersweet
crocheted for a traveling egg meme!! I'd like to point out that Hannah is fricking amazing. This young woman is so accomplished… it's like she just finished a marathon and I'm still wandering around looking for the starting line with one shoe on! And it was Helen's sweet and fun-loving nature to
set the meme in motion
. In no particular order, these adventurous eggs have graced the blogs of:
Helen
,
Peabody
,
Mary (aka Breadchick)
,
Ivonne
,
Lisa
, and
Anita
. It says so on the carton, which we all sign. Actually, I know Anita was the last one because she sent them along to me with that amazing package of goodies. *love* Anita. I am honored and humbled to host these very special and adorable eggs.
I had to wait a week until I had recovered enough from treatment so I could show the eggs a proper time in Colorado. Proper = snow.

how many crocheted eggs get to ride a ski lift, eh?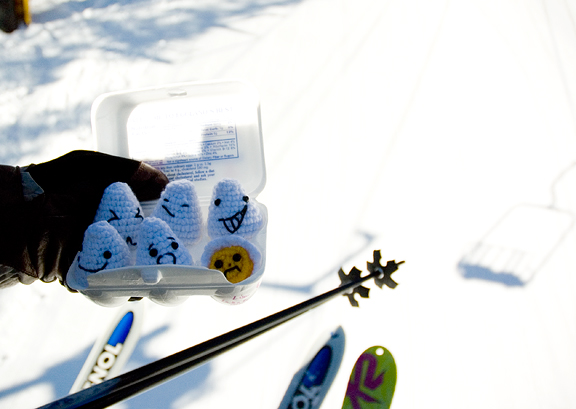 I think the little dudes were scared shitless on the lift, but no worries – they were in good hands all morning. And by good hands, I mean they were in mine.
first evar tele eggs!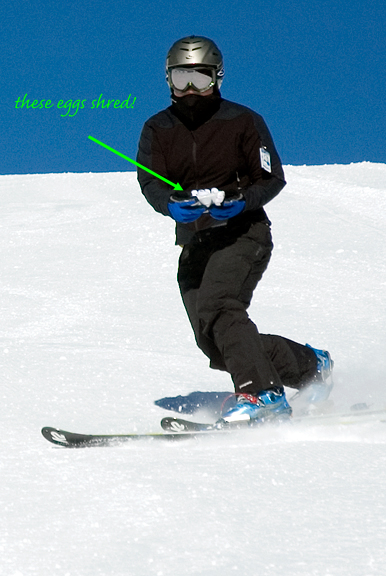 They loved it, but seriously, who doesn't love tele? I guess it's easy to love when you're an egg and a tele babe cradles you down the slopes! Of course, in the afternoon I had to introduce them to Kaweah who was quite keen to sniff and lick and chew on them. No way I was going to let that happen, so after a lot of scolding she settled down and the eggs became confident enough to check her out.
why so glum, chum?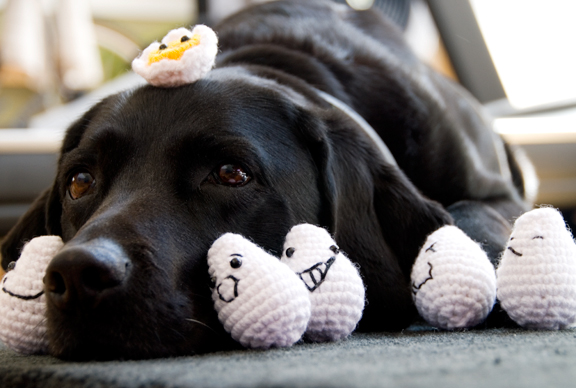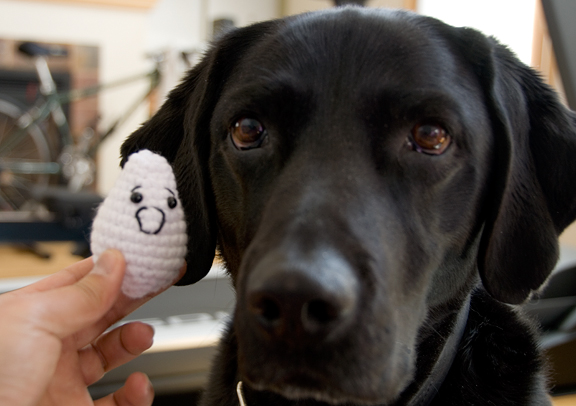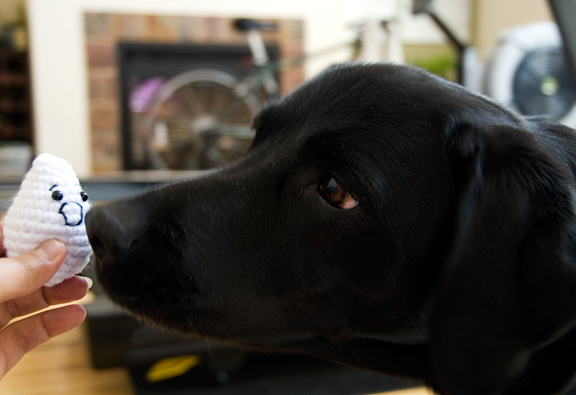 thankfully made of yarn and not real egg parts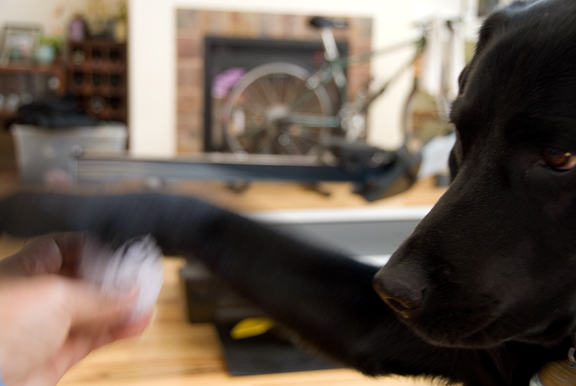 auggggggggggggh!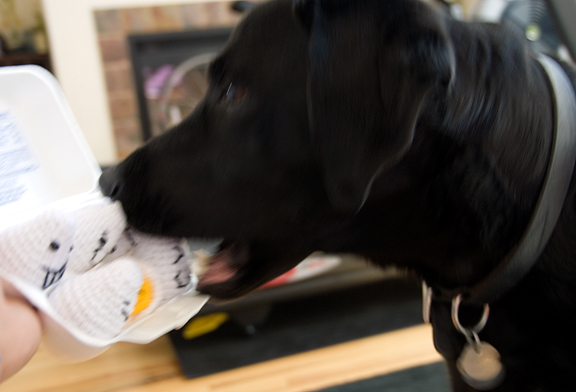 The eggs are safe with nary a wisp of dog drool. Kaweah continually walks up to the table they are on and wags her tail. Sorry pup, but these eggs are headed overseas to someplace new, exciting, and… delicious!
We let the eggs rest while we drove down to Boulder to run a few errands. To celebrate that I can eat (and taste) solid foods again, Jeremy took me to The Med for some tapas yummies.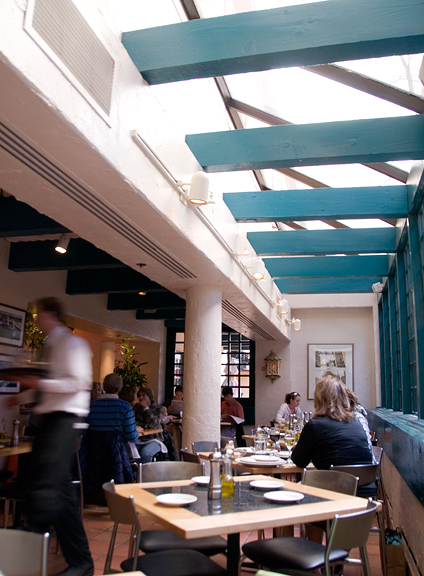 pizza margherita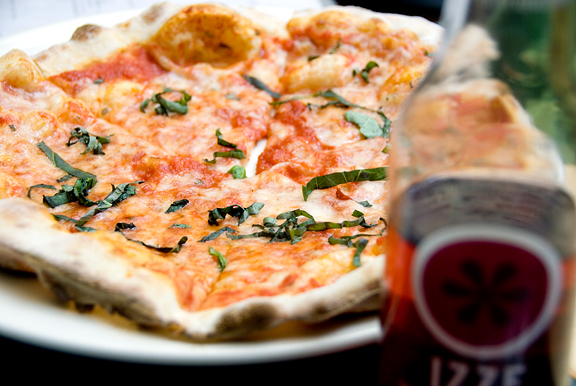 some bistecca alla genovese (grilled hanger steak)
Then we strolled down Pearl Street Ped Mall to pick up some care-package goodies and what did I see to my utter delight and joy?
PATAGUCCI!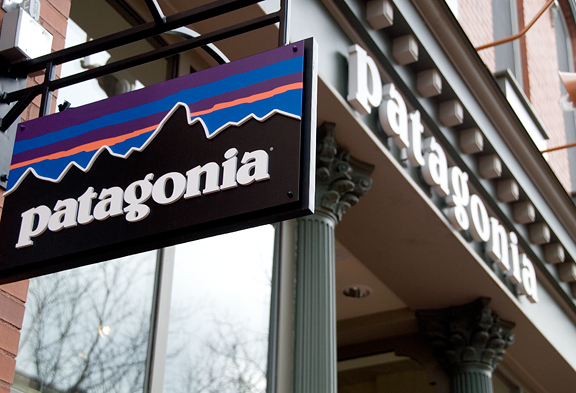 A Patagucci of
my
Boulder's very own that opened a mere two weeks ago! I'm no fashion plate, but I do plunk down a pretty penny for good gear and Patagonia has *excellent* performant clothing and a great company mission. In fact, that picture of me skiing above? Every piece of clothing I'm wearing is Patagucci except the gloves (yup, even the clothing you DON'T see). Of course, I'm enough of a bum that I buy most of it on sale (fire sale, that is). Oh, and I do love myself some Italian footwear, namely Scarpa and La Sportiva.
Now if only a Trader Joe's would open up, I'd really be pleased as punch.