Friday, March 21st, 2008

Recipe: espresso panna cotta
I wanted to post on the first day of spring, but my workout kicked my ass and I nodded off on the couch last night instead – drool and all. I didn't snore. That's the dog's job. She performed to expectation, snoring her little brains out with her furry self stretched on the futon next to me… much like she's doing this morning.

it's a full time job
Jeremy was out of town for a meeting in Puerto Rico this week. While most folks who live where there is more winter than summer might be ecstatic to take a trip to a tropical locale, he isn't one of them. [You honestly think I'd shack up with someone who loves the tropics more than the mountains? Come on!] Some people get bent out of shape when their partner goes out of town, but it doesn't phase me much unless something shitty happens like a car accident or someone dying. However, I did have an itch to make a dessert, but decided to wait until Jeremy got home because it is one of his favorites.
can you guess? gelatin and milk…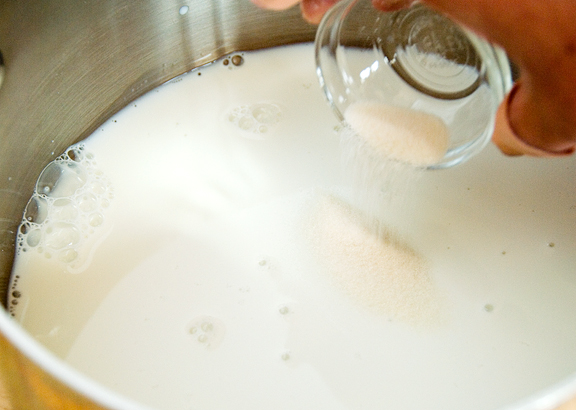 **Jump for more butter**