We hosted a little ol' chocolate tasting yesterday with four friends. It's the first half of a two-part project I planned. We have done wine tastings in the past on several occasions, but never a chocolate tasting. I know some people think a chocolate tasting involves shoving loads of chocolate down your gullet. Please… it is nothing so crass as that – you may as well go sit in a corner with a few pounds of cheap Hershey's bars if that is your aim (and not set foot in my dining room!). In fact, this chocolate tasting was quite a bit of work.

the players: round 1 – chocolove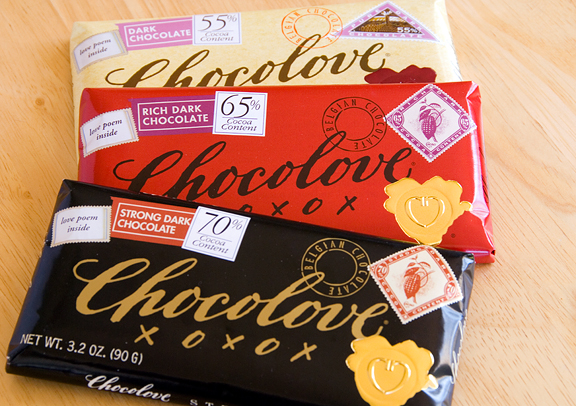 the players: round 2 – dark ~70%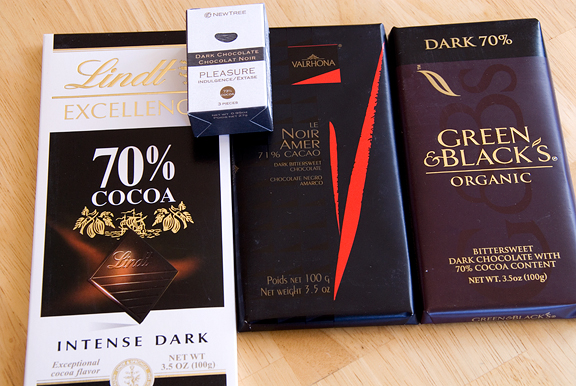 I took a cue from Fine Cooking's issue #83 on hosting tasting parties. There they discuss how to conduct tastings for cheddar, olive oil, and of course, dark chocolate. Sounded like fun. The issue of my wankered taste hovered in my mind, but I was more than 2 weeks out from the last chemo, so my taste was probably operating on par with most folks. In general (and Jeremy will back me up on this one), I have a discerning and sensitive palate. I'm curious to take that super-taster test. We decided on two flights of chocolate: one flight of Chocolove in varying degrees of cacao (55%, 65%, and 70%), and then a flight of dark chocolates with 70% cacao (New Tree, Valrhona, Green & Black's, and Lindt). Tasting all of that dark chocolate can be tough on an empty stomach and go straight to your noggin. So we served appetizers and a light dinner beforehand.
crudités, pita, hummus, soft asiago, olives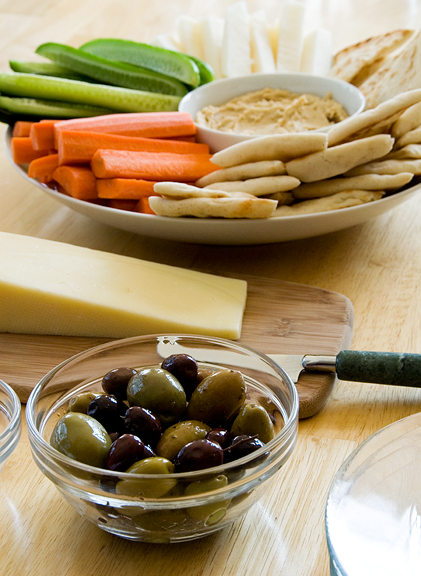 greek salad with yogurt-tahini dressing or balsamic vinaigrette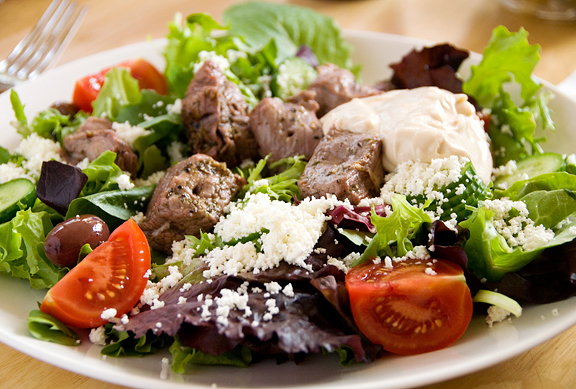 We opted for a nice Shiraz to go with the appetizers and a smooth Zin for dinner. The salad is a meal in itself and I adapted it from my favorite souvlaki/chicklaki plate at Aladdin's in Ithaca, NY. Fresh greens, tomatoes, greek olives, young cucumbers, grated feta, and hunks of
grilled marinated beef
or
chicken
. I personally love the yogurt-tahini dressing, but offered up the vinaigrette because I like for my guests to have choices.
everyone seemed to enjoy it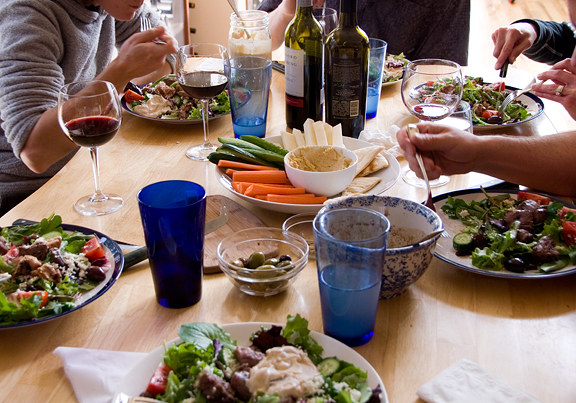 the beautiful flowers Beth and Marianne brought us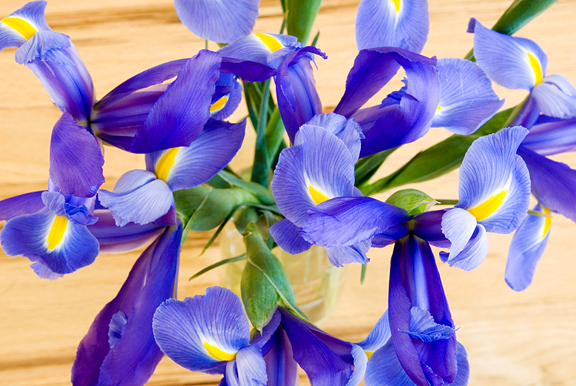 Once we had a chance to digest dinner, we set out the water glasses and the chocolates. To clear your palate between tasting, cool (not cold) water and neutral bread or crackers is recommended. Don't be drinking booze (port or big cabs pair well with high content cacao chocolates) or else you're going to fuck up the tasting – sheesh. I placed pieces of each chocolate in their own bowl and labeled the bowl accordingly. Each piece should be big enough to be broken into two bite-sized pieces.
starting the chocolate tasting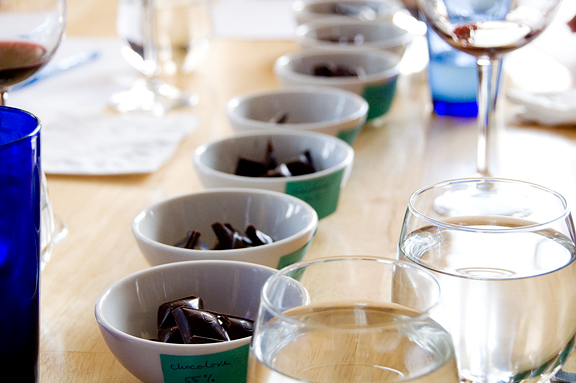 Everyone got a sheet of paper and a pen for taking notes. The group evaluated one chocolate at a time, passing the bowl around for everyone to take a piece. First we smelled it (1), then snapped it in half (2), then placed one half in our mouths and allowed it to melt – assessing for taste (3) and texture (4). Then we ate the other half and chewed it (5) and evaluated the finish (6). Swish with water and proceed to the next chocolate. In hindsight, I would have switched the order and tasted all of the 70% chocolates first, then tasted the Chocoloves. We were more sensitive to the breadth of flavors in the 65% and 55% Chocoloves upon revisiting after the 70% chocolates. And have napkins on hand, this can get messy.
one of the big winners of the evening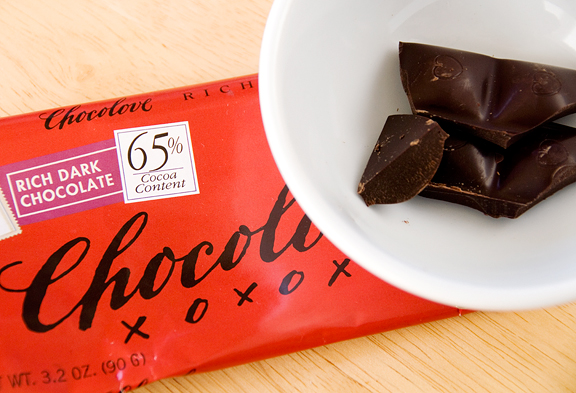 Our guests had assumed the chocolate tasting was their dessert, but that isn't my style. The chocolate tasting was the main event, but it was also hard work and not what I would classify as satisfying or a proper finish to a meal. No no no, we closed with a Torta di Ricotta and heaps of good conversation.
ricotta cheesecake topped with fresh strawberries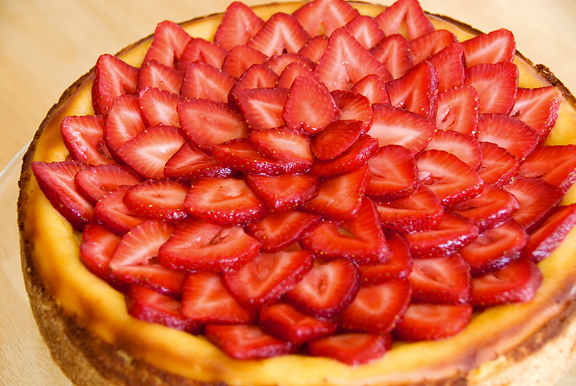 In the end, the lighter Chocoloves won out overall. As far as eating chocolate goes, I am a huge fan of Chocolove, especially as it is based right here in Boulder, Colorado. It is a beloved local brand with hints of vanilla, hazelnut, and caramel. I don't tend to be a fan of the bittersweets for eating – but that's just me. I was disappointed in how the Valrhona 71% fared because the brand is my favorite chocolate for pastries and confections. I just tasted the Valrhona 64% Manjari that I used to make
chocolate-dipped strawberries
and compared it to the Valrhona 71% – a world of difference! The Manjari is much smoother, fuller, and pleasant. Even the Guanaja (Valrhona 70%) block that I have tastes much better than the eating bar. Curious. Well, we all found Green and Black's to be consistently near the bottom. Makes me wish that I had selected a bar of Scharffen Berger instead. The exercise was certainly educational and I hope our friends came away from it with a broader appreciation for chocolate and all of her complexities. Most of all, it was a lot of fun. You can find all of our notes in the tables below. The number below each person's name is the rank they gave that chocolate.

#2
Chocolove
55%


smell

break

taste

texture

chew

finish

Beth
#2
sweet, raspberry, slight burnt
clean
caramel, vanilla, slight bitter
smooth, creamy
smooth, creamy
slight bitter, mild linger
Jen
#1
mild rubber
clean
caramel, vanilla
creamy, smooth
no change
light linger, clean
Jeremy
#3
chocolate, milk
clean, nice snap
caramel
smooth, creamy
long clean finish
Kellie
#1
milk, mild
clean
caramel, vanilla
creamy, smooth
quick finish
Marianne
#3
berry, sweet, nutty, milk
slightly soft, smooth
raisin, sweet, caramel, vanilla
creamy, smooth
same
lingers w/o sweet nasty taste, not super long
Tom
#1
burnty
perfectly square
smooth, creamy
not as flavorful
quick, clean

#1
Chocolove
65%


smell

break

taste

texture

chew

finish

Beth
#1
mild rubber
clean
slight burnt, slight caramel, slight bitter, hazelnut
a little waxy
bitter
Jen
#2
mild rubber
clean
mild coffee, hazelnut
smooth
sweeter, tastes better
longer finish, dry aftertaste
Jeremy
#1
mild rubber
good snap
caramel, coffee
smooth
nice hard finish
Kellie
#2
mild tobacco
clean
smokey
waxy, creamy
creamy
Marianne
#1
sweet, berry
clean
raisin
silky, smooth
failed due to melting from hands
very little aftertaste
Tom
#3
less burnt, more tobacco
clean
darker
smooth, creamy, slightly grainy
sweeter, flavorful

#4
Chocolove
70%


smell

break

taste

texture

chew

finish

Beth
#3
leather, wood
clean
cigar
smooth, dense
Jen
#3
mild leather
clean
coffee, caramel
buttery, silky
sweeter
medium linger
Jeremy
#2
rough leather
good snap
less caramel, more coffee
less melty
lingering, mucus-making
Kellie
#4
burnt, tobacco
clean
smokey
waxy, creamy
stronger after bitten
stronger aftertaste
Marianne
#5
smokey
clean snap
raisin, ashy
smooth, silky
sweeter when chewed
no linger
Tom
no rank
smokier, ash tray
clean
smooth
sweeter
quick finish

#3
New Tree
73%


smell

break

taste

texture

chew

finish

Beth
no rank
clean
bitter, mushroom
dry, chalky
Jen
#4
earthy, raisin
clean
caramel, coffee, acid, smokey
smooth, dry
sweeter, slight fruit
long finish
Jeremy
#4
raisin
good snap
no caramel, dark taste, bitter up front
tiny crystals
Kellie
#3
raisin
clean
smokey
smooth
sweeter upon biting
went away quickly
Marianne
#2
smokey, raisin
mostly clean
smokey
creamy, chalky
drier
Tom
no rank
burnt, ash tray
clean
creamy, smooth
sweet, nice

#6
Valrhona
71%


smell

break

taste

texture

chew

finish

Beth
no rank
subtle earth, scotch
soft
olives, sour, acidic
chalky, dry
butter, acid
slight bitter, dry linger, quick finish
Jen
#6
earthy, fruity
clean
olives, acidity, coffee
smooth, dry
more acid, sharper up front
quick finish, lingering dry
Jeremy
#6
earthy, aromatic
sharp break
olive, sour
pasty
a little soft
smooth, dry finish
Kellie
#6
raisins
clean snap
olive, sour, acidic
drier, cotton mouth
sharper when chewed
dry linger
Marianne
#7
sweet, scotchy, earthy
smooth
olives, scotch, acid, sour, butter or butterscotch
lightly chalky
chewing has more kick
dry and bitter lingers, flavor goes quickly
Tom
no rank
peat-like
clean, but not as clean as others
slightly sour
smooth, no grit
least favorite
lingers more than others

#7
Green & Black's
70% (organic)


smell

break

taste

texture

chew

finish

Beth
no rank
fruit
mostly clean, a little powdery
bitter, acid-coffee, tangy
chalky
worse, strong burnt, muddy
dry
Jen
#7
fruit
clean
smokey, bitter, acidic, rancid coffee, mud
chalky
sweeter, more sour
cigarettes, long finish
Jeremy
#7
fruity
brittle
bitter
chalky
crumbly, sour, dry
Kellie
#7
clean break
smokey, olive, bitter, acidic
drier
cigarettes
long, bitter
Marianne
#6
ashy, berry
breaks
smokey, tangy, strong flavor
very dry
less smokey
Tom
no rank
tea, black tea
clean
bitter
slightly chalky
least favorite (again)

#5
Lindt
70%


smell

break

taste

texture

chew

finish

Beth
no rank
malty, sweet, milk, bananas
clean
bitter, smokey, acid
chalky, smooth
woody, bright bananas
acidic, dry
Jen
#5
caramel, sweet
clean
acid, light fruit
creamy, dry
more fruit, banana
acidic finish, medium linger, abrupt end
Jeremy
#5
malty, caramel, milk
nice break, sharp
fruity
gluey
sweet, acidic
fast finish
Kellie
#5
sweet, malty
clean
fruity
drier, chalky
fruitier when chewed
mild finish
Marianne
#4
caramel, malt
good snap
tangy (more than G&B), slight caramel
dry
sweet up front, ends with tang
dry on aftertaste, fast finish
Tom
#2
malty
cleanest
slight sour-milk
smoothest, creamy
dry