Monday, May 19th, 2008
I haven't been cooking much lately because we've spent the weekend polishing off leftovers, planning our summer, enjoying my return to normalcy, and taking it easy (not really in my vocabulary, but sometimes it is worse to fight it). This morning we packed up the dog and camera and set off down the canyon for a stab at the blooms in Boulder.
a lesson in geography, weather
I realize there may be some climate confusion for folks who see pictures of snowy mountain ridges posted alongside beautiful wildflowers in my entries. For clarification: we live in the Rocky Mountains at an elevation of 8500 feet. Don't try looking anywhere on the US East Coast for a point that is 8500 feet, because there isn't one. Our bathroom is higher than their highest peak Mount Mitchell (6684 ft.) in North Carolina. [That's right, the highest peak on the East Coast is not Mt. Washington in New Hampshire, even though many New Englanders would like you to think as much.] The town of Boulder, Colorado lies to the East of us by 18 miles and is nestled against the Front Range at 5430 feet.

satellite imagery by Google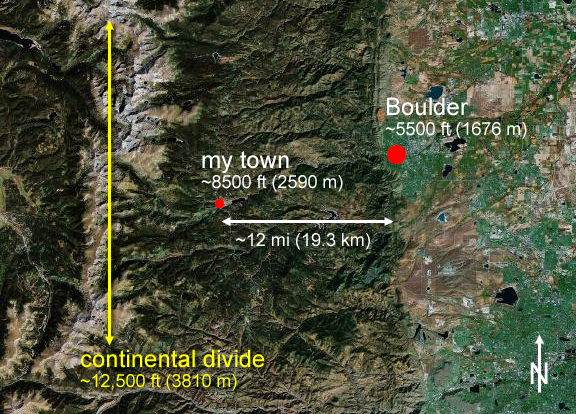 **Jump for more butter**