Wednesday, May 28th, 2008
Recipe: opera cake
To my Darling Daring Bakers: I made the cake yesterday and planned to have a post up by this morning, but I got really sick. I'm just posting the final pic and I will have the rest up at a later time. I am off to the ER. I'm sorry!! xxoo, jen
Update: May 30, 2008
I'm back, kids! Sorry to worry everyone. I had a 48+ hour bout of seriously bad stomach juju with fever to boot. Oncology doesn't like fever+chemo (no one seemed all that concerned with my debilitating stomach cramps) and sent me to the ER to check for infection. I mean, wouldn't it suck to finish 6 rounds of the toughest chemo regimen on tap only to die of some damn secondary infection at the very end? That answer would be a resounding hell yeah.
So thanks for all of the wonderful and kind comments you have left. It wasn't my intention to stress you happy bakers out.

the daring bakers: we knead to bake
As most of you have figured out, I *am* a Daring Baker. Daring Bakers kick ass and they are also spreading like a virus through the food blogosphere. If you aren't a Daring Baker (all two of you who are left) then you will be assimilated soon enough… oh yes… you will be. This month's challenge is: The Opera Cake. Our hosts for the challenge are our beloved Daring Bakers' founders Lis (
La Mia Cucina
) and Ivonne (
Cream Puffs in Venice
), and two of our newer DB members Fran (
Apple Peaches Pumpkin Pie
) and Shea (
Whiskful
). You can scope out all of the gorgeous Opera Cakes at the rest of the Daring Bakers' blogs on the
blogroll
. Thank you, ladies!
ground almonds are the base of the jaconde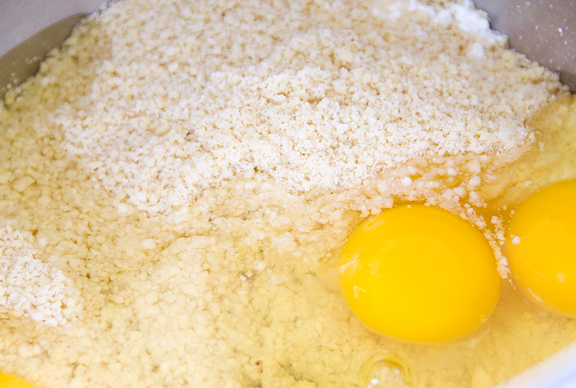 **Jump for more butter**