Here it is at last, the final installation of our Boulder Sushi Tour series! I wish I could say we ended on a high note, but… well – read on.

akiyama of gunbarrel (boulder)

It's been a good six weeks of sushi touring in the lovely landlocked city of Boulder, Colorado. People are always astonished at the quality of the fish considering the long drive to get to the ocean from here. They'd be even more surprised to learn how much fresh fish is flown in daily. The supply is there because the demand is there. We decided our final sushi restaurant to try would be Akiyama in northeastern Boulder.
the interior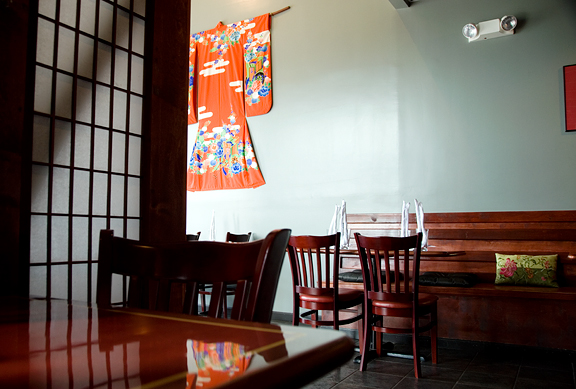 The restaurant interior is a combination of traditional and modern with plentiful sushi bar and table seating. We chose to sit at the bar. Immediately the feel of the head sushi chef was off. He didn't strike us as a typical (or even atypical) sushi chef. I have never been served sushi by someone wearing plastic food service gloves. As Jeremy and I were groping around the floor to find our eyeballs after they had popped out of our heads in shock at the prices on the menu, we were given starter salads.
cucumber and krab (surimi) salad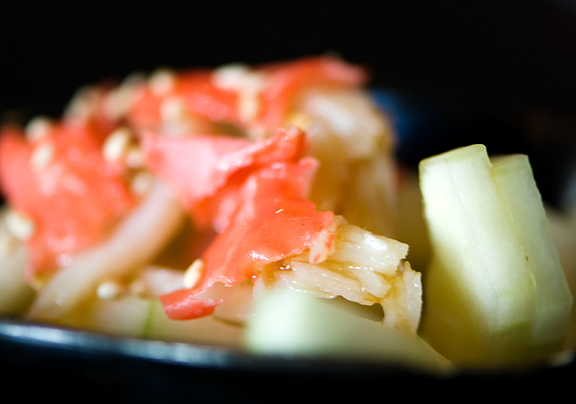 And we thought Kasa was expensive. This wasn't expensive, it was borderline ridiculous. Gunbarrel isn't exactly the high rent district that Pearl Street is either. What was up with that? We resigned ourselves to a moderate sampling of sashimi, a few rolls, and some nigiri. Akiyama doesn't serve ama ebi (raw sweet shrimp). Things were a little suspect already…
the sashimi assortment: skimpy on sashimi, heavy on cheap fluffy crap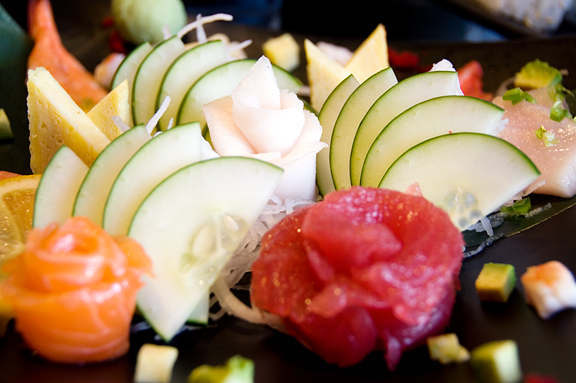 Jeremy summed up our reaction to the sashimi assortment pretty well, "He should have been ashamed and embarrassed to hand us that plate." I'm sorry, but krab (fake crab) and tamago do not count as pieces of sashimi. Where every other place we've been has given us at least 3 generous pieces of hamachi in their sashimi assortments, these blokes deemed it acceptable to take one thin slice and cut it in half?! The maguro was wrapped in the form of a rose. No one does that with good quality maguro. When I unraveled a piece it looked like my dog had chewed on it and spat it back out. I thought sushi chefs were trained to use a knife!? It was pathetic really, the meager quantities all gussied up with fanned slices of cucumber and dribs and drabs of avocado, fish roe, and egg omelet. This was lame. It was insulting.
the juju roll: salmon, cucumber, avocado, eel, and masago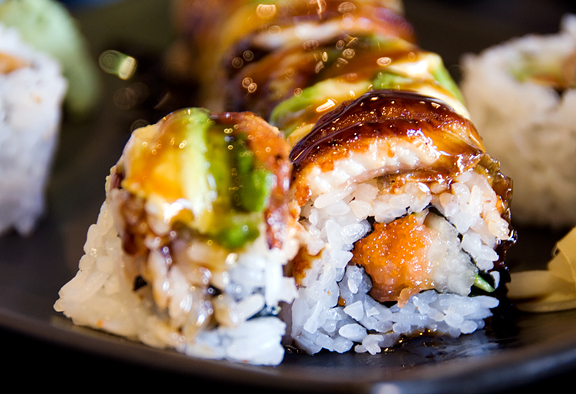 The JuJu roll was nothing special – perhaps a bit heavy on the sweet side and it cost about double what it was really worth. I also ordered a vegetable roll which was uninspired with shitake mushrooms, cucumbers, gobo… I've had much better vegetable rolls elsewhere.
autumn tempura roll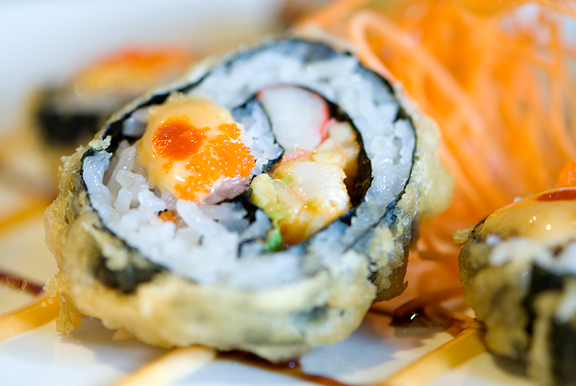 The autumn tempura roll was on the specials menu. I just remember there was avocado and crab, but it wasn't crab, it was krab. Those bastards list crab everywhere on their fricking menu and what they really use is surimi – fake crab or krab. That's so slimy. I think it's incredibly dishonest, but it seems to fall in line with the general practice of false advertising at this place. The roll was served on a plate with lots of sauces swizzled about, but it was unremarkable and at $12 you could call it dreadfully disappointing. There was supposed to be white tuna in there, but… I couldn't tell it was there at all.
wasabi tobiko with quail egg – hard to screw up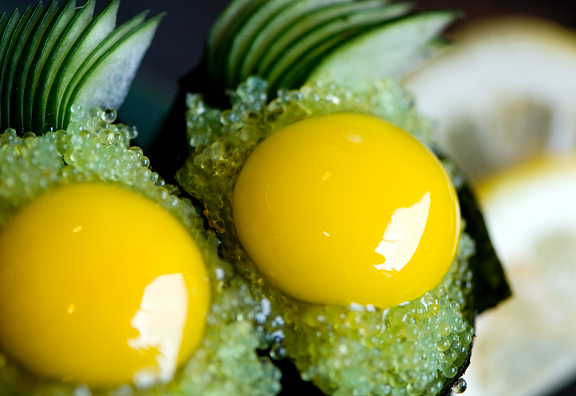 My final order was wasabi tobiko with quail egg, which was actually pretty good. Perhaps that is because I was prepared to be annoyed after all of the previous WTFs? After I shot the tobiko, the chef posed and said I could shoot him too. I declined. When I'm shooting and random people want me to take a picture of them for no reason other than their ego, I don't. Similar to my reaction to folks who ask me to link to their blogs. I don't.
So, we were happy to get out of Akiyama because we both felt lied to and violated. How a place that serves such average and even below average sushi can charge prices so far beyond the Good sushi joints in Boulder is a mystery to me. Akiyama is big on foofy garnishes and skimpy on the fish. The quality of the fish was not too bad, I think. It's hard to tell when all you get is one bite's worth. Instead of feeling satisfied, I felt angry. To rank Akiyama last in our sushi tour would be an insult to the other sushi bars on the list. What a complete ripoff. DON'T EAT HERE unless you are heavily drugged and have money to burn. You have choices. Use the force, Luke.
Akiyama
6525 Gunpark Dr. #330
Boulder, CO 80301
303.530.0499
July 17, 2008
Sushi
$65.44 (including tax, not tip) for two diners
Rating: 65/100 (D)
And the final sushi rankings:
1) Sushi Tora
2) Amu Sake Bar and Restaurant
3) Ai Sushi and Steak
4) Kasa Sushi
…
75) Akiyama