Well, there weren't any bears. Just Kitt. But there was porridge. There was beautiful, creamy, dreamy, rice pudding porridge. If Goldilocks had come across *this* porridge, Girlfriend would have been licking the bowls clean when The Bears came home.

mushy grains for brunch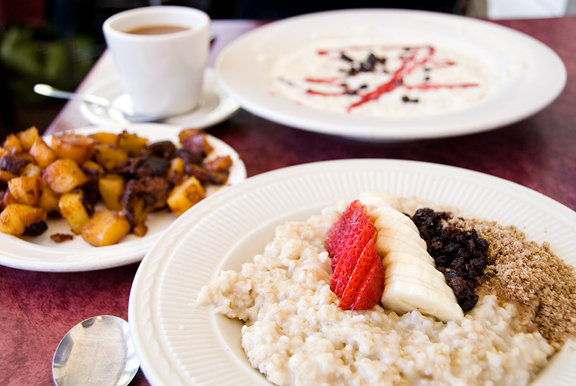 I finally handed off the
NaBloWriMo Traveling Masterpiece
to Kitt this morning over brunch at Lucile's in Boulder. I didn't realize so many of the NaBloWriMos were in Colorado. Had a slight dilemma on my hands because I love savory food, but most of the savory items on the menu were drowned in Hollandaise, sausage gravy, or other artery-clogging goodness. I opted for the oatmeal, which was delightfully nutty, chewy, crunchy (you know, that chewy pop of good non-rolled oats), and fruity. I wanted to ask Kitt for a taste of her porridge, but cream/milk is mine enemy and it would have made for a horrible Rest of the Day as I had several errands to attend to in town.
Turned in our ballots to the Boulder County Courthouse. Woohoo!
Sent a little care package to my parents, housewarming gift to Sam and Dan, wedding gift to Sarah and Andy (eleven years late… eeep!).
Met with my physical therapist, whom I just adore. She always fixes my broken body and she is so sweet.
Walked into Marshalls looking for an All-Clad pot (it was gone – poo) and left with an armload of housewares and some clothes for Jeremy. In total it all cost less than that All-Clad pot. And Jeremy looks so handsome in the new threads. I love shopping for him because he is a tall, trim, handsome hunk o' sexy astrophysicist.
Got Kaweah a new Kong because her last one disintegrated somehow…

i could just give her $13 to chew up, but it wouldn't be nearly as fun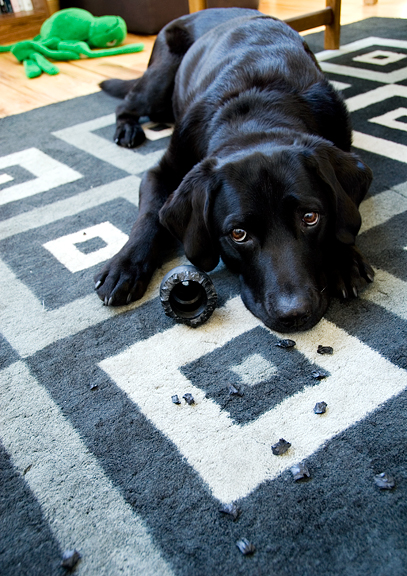 Picked up some materials for $15 in an attempt to design and make something that nominally costs between $500 and $1000.
What do you typically do with leftovers? Jeremy and I both love leftovers – love to have them for lunch (or brekkie) or eat them again later in the week. We were thinking of going out to grab a burger for dinner before heading up the canyon, but when I picked Jeremy up from work we opted to go straight home. I'm glad we did, because we cleared out three sets of leftovers and I don't have to get my panties in a wad over throwing out spoiled food. It's not only economical, it's green.