I think NaBloWriMo is sucking the creative juices from my brain.
I usually plop down and crank out a post lickity split, but today… I've been writing and deleting and writing and deleting all afternoon. So I'm giving it one last go and that will be it.
During my recent funk I was having a heck of a time trying to muster up the excitement to cook or bake something and blog about it. You would think I could food blog in my sleep at this point. I didn't know what was wrong with me, I just knew I felt dissatisfied. Once out of that downward spiral, I tried to figure out what the problem was.
I think it was the culmination of various physical ailments coupled with expenditure of all remaining energy on visitors and travel for an extended period of time. Basically, I was getting zero creative input. I wasn't able to keep up with my favorite food blogs, read my cooking magazines, flip through cookbooks, brainstorm ideas. Oddly, Art Culinaire arrived right at the time things began to settle down for me. Like a spark, it reignited my inspiration.
When I'm not stressing, the ideas flow and it's a real joy for me to plan new recipes I want to try and prattle on about them here. When I am stressed and feeling crappy, it becomes a chore. I never want my blog to be a chore, because really – it's OCD therapy :) Perhaps recognizing the circumstances that put the kibosh on the creative process will help me avoid that very problem in the future. I hope so.
One of my favorite sources of inspiration is a cooking rag. It's not any old cooking rag. Taunton Press publishes lovely periodicals. I sometimes want to get into woodworking or gardening for the sole purpose of justifying subscriptions to Fine Woodworking or Fine Gardening. For now, I am plenty satisfied with Fine Cooking.

my collection goes to the beginning, almost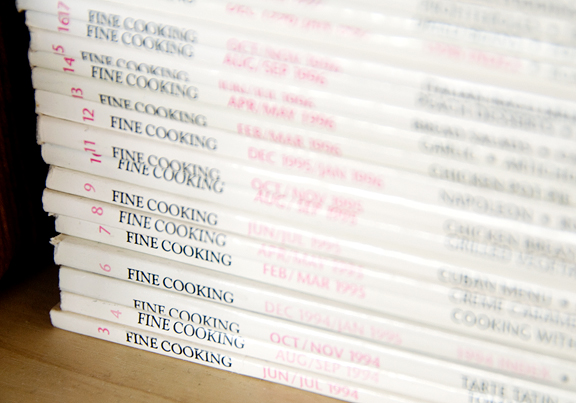 I've been a subscriber since the beginning. I have all of their issues except the first two because some dorkus (Rich) I knew in college "borrowed" them for freaking ever. Other subscriptions have come and gone: Bon Appétit, Gourmet, Saveur, Chocolatier, Cooking Light, Sunset, and… Cook's Illustrated. It seems that there are two camps out there: Fine Cooking devotees and Cook's Illustrated devotees. No offense to the Cook's camp, but being the visual parrot I am, it doesn't do my jollies the way Fine Cooking does. I love my Fine Cooking.
longtime friend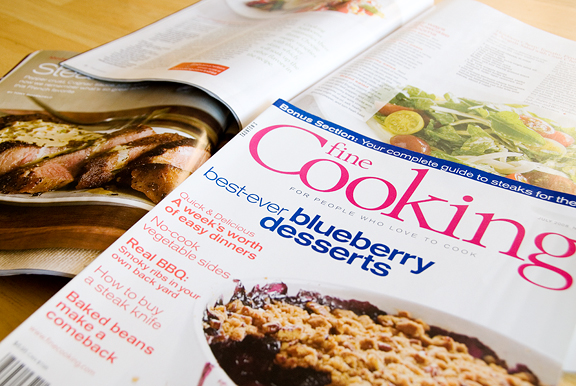 While I raved about my new subscription to Art Culinaire, that inspiration is more of an artistic one. Fine Cooking sparks ideas in my head and covers recipes that I can actually produce at home. It's more practical – more attainable. It's like a present whenever I open our post office box and find a precious issue waiting for me. The focus of discussion is all food-related and the photos keep me coming back for more. I love it, and I think you might too.
…which is why I'm giving away a year's subscription to Fine Cooking! It is one of my cooking inspirations. Taunton Press has nothing to do with this – I love their publication so much I want to share the love with one of you.
What inspires your cooking? Is it a memory, a person, a book, a restaurant, a culture…? Leave a comment before midnight October 30, 2008 Mountain Time and I will hold a drawing to see who wins a year of Fine Cooking – US *or* international, so don't be shy! The winner will be selected by our most faithful, furry companion…

kaweah (at 13 weeks)