Saturday, February 7th, 2009

Recipe: pomegranate, orange, and jicama salad
We just got tickets for a performance I cannot wait to see. I am giddy. Giddy. And I just rearranged my pantry closets. More giddy.
Thanks to those of you who have commented on the Kyocera ceramic knife giveaway so far. I do read each one and have cooed more than one "awwwww" or chuckled out loud at several answers. These are great and I'm really pleased that so many of you can be in a Good Place. A couple of commenters were caught up in my spam filter which is set to *paranoid*, but not to worry as I do retrieve legitimate comments. For those of you who have commented multiple times, you will be counted once (that PhD is good for something… I can actually count).
Now that my pal has received this package in the mail, I can post a picture of what I made for her. It's a relatively simple pattern, but I think it is especially gorgeous with any Manos del Uruguay wool (especially the multis).

i could only part ways with it because i can't wear wool… and because she's awesome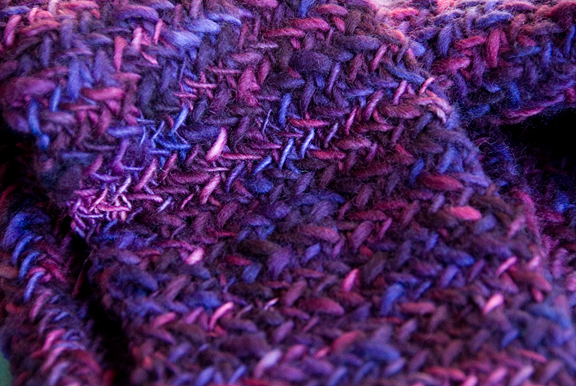 **Jump for more butter**