Thursday, February 12th, 2009

Recipe: beef sushi roll
There is just over a day left to enter the drawing for the Kyocera ceramic knife. I'm impressed with the turnout – so many people who love to flirt with danger! Nice.
Yesterday was my last day of tele class. I'm happy to get my time back, but also a little sad because it was so much more than just improving my tele skills. The good thing is that we have plans beyond class. Alpha chicks rule.

our group minus two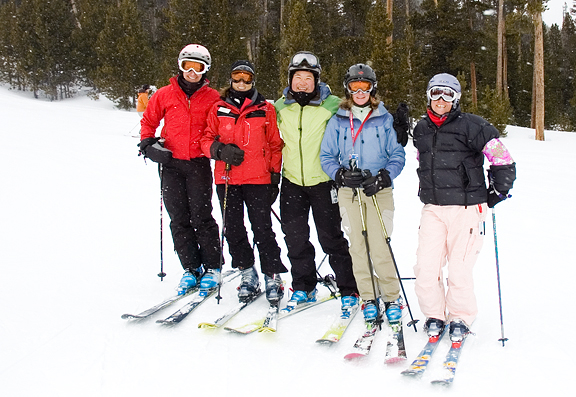 By the time we were done on the mountain, the snow was coming down fast in large fluffy flakes. It was a great day, but it wasn't over. We all met up afterward for drinks and appetizers and to see Bode, our instructor's 8 month old border collie. Bode (named for Bode Miller) is already a superstar and he is going to take the agility competitions by storm. It's quite amazing to be around such an intelligent dog (and then later I went home to Kaweah, Dog of Simple Brain).
let's play tug