This idea had been spinning about in my head gaining little traction for several months until one day, a commenter asked if I would post pictures of my kitchen. The hamsters ran faster in my brain… sure, a kitchen tour. Better yet, how about kitchen tours? Today is the first of six posts on food blogger kitchens. I thought it would be fascinating to get a behind-the-scenes look at a handful of them. After this week, I will feature two kitchens each Thursday into mid-April. Should be fun!
blog: use real butter
blogger: jen
location: small mountain town outside Boulder, Colorado @ 8500 feet asl
house: 11 years old, contemporary mountain-style home
kitchen footprint: 144 square feet (12×12)
When I say "my house" I really mean "my kitchen". As in: Come on over to my house my kitchen. Because that is invariably where our guests end up: in the kitchen. At the parties we throw, people mill about and around the kitchen. It's where it's at. I have cooked in dormitory kitchenettes, in closet-sized (and hallway-shaped) apartment kitchens, on a Whisperlite stove in the backcountry, on the tailgates of many a truck in Chile and Argentina (in the dirt)… For anyone who loves to cook, you make due with whatever you have got, and I did for seventeen years. Even in this, our first home, the current kitchen needed some Jen-tweaks to make it more functional.

the ikea wall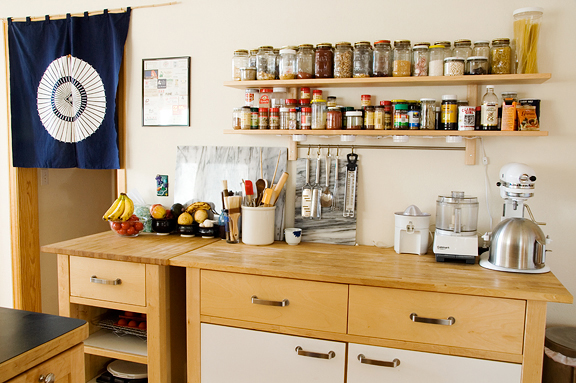 The only major adjustment to the kitchen was turning an empty wall into the Ikea wall with Varde counter and cabinet units (nice and sturdy) and a floating Ikea shelf above. I keep certain appliances out and ready to use: the stand mixer, food processor, juicer, kitchen scale. You can never have too much counter space or storage space, and I use every bit of it.
a use for my pottery : my favorite light switch plate left by the previous owners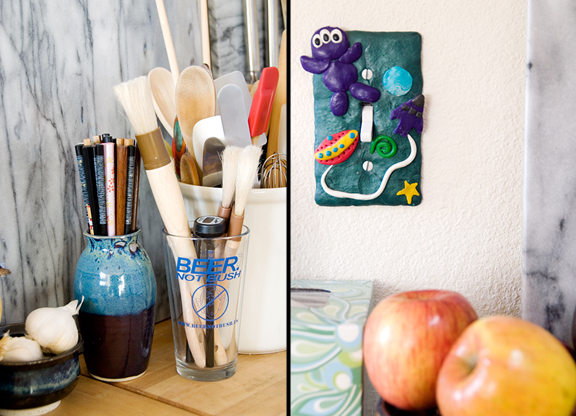 storage jars : deep drawers to hold pastry tools and sharp things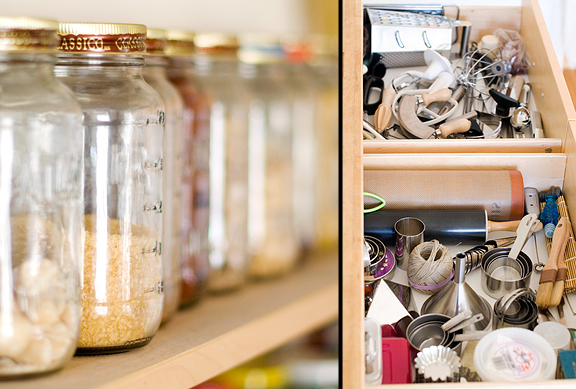 I tend to keep things organized. I am a clean-as-I-cook type. I cannot stand to start a big cooking or baking project if the kitchen is in disarray or there is a pile of dirty dishes in the sink. There is only one drawer where things are not clearly organized… the Danger Drawer. We keep extra knives, the mezza luna, skewers, Cuisinart blades, graters, and all manner of items that can hurt you in that drawer. Everyone needs a little excitement from time to time.
assorted tea bags : one of my chocolate cupboards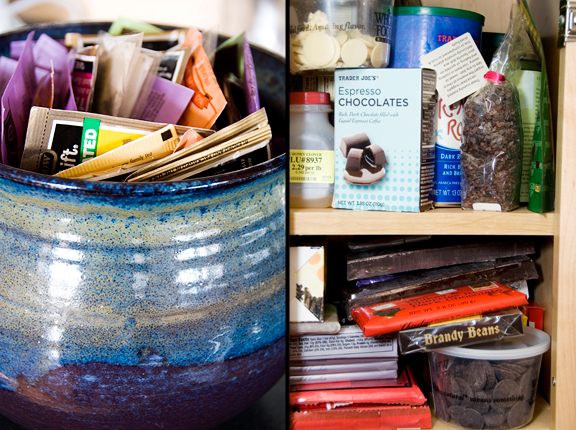 When we moved in, we told the sellers they could take their refrigerator because it was a side-to-side kind and I wanted to keep our top-bottom style for when I made large cakes (in hindsight, I wish we had kept it for a second fridge/freezer in the basement). It didn't occur to me that the white refrigerator didn't match the black appliances. I'm not one for pretty kitchens so much as utilitarian kitchens. Forget about granite tops, I want stainless steel and butcher block – something I can use and abuse and use some more.
the range – where the action is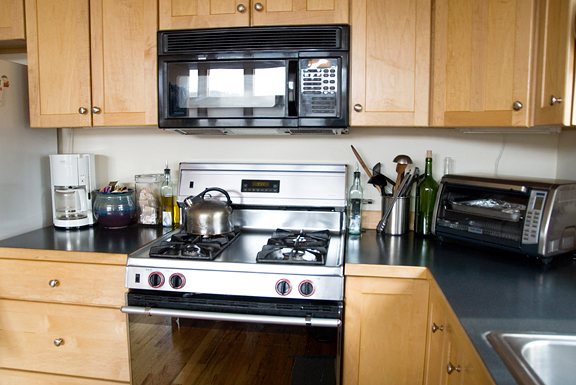 three pot racks, but only half of my pots and pans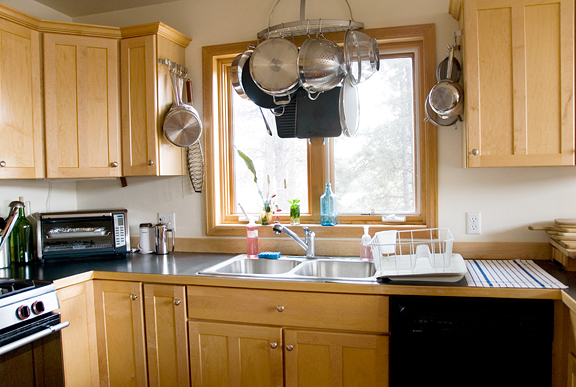 There is a larger pot rack waiting to be installed over the sink, but we have to machine it down a quarter of an inch so it will mount against the wall properly. I tend to be very picky about the functionality of things in the kitchen (well, in general, I suppose). My hands-down favorite part of the kitchen is actually a cabinet between the stove and the sink – in that awkward corner space that is so hard to get to. When you open the door, there are three tall bins that rotate to the front to hold recycling. It is awesome and it has about a 45-gallon capacity!
the main counter i work on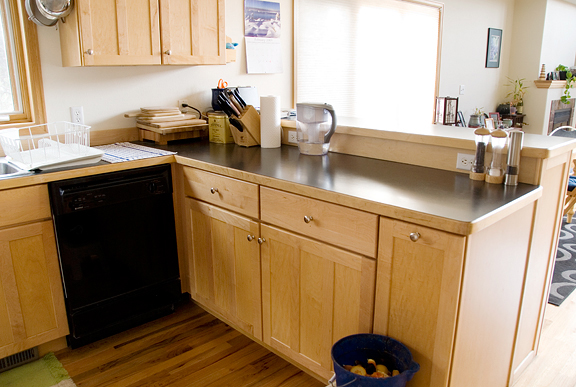 compost bucket : bookcase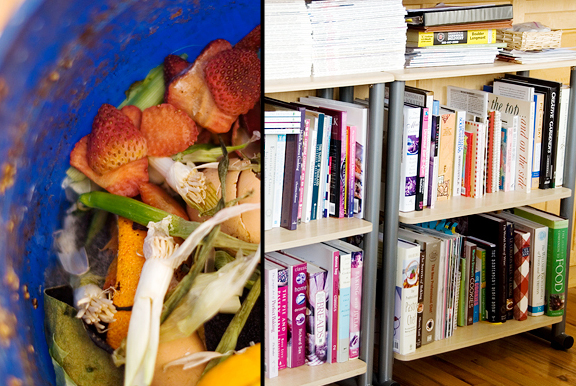 This counter faces out to the main part of the house. It is an open floor plan, which I love because this floor is very bright, even on the cloudiest of days. On the other side of the counter is the bar, but we don't treat it as such, because I wanted that space for most of my cookbooks. While I really don't dislike anything in the kitchen, if I were to pick one thing, it would be this counter section. If I could get rid of it (and I've said so often) it would allow me to absorb the dining area into the kitchen, doubling the square-footage. Some day, but not today :)
beyond the kitchen: the dining area (dog for scale)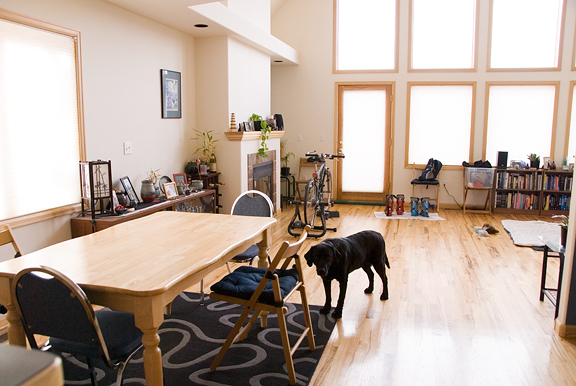 We don't have a lot of furniture and what we do have is mostly what I classify as graduate student/postdoc furniture because neither one of us could ever get our brains around paying more than a few hundred dollars for a decent dining table and chairs. I guess it is all a matter of priorities. We'd rather have screaming tele gear than a fancy table right now.
diffuser : typical shoot setup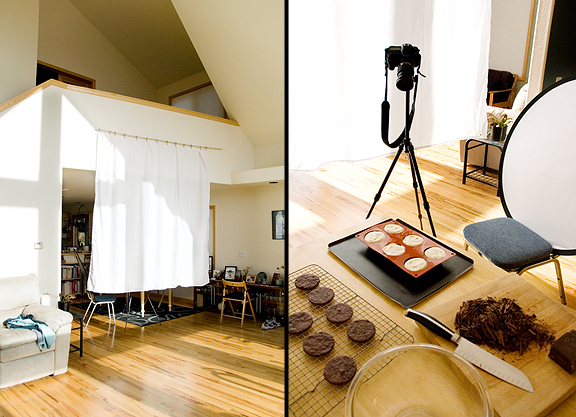 The dining area is where I do most of my food shooting for the blog. It is open, I can move around, the light is much easier to manipulate, the table is low enough for my tripod to get good overhead shots, and there is less danger of stuff catching on fire. Sometimes there is too much light coming through our south facing windows, so I drop a curtain (it's a white flat queen sheet rigged with a dowel, curtain rings, and cord) to act as a huge diffuser. I'm always on tripod and I keep the reflector handy whether shooting in daylight or by external flashes. I don't usually spend more than 10 minutes on photos per blog post. I just don't have the time and I would probably claw my eyes out if it took any longer.
yours truly : dinner prep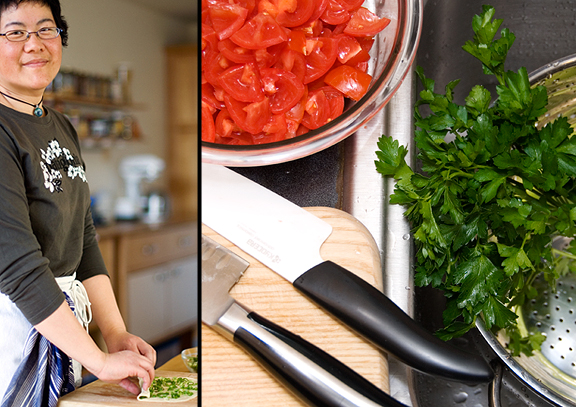 If I actually stop for a moment to think about my dream kitchen, this is not it. But I don't deal in what I wish for, I deal in what I have. Frankly, what I have is awesome. I'm quite happy with the kitchen and I know it will evolve over time with me and with the food I make. So that's what it looks like behind the pages of
use real butter
! I'll have two more kitchens to share with you next week.