Thursday, March 12th, 2009
[I had promised a recipe the other day and then failed to deliver. My apologies. We had a bit of a meltdown over here, as in, our DSL modem was fried. So instead of giving you a recipe, I fixed all of our technical issues and then gave myself the morning off to go skiing, which put me in a much better frame of mind to write this post.]
Here is where the fun begins for me! I had tremendous difficulty narrowing down the kitchens I wanted to explore. As you cooks and bakers know, the kitchen reveals a lot about someone – especially a food blogger. It is a personal and private space as well as one you share with friends when they come to visit, dine, or party. Because of that, I had a long list of bloggers lined up to ask to partake in this kitchen tour in case any of the original ten declined. But not a one said no! All of these great people are not only welcoming my nosy little self into their kitchens, but you as well! Such a gracious and friendly group.
Based on what I knew about these bloggers, I tried to get a decent distribution of types of kitchens. The point of the kitchen tours is to highlight the wide range of kitchens, tools, and setups behind an equally wide range of blogs. The coolest part for me is discovering commonalities as well as some really clever and unique ideas. So let's get started, shall we? Please give my friends a warm use real butter welcome as only my kickass readers know how!
Our first stop is Australia where we are visiting with my dear Barbara of Winos and Foodies. I had no idea what to expect other than "classy" and I was not disappointed. Barbara *is* classy and eloquent and she has a wicked sense of humor. I'm learning all sorts of Aussie slang from my emails with her. She makes me laugh and sometimes she makes me cry. The woman is incredibly well-grounded and full of good, practical sense.
blog: Winos and Foodies
blogger: Barbara
location: Main Beach on the Gold Coast, Queensland, Australia
house: apartment rented, building about 20 years old
kitchen footprint: no idea
photos: all photos of the Winos and Foodies kitchen are courtesy of Barbara
Barbara recently moved into this apartment and because she is undergoing more chemotherapy, she warned that she hadn't been able to do much with it in the way of organization. Stepping into the kitchen space, it looks quite organized to me. I love the bright and airy feel of it. My eye tends to go straight to the little things, like these awesome bags made of parachute silk hanging from a wine cork board that her son made.

entering the kitchen : shopping bags on the nearby wall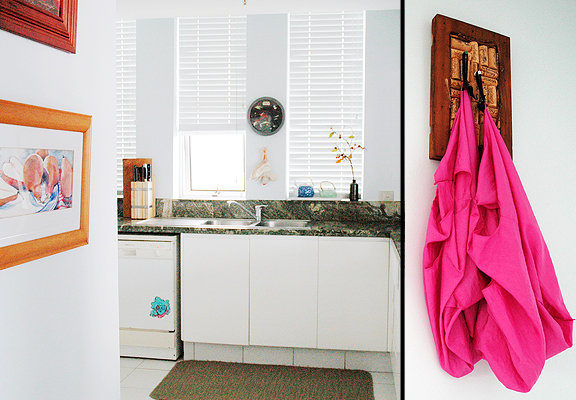 **Jump for more butter**