Thursday, April 2nd, 2009
We've been at this food blogger kitchen tour for a month now and honestly, I'm amazed at how many people are as excited about snooping around other kitchens as I am. I love seeing brilliant ideas implemented by my peeps. More than anything, I like how this series emphasizes that a food blog is great because of the effort, the creativity, and the personal style of each blogger. It's not the kitchen that makes the blog, it's the heart of the blogger(s). [Does this sound like my standard rant that a good camera does not a good photographer make? Just replace camera with kitchen and photographer with cook or food blogger.]
Last week, we ventured about sunny Southern California. This week, I'm taking you north near the heart of San Francisco. Have you ever been? I love it there, but I've always been a mere visitor. Today, we're a guest of my favorite resident of the city!
blog: Dessert First
blogger: Anita
location: San Francisco, California
house: 1920s-ish apartment
kitchen footprint: 80 sq. ft.
photos: all photos of the Dessert First kitchen are courtesy of Anita
When I first became aware of the food blogosphere, one of my regular sources of inspiration was Dessert First. Anita is talented. She creates gorgeous food, teaches baking courses, and is working on her second cookbook right now. All of this from an engineer! Let's hear it for gear heads! I had the pleasure of being the first stop on her virtual book tour when Field Guide to Cookies came out last year. The woman is not only a class act, but has a heart of gold. You are going to be amazed at what Anita accomplishes in this kitchen.

the entire kitchen of dessert first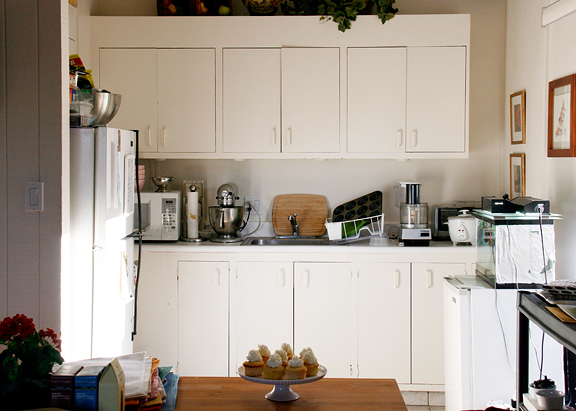 I have a new found respect for you, my dear. It's one thing to create those lovely pastries at all, but it is a whole new level of OMG now that I see the space you work in.
The kitchen in the apartment is about 80 to 90 square feet in an approximately 650 square foot place. Yes, it's getting quite cramped and my boyfriend and I are looking for a new bigger place! But we've managed to make things work pretty well here. In the photo you can see the kitchen from the living room. It's basically a rectangle, one side lined with cabinets/sink/counters, one side with the stove and refrigerator, one side with windows and a storage rack for my baking equipment, and the fourth side has a table/workspace that divides the kitchen from the living room. There's not a lot of counter space, and much of it is taken up by appliances. You can see the microwave, my Kitchenaid, food processor, toaster oven, rice cooker. It means I do most of my prep work on the kitchen table.

the stove is nestled between the refrigerator and counter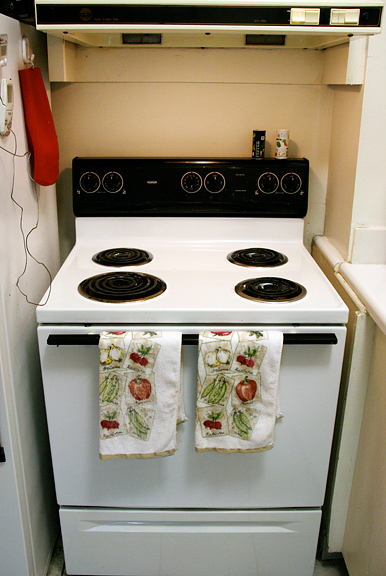 **Jump for more butter**