My head hurts this morning and I all I had last night was a sip of Jeremy's Sauv Blanc. The hell? [I'm pretty sure it was my 2-hour cardio workout because my ass hurts when I walk right now.] A very good friend of mine is in Colorado all the way from Sydney. She and her husband came to Boulder last night to meet up with us for Community Night at The Kitchen. Oooooh Comm Night…

herbed gioia ricotta and fennel confit wood roasted flatbread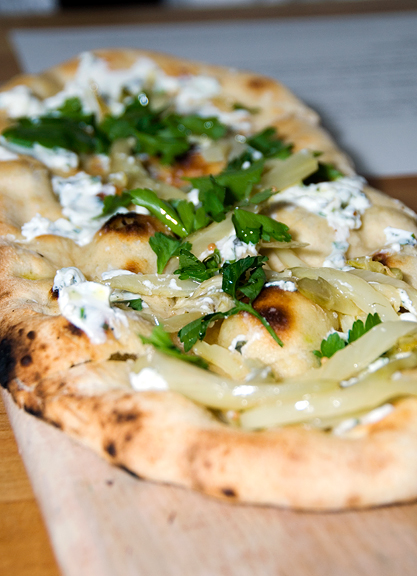 This was our fifth time at Comm Night. Come hungry and wear elastic waistband pants: fixed menu, family-style dining with a bazillion courses! Well, to be honest, over the past 4 years, Comm Night has gone from serving *insane* amounts of food to just *quite a bit* of food. I don't feel like I'm going to pop and die at the end of the meal anymore. Or perhaps I've just learned to pace myself. Either way, it's still a big treat partly because we don't typically eat like that and partly because we aren't made of money. Because our friends know their food (the hubby is a chef in Sydney), we thought Comm Night would be a perfect meal to share with them… and the dozen other diners at our table!
marinated shell bean salad with prosciutto, country terrine, grilled bread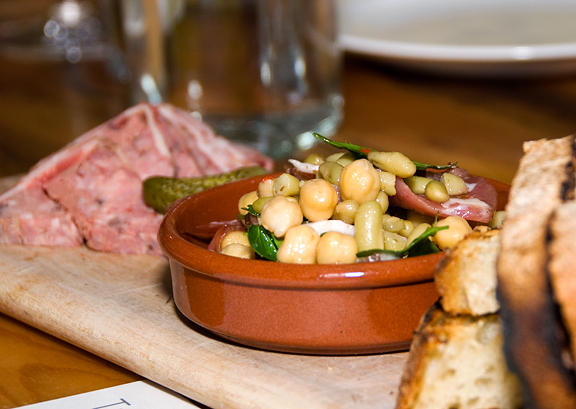 In case you didn't know, I *love love love* The Kitchen and I am particularly in love with Community Night. I think if I were a normal diner, I would continue to be hopelessly dreamy-eyed over the event. But because I'm an OCD food blogger with a camera, I noticed every time the wait staff dimmed the lights throughout the evening. Seriously, it got darker and darker at 30 minute increments. Right. I know Comm Night is dark. I know this. I don't like to bump my ISO and I can only handhold a 1.4 f-stop at the start of the evening before getting into ridiculous 1-second exposures and beyond. Have flash, will shoot. The flash isn't the problem (a lot of people take pictures at Comm Night – of food, of friends, of everything really). *My* problem is that when the place is so bloody dark, it is really tough to target a line for focus. I don't trust auto-focus (remember, OCD), but if I can't find the edge of a potato, then I think it's a little dark. I get the whole ambiance thing, but I'd like to remind The Kitchen that we're eating together, not
sleeping
together.
roasted organic beets with horseradish dressing and chives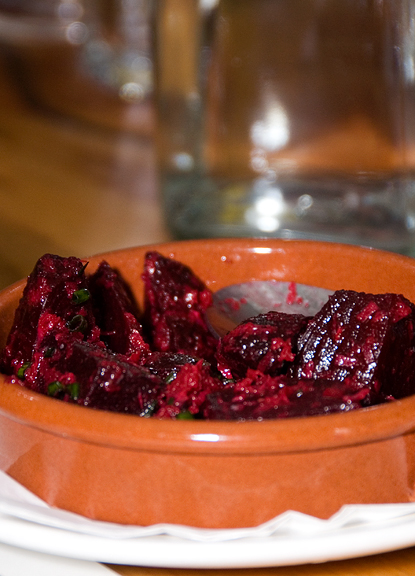 The important thing was to enjoy the company and eat the food. In the past we've been seated next to some pleasant fellow patrons and we've also sat next to some incredibly immature, testosterone-packed morons (yes, that breed seems to congregate in Boulder). I think last night was the first time I genuinely enjoyed meeting my neighbors. It's a loud scene and so much is going on at any given time that holding a conversation requires some effort and a good loud voice (which Jeremy and my friends inform me that I have).
cabbage salad with apple, gorgonzola, shallot and red wine vinaigrette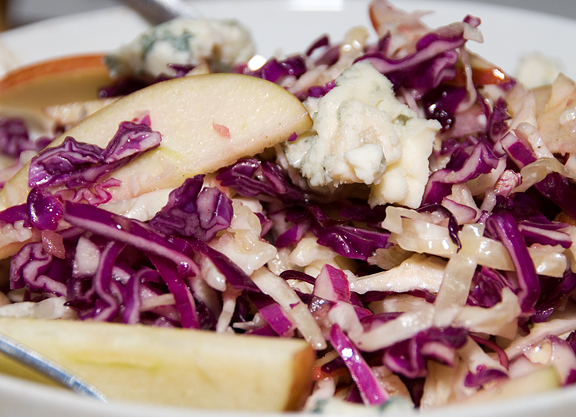 The guy sitting next to Jeremy had a dSLR and was shooting the food in special ops-mode: holding the camera out or over the subject without looking through the viewfinder and releasing the shutter. We got to talking immediately and I discovered he's a reader of
urb
. OMG! someone has actually heard of this repository of mindless drivel? It turns out that Andrew is a fascinating individual and he handed me the most kickass business card I've ever laid eyes on. He is also a super chill and very nice fellow. [If you pass the Jeremy Test, then you've pretty much made it.]
some salad? arugula, mizuna and other greens with orange, pistachios and pecorino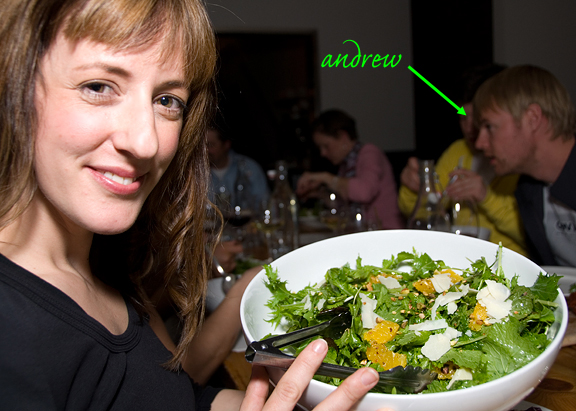 Andrew has been to Comm Night several times and he noted how a few years ago it was months out before you could get a reservation. I remembered hearing that too, because The NYT and perhaps some other high-profile rag had featured Comm Night. Things have settled down though, which may be sad for The Kitchen but good for the locals. You can probably snag a seat a few weeks out except around holidays.
pan-seared tuna with stewed chickpeas, tomatoes, and carrots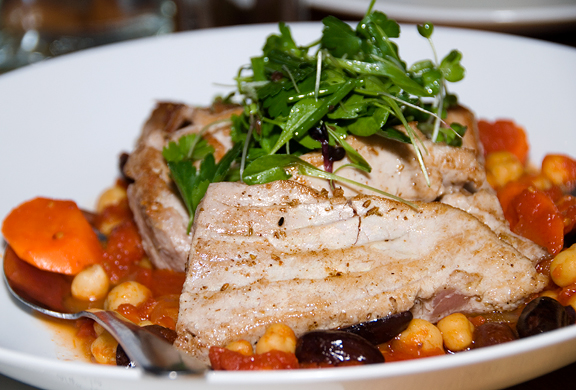 wood oven roasted striped bass with chimichurri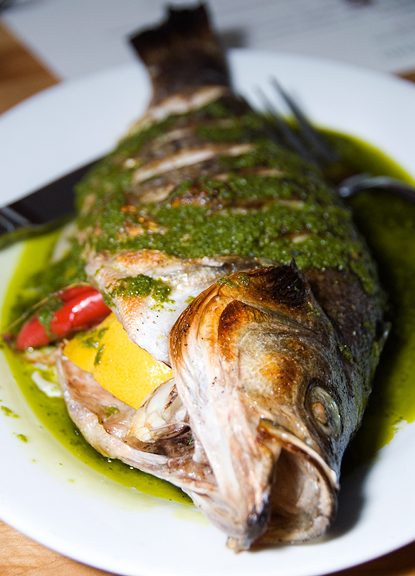 grilled pork chop with roasted vegetables and prune sauce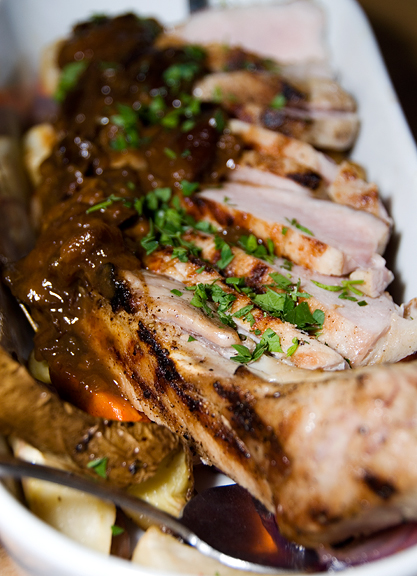 To my right – a lovely woman who was there with her friend, her son, and her son's girlfriend. I don't know about you, but I am not terribly impressed or fascinated with beautiful people. I'm all about interesting, fun, witty, and nice people (the two groups are not mutually exclusive). Well, the young man and his girlfriend? Incredibly sweet, charming and a most handsome couple to boot. They worked their bums off in New York City (
Blue Hill at Stone Barns
) to save up enough money and are in the middle of traveling Central and South America for the year. They were making a quick stop in Boulder to visit with his mom. It is obvious where he got his good looks and good manners (from her!). I told them Argentina is where it's at. Sometimes when I meet folks who like travel and food, it becomes clear right away that we aren't on the same wavelength. People who throw money at experiences aren't really my type of people. These two were traveling on a dime, exploring on foot, absorbing the cultures, and really tasting the food as only foodies can. A truly delightful group.
ben and kristen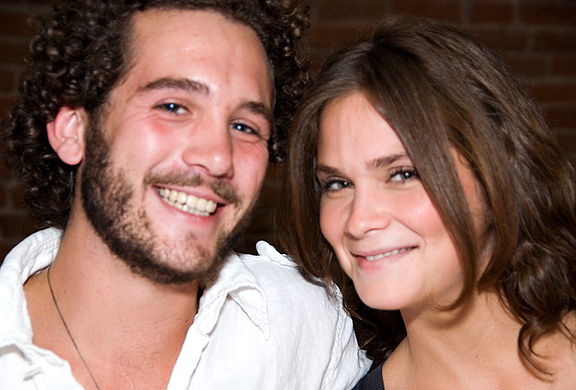 So I've been slapping photos of the food onto this post without commenting on the food. It was all amazing. I have sort of run out of superlatives for The Kitchen as they consistently create dishes prepared to perfection. I quite like that they served the striped bass whole because that's how I grew up eating fish in a Chinese household – head and tail on. It brings you closer to your food to know the creature it comes from rather than assume fish is some square filet that magically arrives breaded in a box from the freezer section of your grocery store. Just to tick off my favorites from the evening: the fennel on the flatbread, the prosciutto in the bean salad, awesome pan-seared tuna, prune sauce on the pork (why are people so afraid of prunes? I *love* prunes), and the date bread pudding. Lookee here:
date bread pudding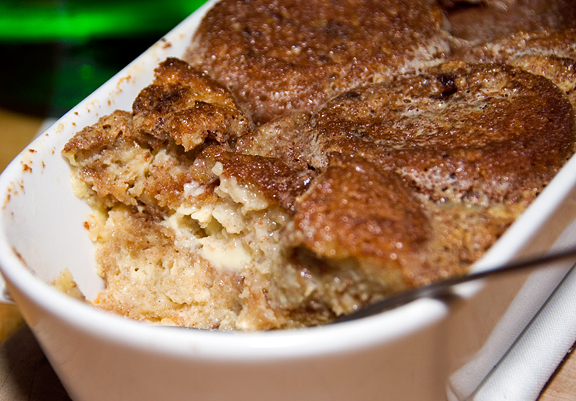 eaton mess: meringue, strawberries, whipped cream, berry coulis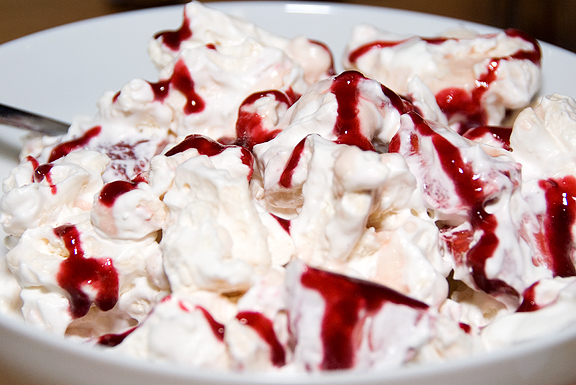 As the evening wound down, people exchanged information – scribbles of notes on torn pieces of Comm Night menus. We wished Ben and Kristen safe travels and everyone bid our Aussie friends a safe trip home (and a congratulations on their pregnancy!). In settings like these I can sometimes go into auto-pilot and make polite small talk while my brain goes on vacay. This was the first time I really felt engaged with the other patrons – like a community. I feel like my life is that much more enriched for having met them. Very cool.