Saturday, June 27th, 2009

Recipe: bakewell tart
Just under the wire! I wasn't sure if I was going to make it this month, but luckily it turned out to be a relatively straightforward challenge. Whew!

the daring bakers knead to bake, damnit!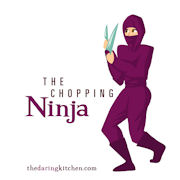 Here's the official line: The June Daring Bakers' challenge was hosted by Jasmine of
Confessions of a Cardamom Addict
and Annemarie of
Ambrosia and Nectar
. They chose a Traditional (UK) Bakewell Tart… er… pudding that was inspired by a rich baking history dating back to the 1800′s in England. And of course, the unofficial line is that our founders, Lis of
La Mia Cucina
and Ivonne of
Cream Puffs in Venice
, are goddesses. I marvel at how those two women do it, but they do it – and they do it well. Thanks for the pastry love, ladies!
This dessert was not only straightforward (thank goodness, or someone would have been pitching a fit at 8500 feet) it was delightfully almondy and moist with bright hints of fruit. I'll have to be quick here before I nod off and wake up with little keyboard marks on the side of my face…

grating cold butter into the flour for the crust
whisking egg yolks and almond extract together
**Jump for more butter**