Wednesday, September 2nd, 2009

Recipe: pan-seared sesame-crusted tuna
Helloooooo September! I'm so happy she's here now. I love September. Love it. You know how you have 60 days' worth of stuff to cram into 30 days? That's my September. Oops! now 29 days…
There is no better way to kick off a new month than with a dinner party. I mean, a dinner partay. I was running a little behind schedule when folks began to trickle in yesterday evening. Luke and Nichole asked if there was anything they could help with. Normally (and my friends will verify) I say no and have people sit down with drinks, appetizers, and let the conversation roll. I'm a bit of a control freak like that. But the appetizers were not assembled yet, Jeremy was tending grill and dishes, and I was still getting my mise en place EN PLACE for dinner. I sliced up the grilled pork chops and showed Luke how to wrap spring rolls while Nichole became the mojito maestra. They took to their tasks like pros. The food was in good hands and I could relinquish those duties without a worry. Nice. I guess you *can* teach an OCD to delegate.

the spring roll brigade at work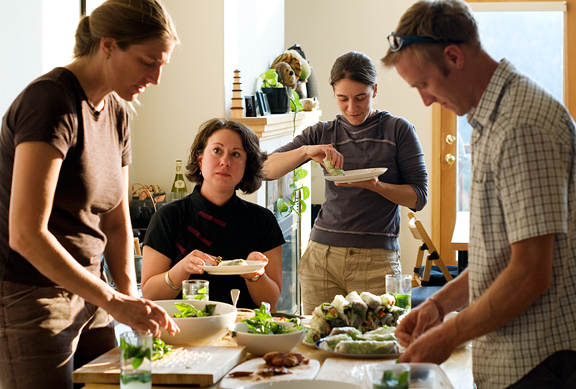 It's times like these when I am reminded why I should only serve Chinese food if the headcount is under 6… because we don't have burners with enough BTUs to handle the volume. But it's a known fact that you can't get decent Chinese food in Boulder. Period. I wanted to treat our buds to something authentic, you know? It would have been great to whip up a quick meal so I could sit down and chill with folks more. I tried a newish recipe this week that was fast and amazing. We both loved it. Unfortunately, at $30/pound (okay, technically $27.99/pound – but when you buy 4 pounds, that $8 becomes negligible) it's not an especially economical dinner to be serving at a dinner party. I dare say it's worth the splurge for a lovely dinner for two.
wasabi (powder)!
spice up your life: a little wasabi mayo
**Jump for more butter**