Friday, September 25th, 2009

Recipe: brain teaser bars
**You can still enter to win an iPod nano! You have until midnight, September 27, 2009! MST**
Thanks for all of the birfday wishes, folks! Very sweet of you :) I'm going to begin a pre-post -birfday celebration with Helen, Todd and Diane, and so many others very shortly! By the time you read this message, I will either be en route to or in San Francisco for the BlogHer Food conference. Hey now! that doesn't mean you can all go slacking off! There is some important business at hand – so let's get to it.
Today, Good Bite is launching the Awaken Your Senses Challenge sponsored by Quaker Instant Oatmeal. use real butter is a part of this campaign to help food charities. Twelve food bloggers have been asked to share some of their favorite food memories with Good Bite. Using those food memories for inspiration, Chef David Lawrence (of Good Bite – and a total cutie!) will create an assortment of oatmeal dishes combining Quaker Instant Oatmeal and other ingredients. Every two weeks, a new round of videos will be posted on youtube at quakertalk where you can vote for your favorite topping. Semi-finalists will be selected from each round and at the end of eight weeks, the blogger with the most votes wins.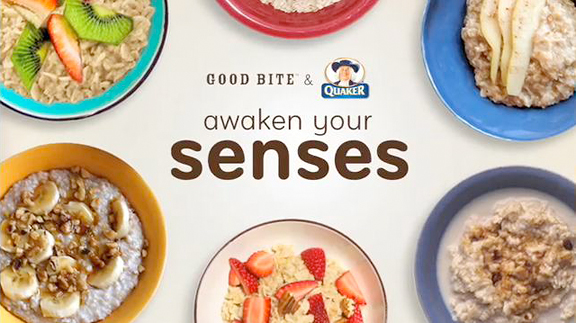 But what do they win?
Each food blogger is championing a food charity in this challenge. The winner will have $10,000 donated to their charity. That is a lot of money, but more importantly it will help a lot of people. The charity I have selected is the Farm to School Program which promotes a mutually beneficial community relationship between local farms and school lunch programs nationwide. Here is what they do in a nutshell:
Farm to School connects schools (K-12) and local farms with the objectives of serving healthy meals in school cafeterias, improving student nutrition, providing agriculture, health and nutrition education opportunities, and supporting local and regional farmers.
As food bloggers, as people who love food and cooking and eating, it might be hard to imagine that there are others who go without food more often than not. For some kids, their best meal of the day is the school lunch. Sure, we all joke about school cafeteria lunches with the puke green mystery vegetable mush – but what if that was your only exposure to vegetables? Kids who grow up eating fresh fruits and vegetables have a better chance of making those choices a part of their daily lives as adults. The Farm to School Program seeks to improve school lunches and instill good eating habits in children while at the same time creating a demand for what our local and regional farmers work so hard to provide. It benefits two very important groups: our farmers and our children – but ultimately, it is for our collective future.
Okay great! I'm jazzed – what do I do?
VOTE for your favorite topping (or vote for your favorite blogger or favorite charity) each week at www.youtube.com/quakertalk! Let's see if we can make the semi-finals on our way to winning $10,000 for the Farm to School Program. I would love to have your support, but honestly, all of the charities are Good Causes. And thank you for doing this.

*********
This summer I received a free copy of
Julia Usher
's new cookbook
Cookie Swap
for review, but never found a moment to actually make anything until a few weeks ago. That was fine though, because as timing goes, Ms. Usher will be in Boulder in a couple of weeks. Folks in the Boulder/Denver area can catch her at the
Boulder Book Store
on Wednesday at 7:30pm on October 7, 2009 for a talk and a book signing.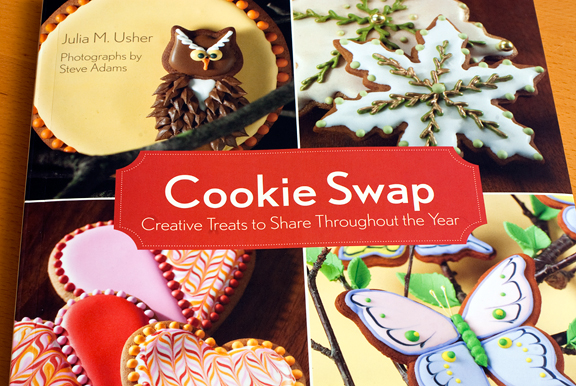 If you love decorating with icing and pretty things, this might be the book for you. The detail in Ms. Usher's decorating is delightful, ranging from elegant cookies to whimsical cookies. As busy and as impatient as I am, I skipped all of those cookies looking for a recipe I could make quickly. Thankfully, she had some of those easier recipes for people like me.
ah yes, butter
**Jump for more butter**