By the skin of my teeth: NaBloWriMo day 6!
I had to tear myself away from a rip roaring tweetfest on Twitter just now because Jeremy innocently asked me, "Don't you have to post before midnight?" Yes, yes I do. Yes, I am. Just that Twitter has slow moments and then around 10:30 pm, it kicks into high gear because Helen doesn't sleep (we all have proof positive of this) and all of the west coasties like Alice, Ashley, and Chuck are wide awake because it's only 9:30 pm there.
I really appreciate all of the feedback and discussion on my last post. I'll lay out all of the details when the Eat on $30 challenge starts on Sunday. I think it's important to keep in mind that food where one person lives does not cost the same where another person lives. Also that we don't all live in the same climate to grow our own food or have similar access to good, affordable produce. It's not about putting someone on foodstamps in your shoes, per se – rather trying to put yourself in their shoes. But let's keep the discussion going! Awareness is the ultimate goal, so thank you.
My good friend returned from a month in Europe (mostly Paris) today and said she needed to see me. She said she had some "time-sensitive" stuff to give me. Yes, stuff is a technical term. Four of us met up for happy hour in Boulder on the patio of Brasserie 1010 where Marianne distributed wondrous, lovely presents.

no way no way no way!!!!!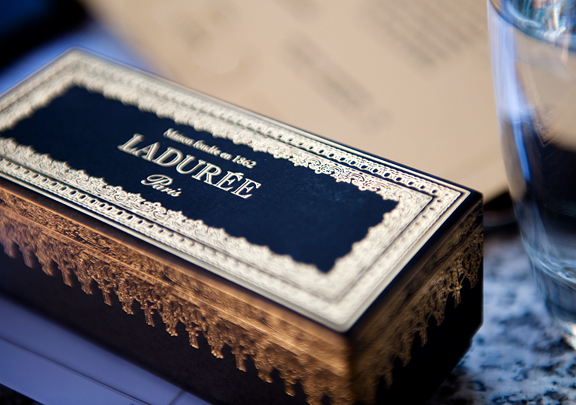 les macarons, mon dieu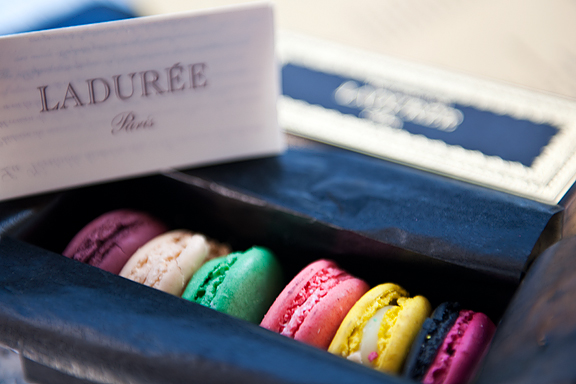 In addition to the lovely macs (cassis, orange blossom, mint, rose, bergamot, fig-date) she handed me three bags of Valrhona dark chocolate discs. Somehow the Chinese glutinous mung bean sesame balls and mung bean moon cakes I gave to Marianne and Beth seemed so… boring. But the two of them appeared psyched about the goodies. Actually, I'm betting that Beth was psyched about these:
gorgeous valrhona chocolates and caramels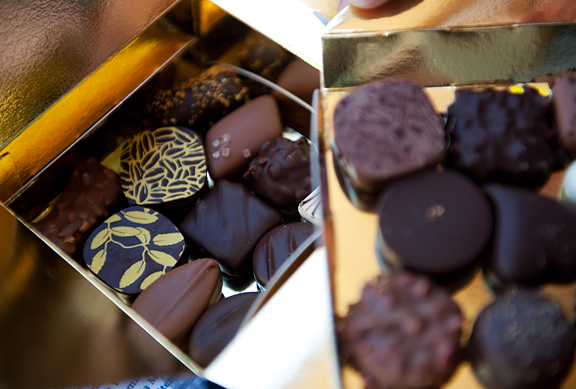 so happy that marianne is back
Jeremy joined us later after he was done giving lecture and we chattered away (well, Jeremy not so much – he is a quiet one) in the brilliant autumn afternoon until the sun dropped behind the flatirons and it was time to go. We get one whole month with Marianne before she ships off for the ice (Antarctica) for 4 or 5 months.
Those macs were incredible. Yeah, you bet we ate them… TIME-SENSITIVE STUFF! The orange blossom was my *favorite* and the cassis was a close second. Jeremy was all about the bergamot (he's an Earl Grey whore, what do you expect?) Even though I'm crazy for macs, they are nothing as wonderful as having Marianne home – even if only for a month. And I'm keeping the pretty pretty box. I'm going to keep it under my pillow.