Monday, December 21st, 2009

Recipe: roasted beet, chèvre, hazelnut salad with blood oranges
I've been horizontal for the past two days with a blasted flu (not H1N1 as everyone seems to assume). I came down with it during my trip to California last week when we were taking care of stuff for my grandma. Sigh. No good deed goes unpunished. Today, I can finally sit upright for more than a few minutes at a time without passing out.
So I think some of you might be wondering who won the CHEFS gift card? Jeremy and Kaweah had a lot of fun picking the winner yesterday. I was in and out of consciousness while Jeremy was hard at work in the kitchen. He finally presented me with a handful of dog treats etched with a number 0-9 on each one… in binary. Somehow this was more exciting to Jeremy. As long as he's happy… Kaweah followed him around like a little black shadow, anxious to do her part (that is, to eat the treats).

your nibbly kibbly chances of winning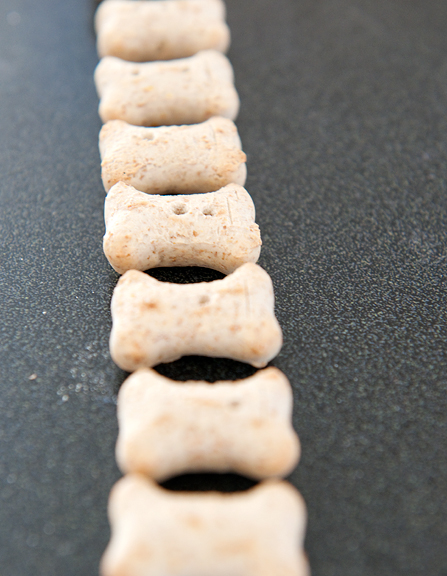 our dedicated employee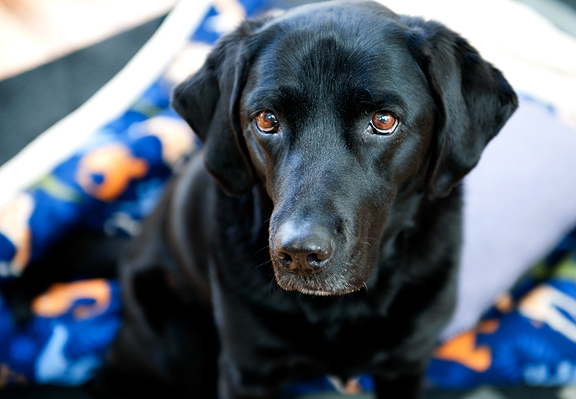 Per the usual routine, we set out all ten digits and recorded the first number she ate. Jeremy is quite practiced at preventing Kaweah from mowing through all ten at once (she's a quick one, that dog). We replaced the devoured digit with a new one and reshuffled the biscuits. Binary, hexidecimal – they're all delicious to Kaweah. 3… 0…
there goes the 5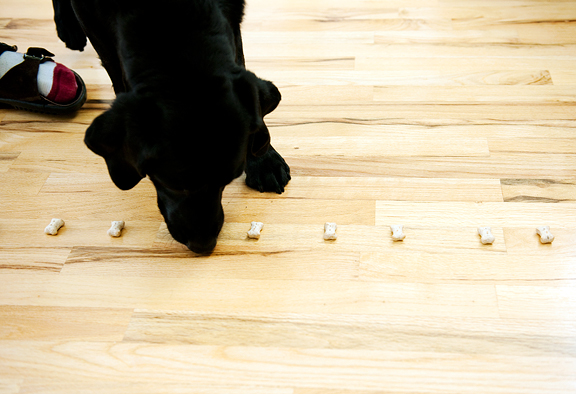 Congratulations to Wend!
You were comment #305 and you win the $100 CHEFS gift card! I'll be emailing you to get your snail mail address so CHEFS can ship it to you right away.
But wait, there's more! I have a $25 CHEFS gift card from the BlogHer Food conference back in September that I never used. A $25 card means only one thing – I'm going to spend way more than $25… I'd rather give that card to one of you. So Jeremy took the winning number 305 as a seed for a random number selection (Kaweah had eaten plenty for the day) and we have #33 – Paula! Congratulations to Paula! I'll contact you shortly to get your mailing address too.
So this here flu has played havoc with my holiday schedule and I'm left digging around in the archives for something to share. I can only handle thinking about holiday fare for a day or two and then my brain revolts. The cookies, the sweets, the large cooked animals, the cream, the starches, the fat – they make me so sleepy. I find greens and citrus to be light and refreshing. Salads leave me feeling recharged and ready to spring to action!

some golden beets
a few blood oranges
**Jump for more butter**