Monday, August 23rd, 2010

Recipe: blueberry pie
We watched as two young men played around in the snow, trying to impress their female companions. They were goofing off, acting stupidly. I turned to Cory and said, "So if one of those guys got himself into trouble, would you go rescue him?" Cory squinted under his sunglasses and looked in their direction then looked back at Jeremy who was setting an anchor in the snow, "Yeah, I would." Cory, our wise Zen Master of the Mountain, taught us crevasse rescue several years ago. More than that, he taught us to be mindful of the mountains and their weather. Most of the time when we are in the backcountry, Jeremy is the most cautious one of the bunch. I think that's partly his nature, but it's also because of his training and experience in high-angle search and rescue. Cory is the only person I've met who is more careful than Jeremy. Cory is good people.

jeremy on the flanks of mount baker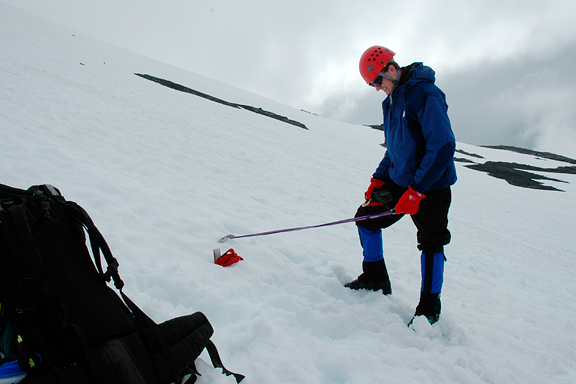 You might think that if someone were in trouble, it's a no-brainer to go and help them out, right?
We were hiking Saturday morning on a favorite trail of ours, making good time toward Pawnee Peak. As we neared the last set of switchbacks to the pass, we heard rockfall in the distance and hollering. Rockfall isn't all that uncommon, but hollering – it sounded like someone was getting mauled. The wind was strong and I stopped, straining to listen. I asked Jeremy if he heard what I heard and he said yes. Then there was a distant shout to the east. Jeremy left the trail walking to the edge of the plateau that looked across a basin to a craggy ridge. I followed and we listened. Calls for help. We scanned the steep, loose slopes below the ridge for signs of a person, but nothing was visible. Jeremy said we needed to head back down the trail to get closer and see if we could locate the person. We returned to the trail and quickly made our way back across the plateau. A woman rounded the corner and we asked her if she had heard anything. Yes, she had. We asked if she had cell reception (we tried the iphone – nada). She said she had a spot transmitter – that it would notify authorities with her GPS location. Jeremy's face lit up, but she said, "It won't do any good because they'll come here to me." She asked if we were heading down and we said yes, that at least one of us was planning to go to the trailhead to get help and we were going to try and locate the person calling for help. She said, "Oh good, then I won't bother going if you're going." She told us she was going to continue on up. We offered that there was no way to reach the person by going up. She insisted that this was the only way she could help, by maybe spotting him from above and she forged ahead. Really?! REALLY?! We were astonished. Neither of us believed her.
Jeremy was annoyed, but he didn't want to waste any more time and we continued down. Why wouldn't she offer to help? She could have handed that spot transmitter to Jeremy and if he located the fellow, could have sent for help right away with coordinates – it's all about time. We figured she was just a selfish woman (not the word I used) who wanted to finish her hike. Nevermind that a man's life could be on the line. I paused to listen and shouted back several times on the way down (because as Jeremy says – I've got the pipes) and we heard a few more calls for help. When we reached the closest point on the trail to the basin, a woman was there with two packs. Her husband had gone into the basin to try and locate the victim. Jeremy handed me unnecessary stuff that would slow him down. I gave him what little food we carried, and anything first-aid worthy. He said he was going to try and find the guy and maybe stabilize him if he could and that after I contacted authorities, we'd meet at the trailhead. With that, he set off – his sights on the scree slopes above. I took off down the trail and encountered a hasty search team a few miles later. I stopped to give them information. Someone who was climbing with the victim had run out for help ahead of me. That's whose pack was on the side of the trail at one of the junctions. When I hiked out, the parking lot was full of Sheriff's, emergency, and mountain rescue vehicles.

lots of commotion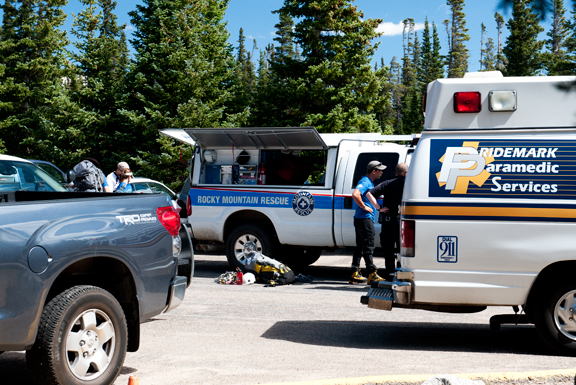 I spoke to an officer who was taking witness accounts. The young man sitting across from the officer was the one who had run out for help. He looked so shaken. The officer took me to the search team and I showed them on the map where we thought the voice was coming from. The gentleman asked if they should approach from Blue Lake. No, no, I said. He's on the south side of the ridge, approach from Long Lake. I realized that he wasn't familiar with this part of the backcountry – rescue teams come from a wide area to help. I waited for Jeremy as teams of two and three carrying all manner of emergency equipment: a litter, oxygen tanks, racks of climbing gear, braces, first aid, marched into the forest. Helicopters thumped overhead. A couple of hours later, Jeremy emerged. Two other well-intentioned hikers had wandered about with no progress, but Jeremy got to within a few hundred feet of the victim. Turns out it was a father and his adult son. The father had fallen, the son went to find him and we assume was the one calling for help. Jeremy communicated a little with the son, but couldn't get up to the rock chute without climbing gear. He heard coughing, some rock movement, but then nothing more. He went down and met with a search and rescue pair. They told him several SAR members were already on the plateau headed for Pawnee Peak. Jeremy said they wouldn't be able to reach them from Pawnee Peak because of the technical ridge. They didn't know where the victim was, so Jeremy pointed to the easternmost chute on the ridge and said he located them there. The safest way to reach him was by helicopter.
from an old photo of mine, jeremy showed me where the victim was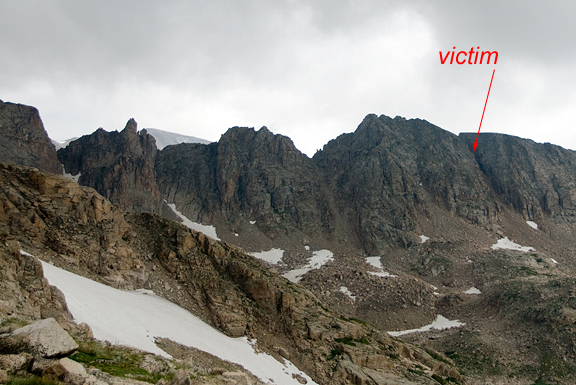 We learned via (really poorly reported) news that the man was airlifted out and that he was alive, albeit with severe injuries. We were relieved. Then we were angry because of
this report
(now defunct). Apparently, the woman we ran into on the trail whose hike was more important than helping someone in trouble was the one in the story. She most certainly didn't activate her rescue beacon as soon as she heard the rock fall. We heard the accident around 9:05 am and we ran into her around 9:15 when she insisted it would do no good to signal for help. Even better than that, we now know
why
she wanted to finish her hike so badly… to write up a
bloody trip report
(also now defunct) published at 5:51 am Sunday morning. Despicable woman. What is wrong with some people?!
Okay, enough about that (I hate wasting energy on jerks). I've got quite a bit of travel coming up and I wanted to post this summer recipe before mid-autumn came and smacked me upside the head. You don't see a lot of pies on urb. I love pie. Love pie. If I make a pie – especially a fruit pie – I will eat it. It beckons. That's why I don't make pie. I know, it's an odd form of self-control, but it works.

summer's bounty – blueberries
and butter, how apropos
As a I've mentioned in the past, my favorite way to eat fruit is straight up and fresh. The most wonderful thing about summer fruit is the (almost) overabundance. That's when you don't feel so guilty about using some of that bounty in a dessert… like pie.
add cold, cubed butter to dry ingredients
pulse, add water, gather the dough in a disk (or two)
Pies are dangerously simple. It's a little scary how simple, because after you make one you think to yourself, "I should do this more often." I made two of these pies because we dug into the first one so quickly, I never got a photograph. Following
Elise's recipe for blueberry pie
, I used flour the first time around. That was excellent, but very oozy.
roll out chilled dough
line the pie plate
**Jump for more butter**