It's been over a week since I landed in San Francisco and I'm still noodling about the area, busy with a lot of other business which I'll share with you as I plow through the photos. But, given the choice between living life and blogging about it, I think you already know which one takes priority for me. However, the camera rarely leaves my side. That's a good thing otherwise I'd have forgotten what I did just ten minutes ago!
Chuck, Anita, and I left the BlogHer Food after party as things were starting to crank up. We ran around hugging people good-bye – most of whom said, "But I just got here! You can't be leaving NOW?!" I'll see those good folks again, I'm sure of it. But Hungry Bear was preparing a wonderful dinner for us at their lovely home, we were meeting Anita's husband, Mike (so neat to now call him her husband instead of boyfriend!), and we were running quite late. While I loved seeing so many of my friends in one place at the after party with, alas – great food, I felt like I could relax and enjoy a pleasant and more personal dinner with a handful of close friends. I really needed that decompression.

we started with gorgeous shrimp egg custard appetizers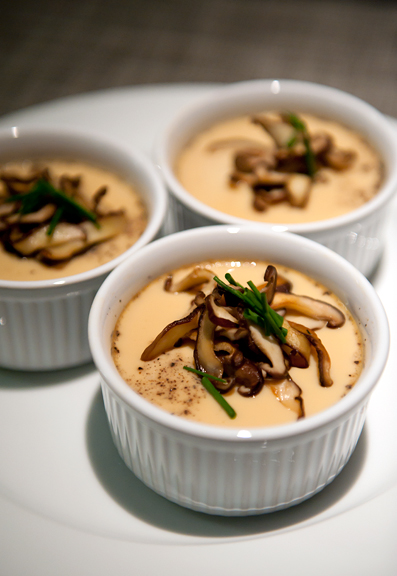 chuck models his latest tee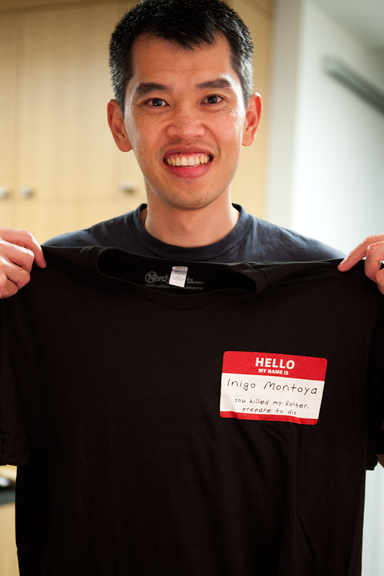 wonderful and wholesome roasted japanese eggplant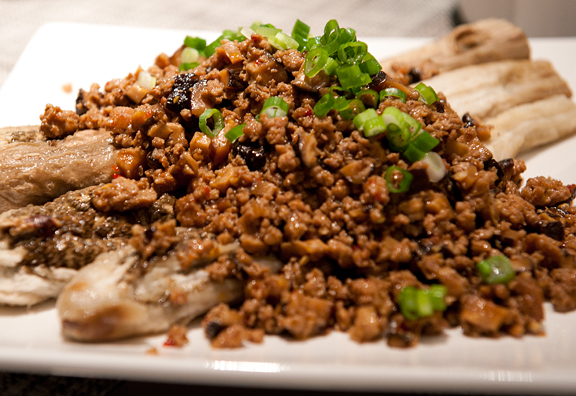 hungry bear and chuck at the dinner table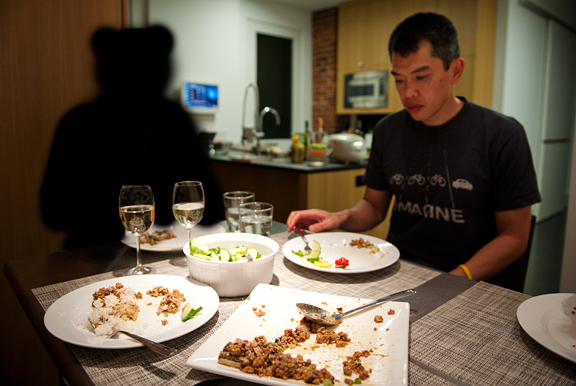 Even after Anita and Mike left, Hungry Bear, Chuck, and I were up pretty late talking. That's what happens when parents aren't around to yell at you to get to bed. In the morning, before it got too hot (did I mention it was hot in San Francisco the whole weekend? Well it was – ass hot for San Francisco and it was snowing in my backyard at home) we went out for a walk around the bougie bougie neighborhoods then down to the Presidio. I felt so California!
along the beach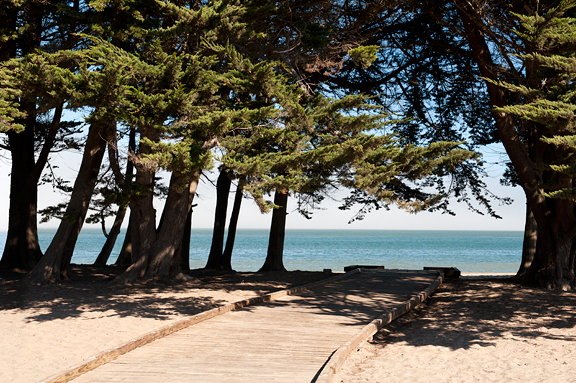 fog lifts over the golden gate bridge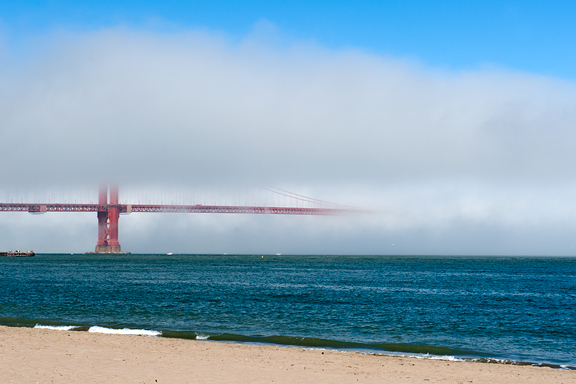 We met up with
Lisa
at the Sports Basement. At first, I didn't hear the name of the store and Hungry Bear told me it was a toy store. Then Chuck added, "It's an
adult
toy store." Well, okay! Turns out it's an outdoor sporting goods store with great deals on all manner of gear… except for tele gear. I suppose that's not so much a California thing. Since it was nearly Sunday noon, we opted for lunch at
Nopalito
.
some sort of roasted nut or legume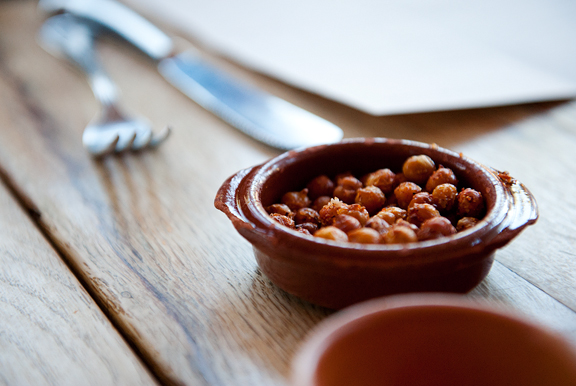 gorditas campechanas (braised beef in fried corn tortillas)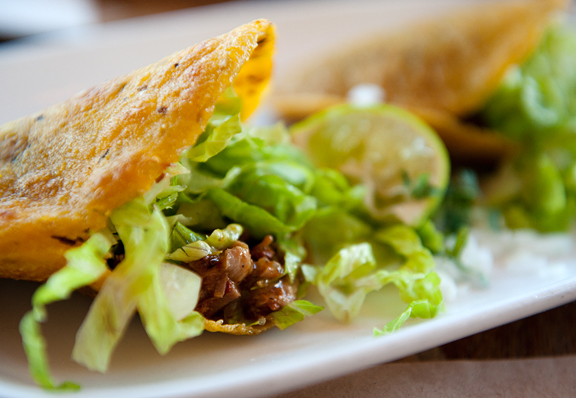 ceviche verde de pescado y calamari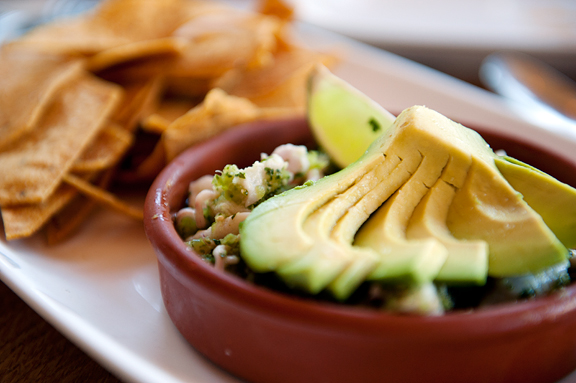 tamal empipianado de puerco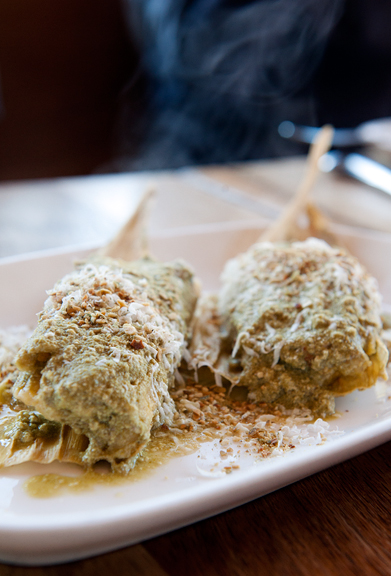 carnitas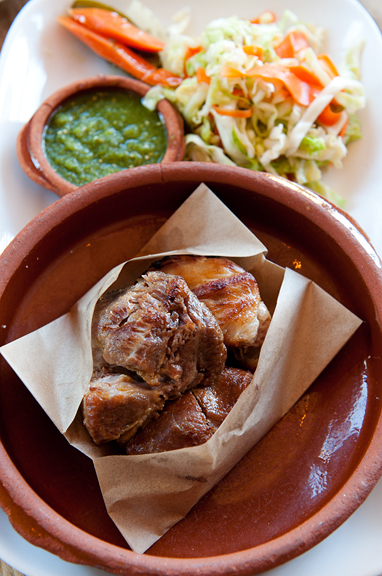 little cookie bites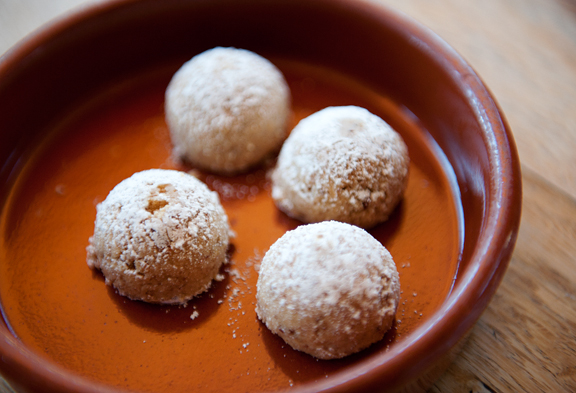 The food was terrific, although I felt the carnitas missed the point. The point is to maximize the surface area of the caramelized bits of pork and that's hard to do with giant hunks of pork. We were all in agreement there. Back at Hungry Bear and Chuck's place, Lisa helped me gather my stuff as I unloaded much swag (mostly chocolate). During BlogHer Food 2010, Chuck was distributing some slick FoodGawker swag which I hope those who attended were able to score. Lisa and I each got a shirt too. The photo is a little blurry, but Nikons weren't really designed with bears in mind (especially a Hungry Bear).
lisa and i sport the foodgawker bling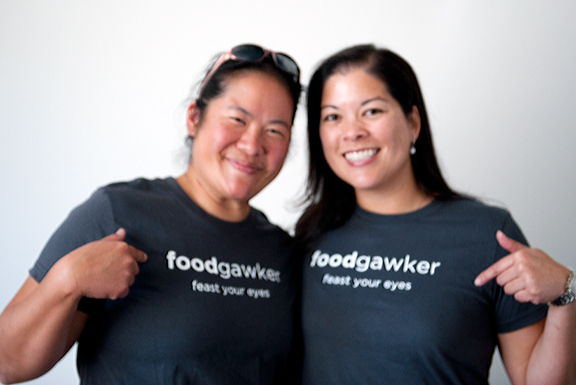 After I thanked Chuck and HB for hosting me and hugged them good-bye, Lisa took me around San Francisco for an afternoon on the town. Since she couldn't attend the conference, it was nice to spend some girl time together while we hit up the bakeries around the city. Lisa is the perfect guide to anywhere because she's my OCD friend who researches ALL of the great food places (and shopping destinations, but I don't do the shopping thing) and is willing to walk around the city in search of passion fruits before they're in season. We're both a little obsessed with passion fruit.
macs at paulette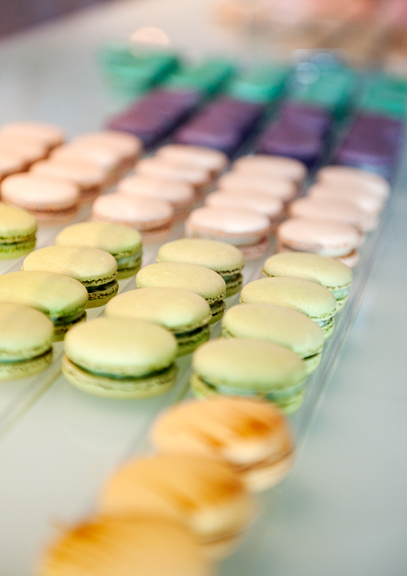 i got two boxes for my mom and grandma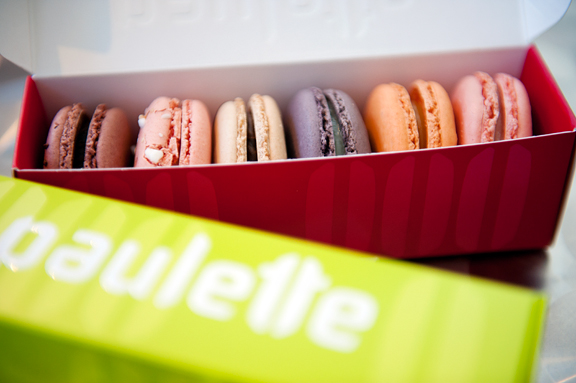 Bi-Rite Creamery
had a line from here to ya-ya because it was a HOT day. We both loathe the heat and the thought of standing in line, in the hot sun, outweighed any desire for
really awesome
ice cream. We agreed to bypass Bi-Rite (me being lactose intolerant and all also helped that decision) and opted to head to
Tartine
just down the street. As we rounded the corner to the entrance of Tartine, who should Lisa spy through the storefront windows?!
two of my favorite people: todd and diane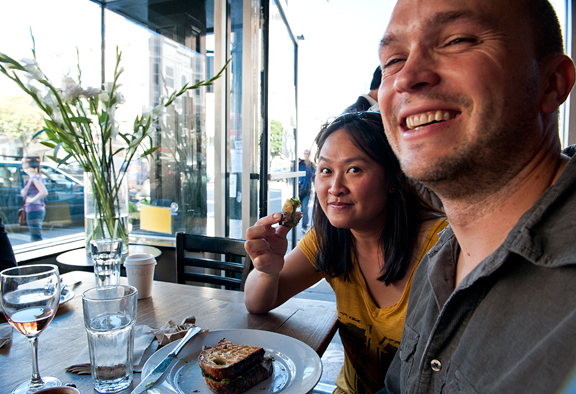 more time together just before they left to go home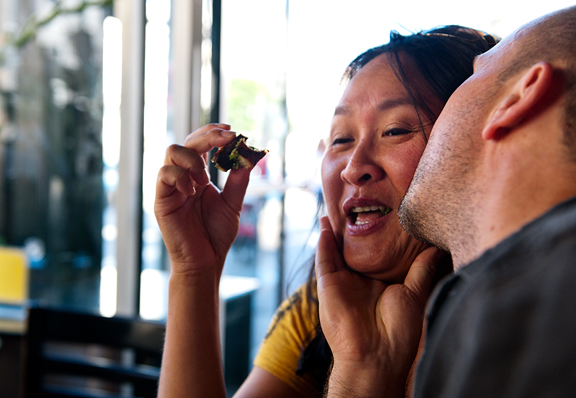 The place was packed with wall-to-wall customers. Everyone was sticky from the heat and humidity (I know folks don't think of California as humid, but it felt humid to me coming from Colorado). Didn't help that Tartine is a bakery which felt 10 degrees hotter than outside the shop. That didn't deter a single person from ogling the lovely offerings of the pastry persuasion. I'm not crazy for sweets and I wasn't even hungry, but I couldn't resist ordering a slice of passion fruit and coconut cake while Lisa got a chocolate croissant. Then we sat down with Todd and Diane to share the goodies around and talk while the Blue Angels roared overhead several times. So cool.
what to choose…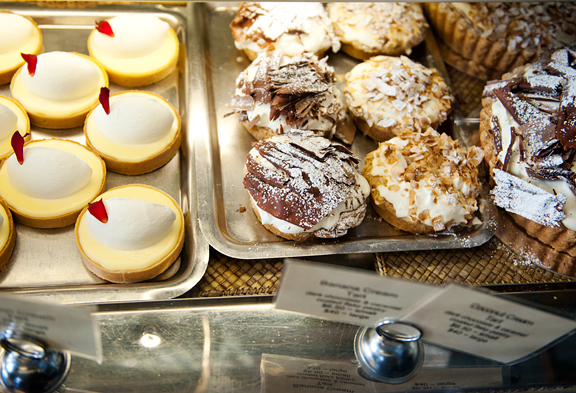 full house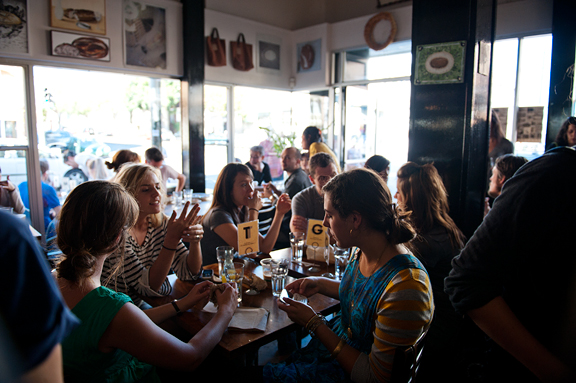 this is when i started going blind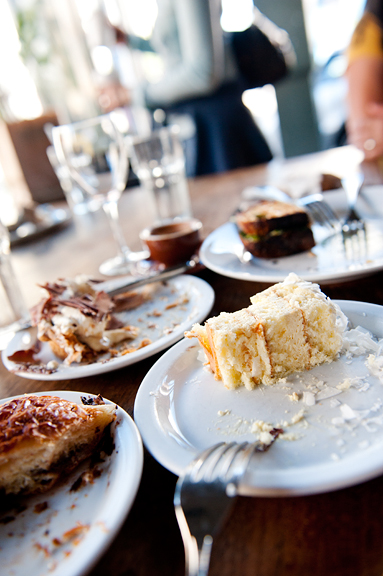 todd is trying hard to finish the banana cream tart (it was heavenly)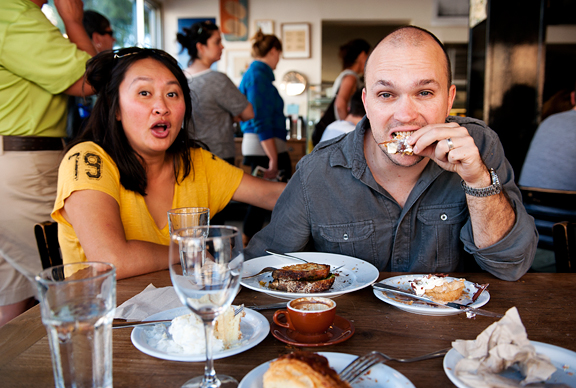 goofy most of the time, but they always give me a nice pose every now and again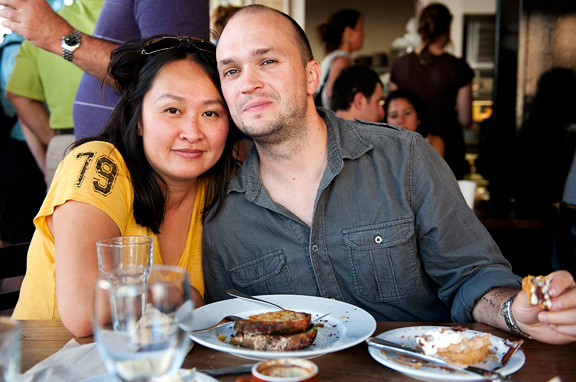 Todd and Diane had to hit the road home and Lisa continued the tour of the city. After a short stroll along a seaside cliff, we decided to go back to Lisa's house and have dinner in the South Bay instead of San Francisco. My main motivation? Because I wanted to see Lucca, Lisa's adorable yellow lab puppy dog. That, and I was really f'ing tired. The conference was catching up to me like a brick at the back of my head.
lucca is a big girl now, but all dogs are puppy dogs to me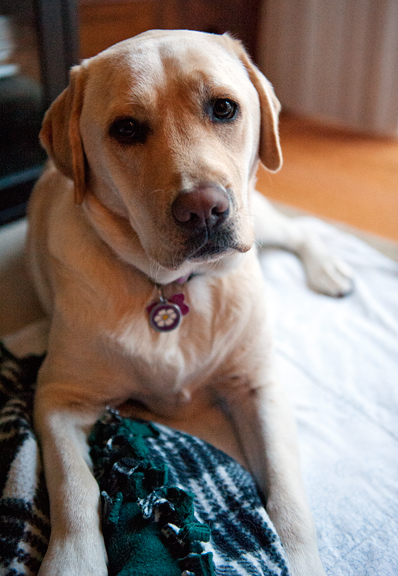 Lucca is responsible for my friendship with Lisa. I found Lisa through the Daring Bakers back in the day when there were few enough DBs to still humanly hit all of the posts and comment. It was around that time I saw this chunky, adorable, baby puppy on her blog. You probably heard my squeals in the next county over. I visited often, to catch more puppy pics, but eventually realized that Lisa herself was pretty cool, talented, and funny. And now she's a good friend of mine. So thanks, Miss Lucca! We ended the evening properly, with sushi and bubble tea (not together, but in that order).
oh hell yeah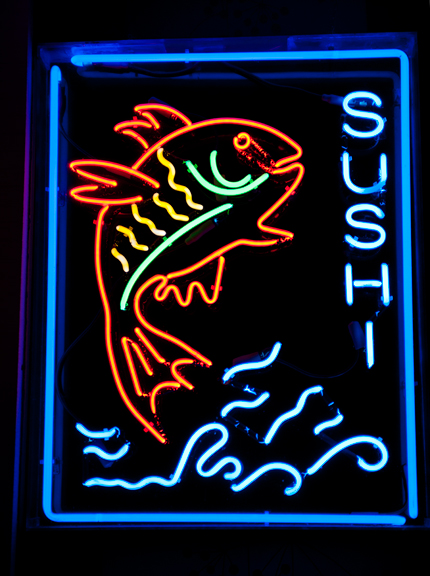 sashimi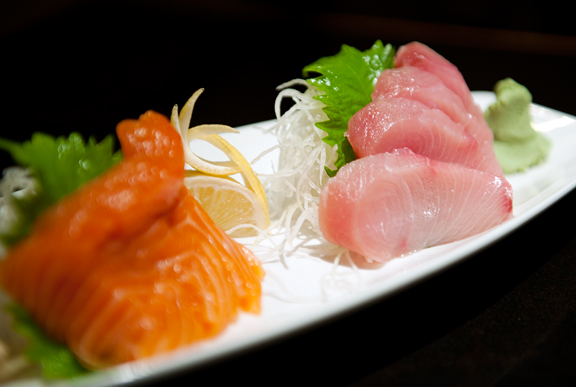 nommy rolls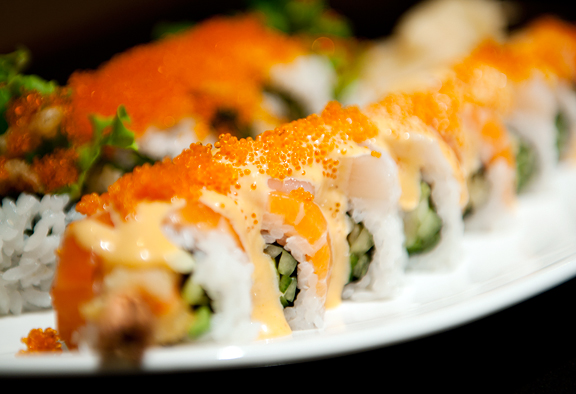 Monday morning, Lisa was so sweet as to drop me off at the airport on her way to work. But I wasn't flying home. Not yet. I was starting chapter 3 of my Bay Area visit. More on that in the next post. For now, I think I must start a petition to change Lisa's blog name from Lisa Is Bossy to Lisa Is Awesome. She really is.