Wednesday, February 16th, 2011
Right before a meeting Friday morning, I got a text from my lovely friend, Denise asking if I wanted to grab lunch at Frasca's new pizzeria. I already had lunch plans and sadly had to decline. But the following day I was back in town for PodCamp Boulder 3 with my pal, Kathya. When the conference broke for lunch, most of the folks planned to cross the street and grab a bite. Kathya and I are food bloggers – every meal is an opportunity, right? So we high-tailed it in the snow to Pearl Street and managed to get a table for two at a very busy Pizzeria Locale.

pizzeria locale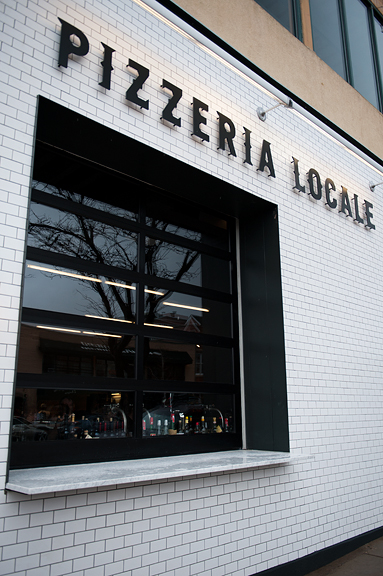 The restaurant had only been open a week or so when we walked in.
Frasca
is the parent restaurant of Pizzeria Locale. Frasca is also an absolute gem of a dining establishment in Boulder – their food, wine, and service is phenomenal. I had high expectations for Pizzeria Locale. The tables were packed, the bar was packed, and the bar around the gorgeous pizza oven (the first Stefano Ferrara oven in the state of Colorado) was packed.
the menu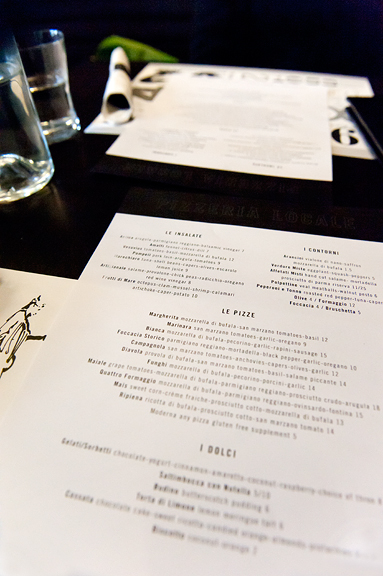 The service is good. It's not at the level of Frasca which I don't really expect from a pizzeria anyway, but the hostess, servers, and the general manager (Chris – a stand up fellow) were all attentive, friendly, and warm. The interior has a jovial, modern feel to it and the place is loud because diners are happy and enjoying themselves. As staff walked plates of freshly baked pizzas out to the tables, more than a few sets of eyes followed the plates with longing. I'm guilty of ogling the pizzas too.
hydrate with some still water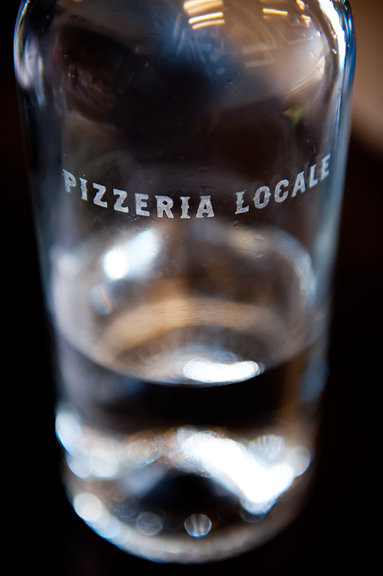 Kat and I opted for a table (had better natural light than the pizza bar) and began to scan the menu. Pizzeria Locale offers up a tempting selection of salads, side dishes, pizzas (and calzone), and dessert. They also offer gluten-free dough for their pizza. The lunch special (which Denise had mentioned) was a small arugula salad, a marinara pizza, and a coke for $9. As good as that sounded, we wanted to sample a little more of the menu and opted for two salads and a pizza.
the amalfi: fennel, citrus, dill ($7)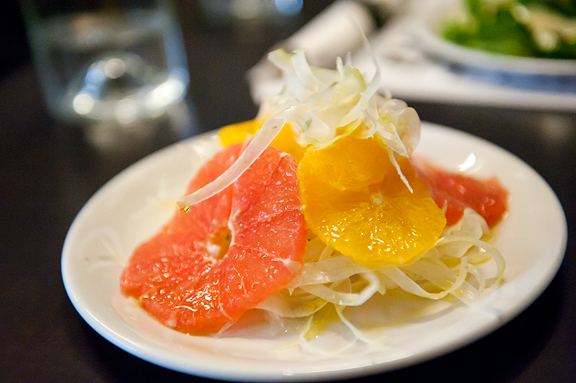 the antica: arugula, parmigiano reggiano, balsamic vinegar ($7)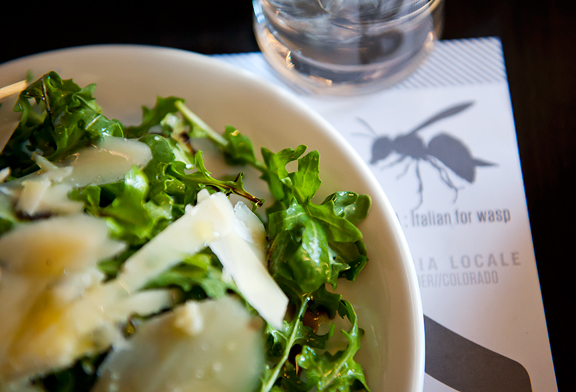 kat digs into the lovely greens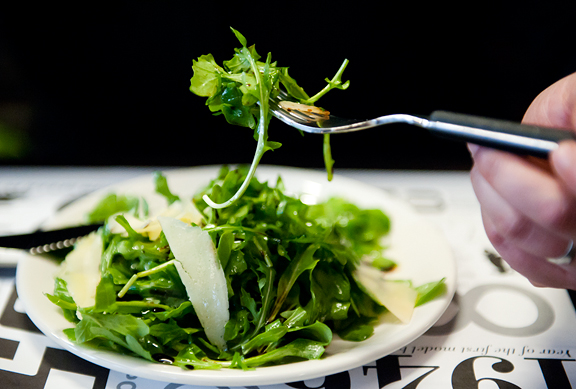 **Jump for more butter**