It's one thing to have an injury because you went yard-saling down a back bowl. It's another thing to have an injury because you were working on the computer for too long. Overuse, bad ergonomics, poor posture – it happens over and over again. I've been working on a computer since I was in high school: data entry, programming, more programming, image processing, data analysis, programming and web design, more image processing. And these days it isn't enough to just work on the computer – it seems most of my professional and personal communications are mainly through the interwebs.
Sometimes I walk away from the computer so I can feel like a human being again. Sometimes I have to stay away because the muscles get inflamed from fine repetitive motions and lack of range of motion. This past week I was off the computer to let my body heal. I had a lot of time to think about it too. Something needed to change.

my office desk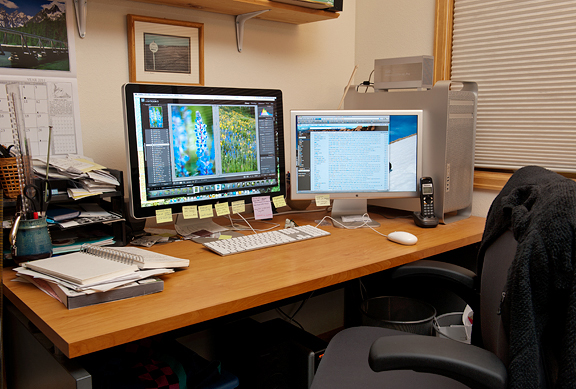 I have a good desktop setup, but after I got home from Santa Fe the first thing we did was go out and replace my old office chair with a Herman Miller chair. Meanwhile, I was heating, icing, and exercising my back. Sitting always made things worse. I loathed that any computer time required sitting and said (on Facebook) how I wished I could mount my computer onto my treadmill. And the links came in for people who had converted their treadmills to workstations. I read about them and even emailed with a friend's friend who built his. Jeremy and I discussed design issues and functionality driving home from his parents' house a couple of days ago. I'm the engineer. I planned it all out.
24 hours later… the exercise room is also an office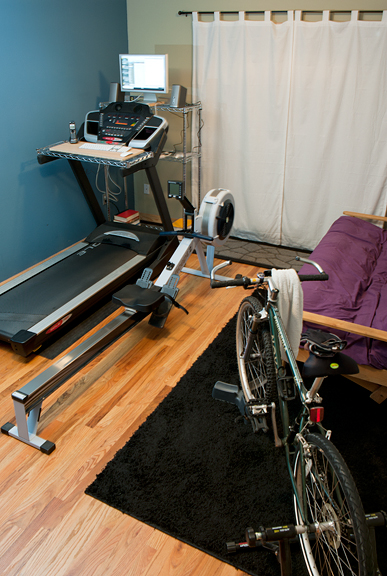 The point is not to run a 6 minute mile while cranking out emails to your clients. No, no, no. That's an even BETTER recipe for hurting yourself. I have always been a firm believer that if you are truly exercising hard – then you can't be reading a book or typing a letter. However, I can easily walk a mellow pace of 1-2 miles an hour and do a lot of the things I used to do while sitting on my hind quarters: emails, phone calls, scheduling, writing, reading, research, tweeting. Image processing still remains something I'm leaving on my desktop in the main office.
phone, keyboard, mouse, monitor, speakers (for the tunes, yo)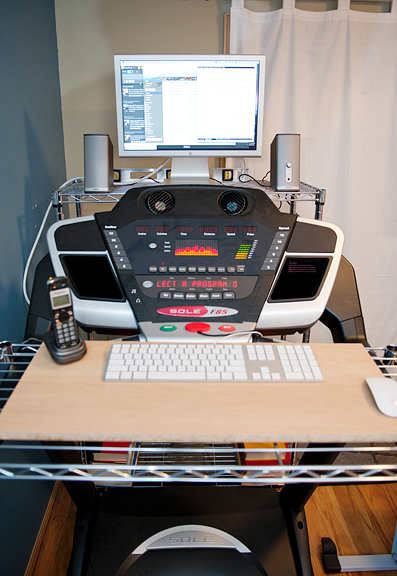 It was easy to scrap together because we have some spare (Apple) computer parts lying around. The only item we purchased was a $35 stainless steel shelf unit from Costco. And because we wanted to keep it relatively portable, it's all based around a laptop.
everything stays put except for the laptop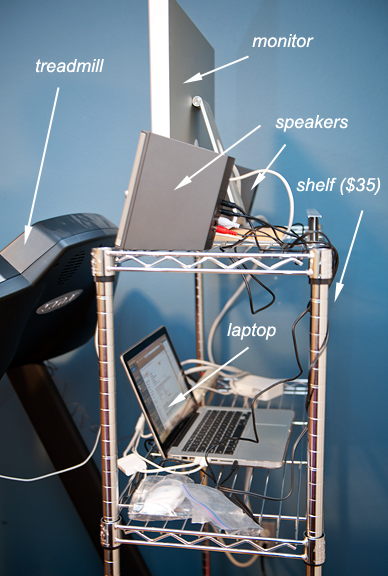 We used three of the four shelves in the unit, weighing down the bottom shelf with some heavy books. The monitor goes on the top shelf with the speakers and the laptop goes on the shelf below. That's where all of the components plug in to the laptop and the powerstrip.
it doesn't require too much additional space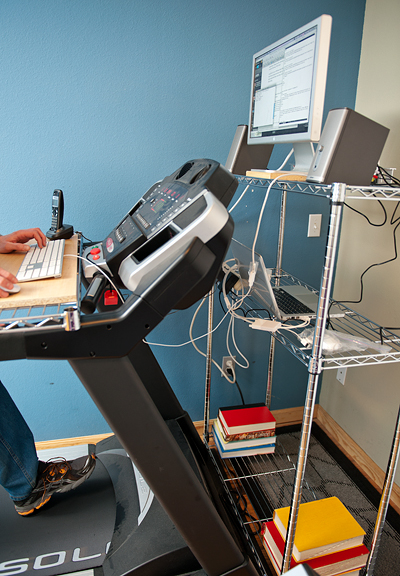 The fourth shelf was just the right width and depth to set across the handles of the treadmill (our handles are foam padded). Since the shelf is just a wire frame, I grabbed a piece of laminated particle board to set on top for ease of mousing.
phone, keyboard, and wireless mouse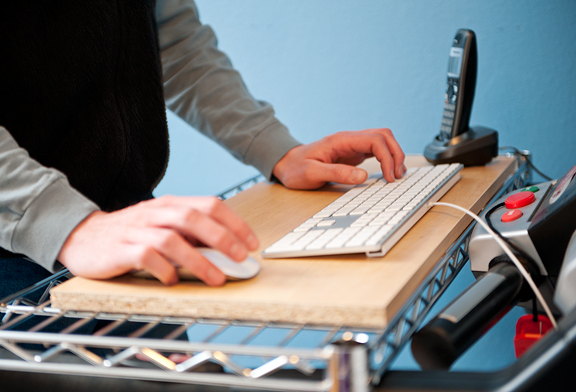 It works beautifully. I love it! Jeremy loves it too. Either one of us can work on the treadmill by swapping out our laptops. Or if we actually want to run, we can easily move the "desk" part off and run. But what I like about this most of all is that I no longer have to feel that working on the computer is a sentence for injury and inactivity! Because honestly, this blog would have been the first to go if it came down to it. I'm really happy I didn't have to go down that road.
Woohoo!!
not only is it possible, it's freaking awesome!