No, it's not a rerun… it's just my weekend.

sunrise on the way to the airport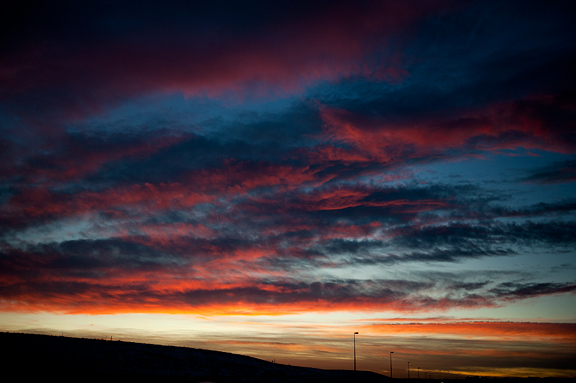 Less than a week after I had returned from California, I was headed right back to the Golden State. It wasn't a business trip, it was purely for fun and I had Jeremy as my traveling companion. The priorities were: wine country, San Francisco, great food, seeing good friends (we'd have to stay a year to see everyone!), some rest and relaxation for Jeremy, and something important I needed to do.
mexican taqueria in bezerkeley with my buddy figs (cindy)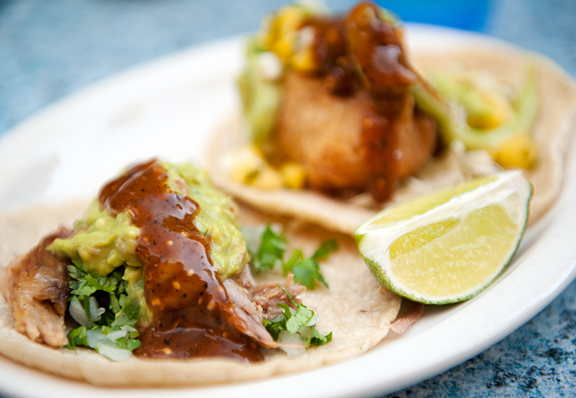 caffeine and cupcakes in healdsburg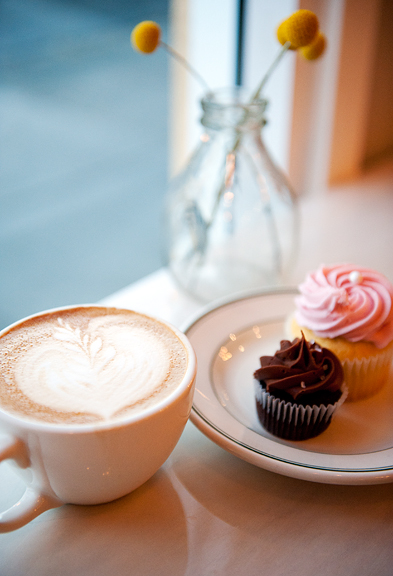 suuuuuuushi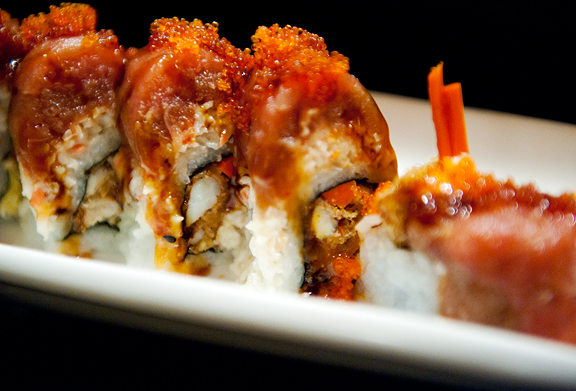 cannelés at the healdsburg downtown bakery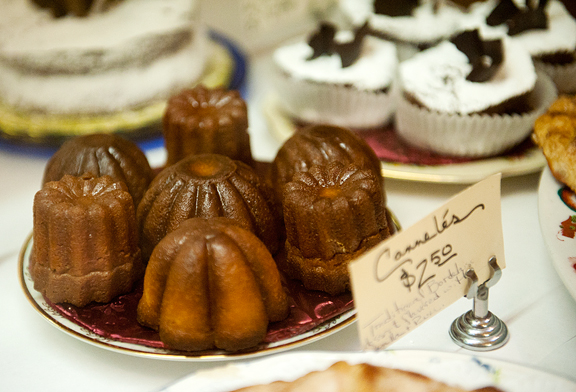 Having visited both the Napa and Sonoma Valleys, I like the Sonoma side. It is less foofie and the landscape is less manicured, which I prefer. I also loathe the traffic in Napa Valley. This is definitely my favorite time to visit wine country, because the leaves are turning and the weather is cool enough for me to feel comfortable instead of overheated (and angry). My friends always get a chuckle when I say hot weather makes me cranky, but for anyone who loves cool weather – you totally know where I'm coming from. It was delightfully cool and sunny – perfect weather for wine tasting and raiding all of the bakeries we could find.
maples were turning red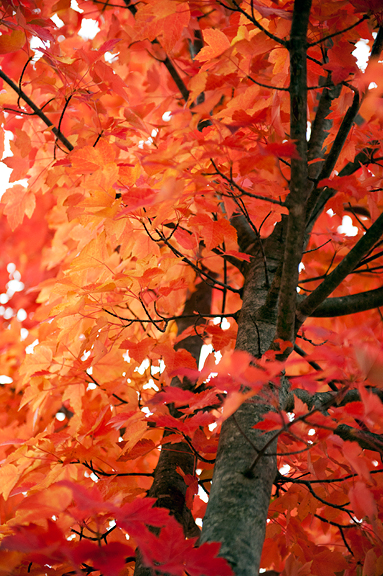 i can't resist the red leaves…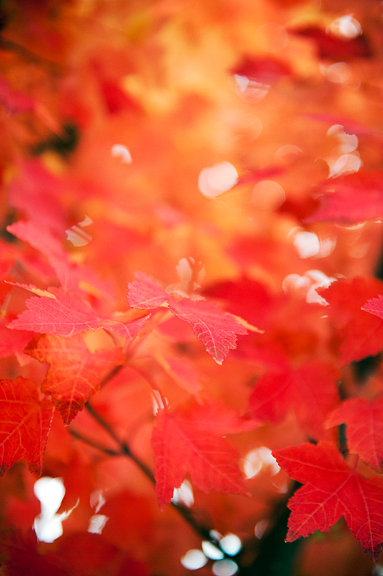 a red-tailed hawk at the farmer's market (sonoma wildlife rescue center)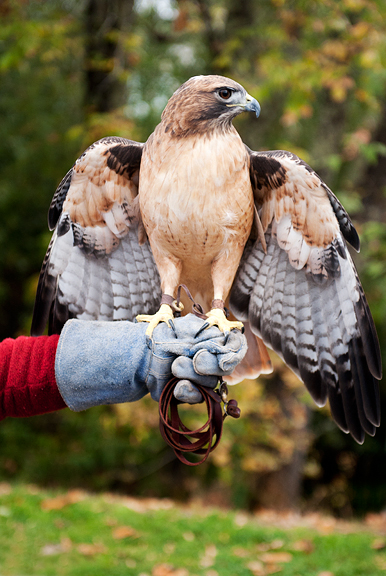 i try to stretch fall out as much as possible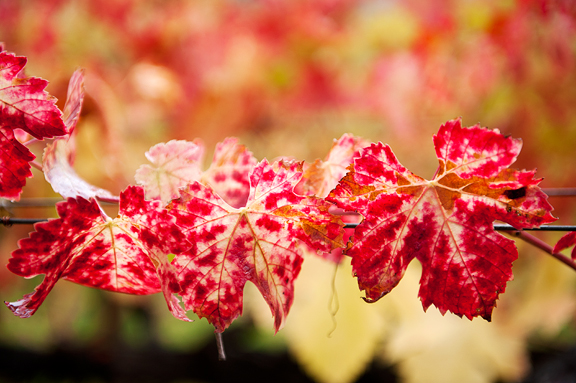 fiery reds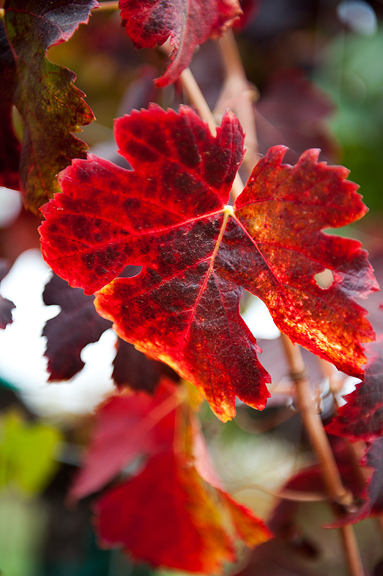 and some plump grapes on the vines that had yet to be harvested
We didn't avoid Napa entirely though. A few months ago, I contacted some friends and asked if they were interested in getting together for dinner someplace. Non-planners would let that go through the spin cycle several times, but MY friends were completely on top of it and nabbed a reservation at
Ad Hoc
faster than you could sprint 100 meters. We met up with
Chuck
and Hungry Bear to check out the cupcakes at
Sift
first before the four of us headed up to Ad Hoc. Mmmm cupcakes… moist, not too sweet, good crumb, great flavors. We didn't sample any of our cupcakes until later though, because I wanted to save room for dinner.
vanilla and vanilla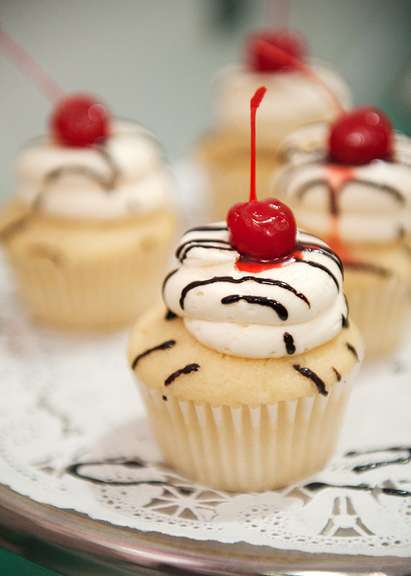 chocolate something or other, pumpkin, pink champagne, and lemon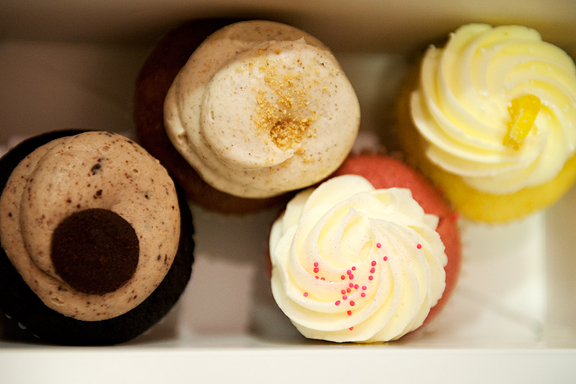 We were joined at the restaurant by
Anita
and Mike, and
Lisa
and Shawn. Chuck reserved the big round table, which was perfect for eight people. The food was excellent, but the company was the best.
anita made pumpkin-peanut butter dog treats for kaweah!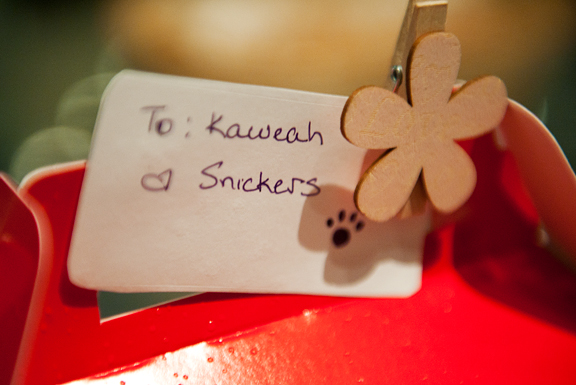 starting with baby iceberg lettuce salad (pomegranate, persimmon, pea shoots, green goddess dressing)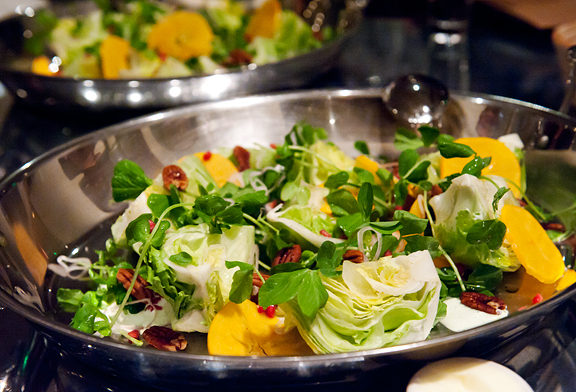 food bloggers never dive in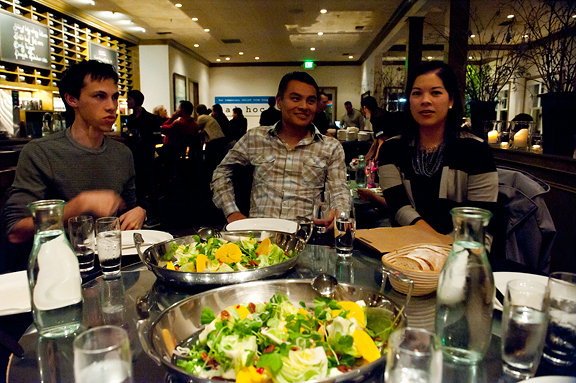 grilled beef short ribs with rice and phenomenal vegetables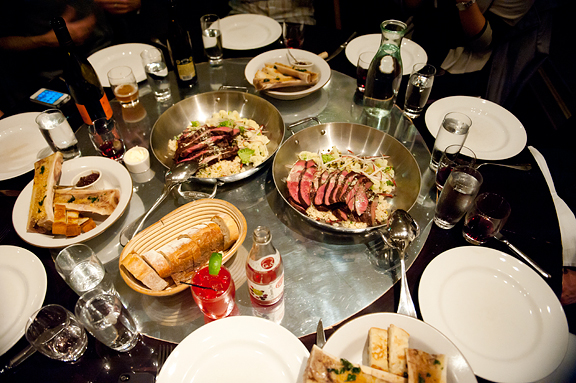 extra course: bone marrow with marmalade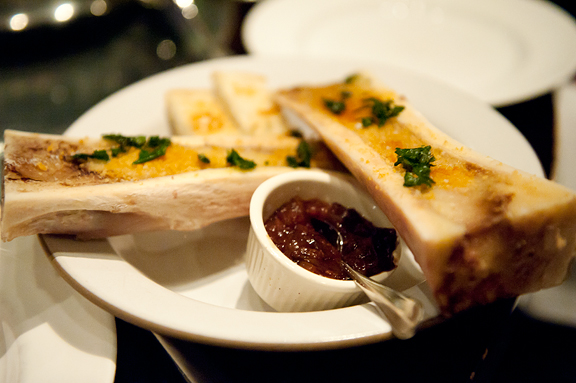 barely buzzed cheese (lavender & espresso) and pear-fennel-hazelnut salad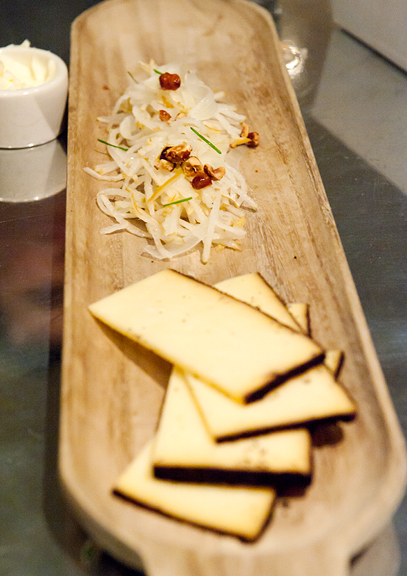 pineapple upside down cake with coconut ice cream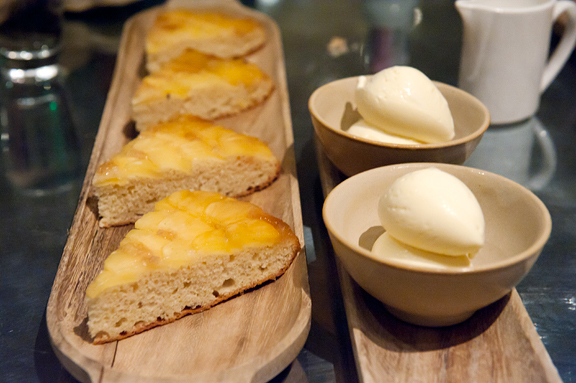 thanks for the etch-a-sketch endorsement, mike!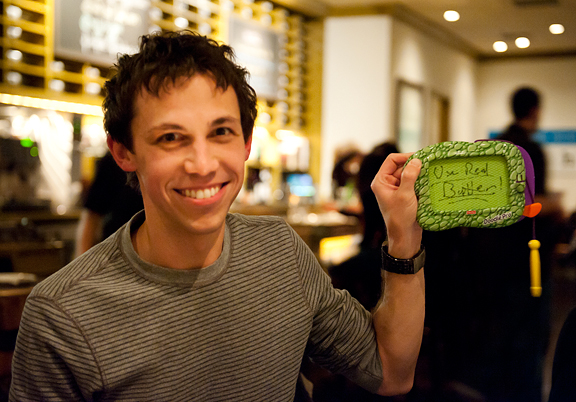 Jeremy and I were originally supposed to come to California in August to celebrate my mom's 70th birthday (shhhh! don't tell her I told you her age). We were planning to take my parents to Yosemite, spend time on the Eastern side of the Sierra and then come back to the Bay Area and celebrate with my grandma. But as some of you know, my beloved grandma passed away in May. My mom was very close to her mother. A few weeks after Grandma's funeral, my mom told me she didn't want to go to California for her birthday. It was just too painful for her without Grandma there. I understood. But Jeremy and I had already booked our flights, so we rescheduled our trip for the fall and made different plans. Sunday morning, we drove to visit my grandma. It's the first time I've been to see her since I said good-bye in May. It's a peaceful, beautiful location. Grandma, the pragmatist, picked it with several friends years ago. The granite plaque isn't in the ground yet, but she's there – with her pals. It's so darn cute. This was the most important part of the trip for me.
i picked her favorite colors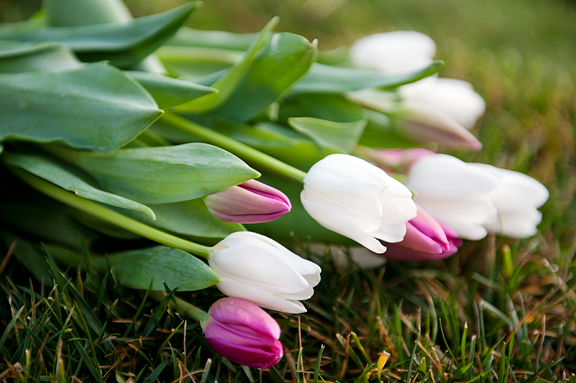 We spent the rest of the morning in the city having coffee and catching up with
Irvin
,
Sean
(two of the hippest food bloggers I know), and
John
and Michele (one of the funniest food blog couples I know). Next we were digging into oysters with Lisa and Shawn at Waterbar because Jeremy *really* wanted to try those oysters that I enjoyed the week before. We walked off a small fraction of the calories consumed noodling around the Ferry Building before swinging by Tartine just before they closed. Tartine… I am in love with Tartine. We don't have bakeries like that here. Earlier in the day, the line was out the door and down the street. We totally lucked out: in and out in ten minutes with sourdough loaf, tartlets, and croissants! When we turned to look back, the line was out the door and down the street AGAIN! And we ended the trip on a fine note – Chinese dinner in Bezerkeley with Chuck and Hungry Bear because I told them I'm obsessed with Peking Duck. So good.
irvin and sean – the coolest cats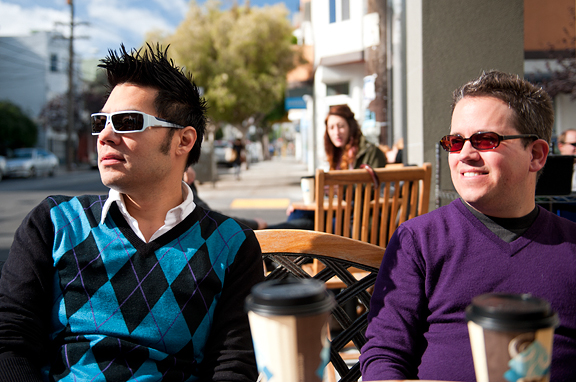 i love john and michele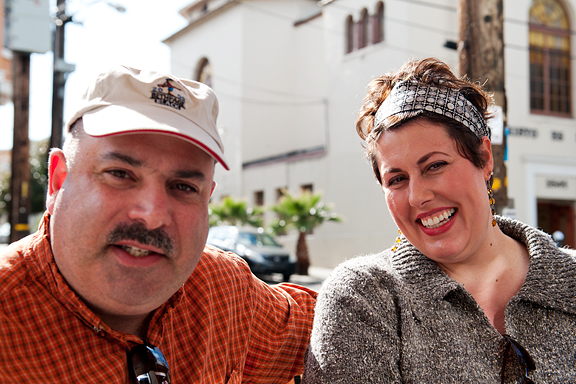 he wanted oysters, so we got oysters ($1 each!)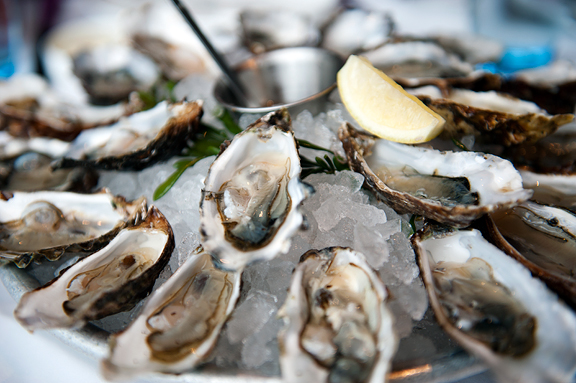 seared scallops: the winning plate at lunch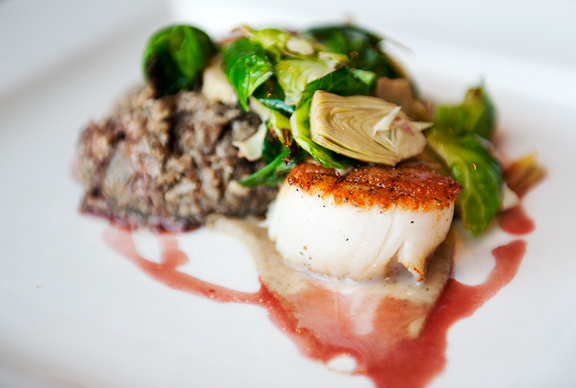 peking duuuuuuuuuuuuuck!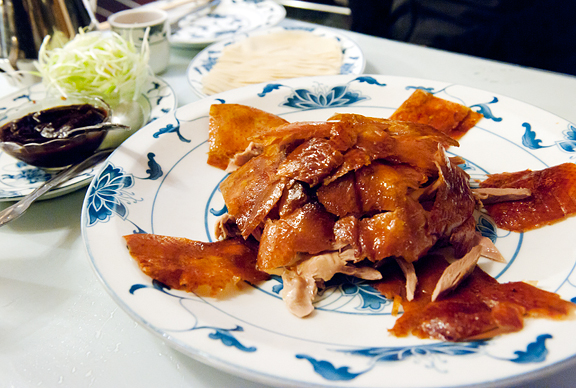 salt and pepper prawns, pea shoots, braised pork belly, eggplant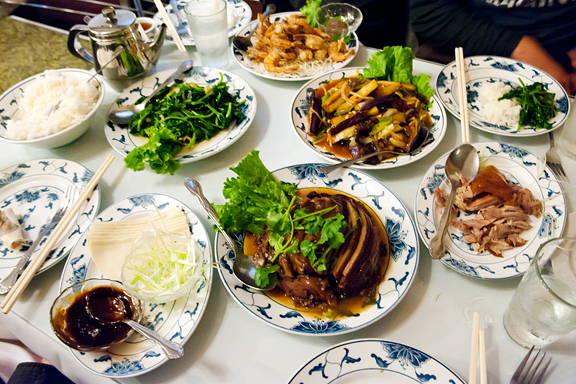 San Francisco is a terrific city – probably one of my favorites (Seattle being the other), but I'm not a city mouse… It's like a day at Disneyland and then I'm pretty much done with the density of people, traffic, buildings, noise, lines, waiting, stress. Don't laugh, but even wine country was a little too much people for me! Jeremy and I determined on the flight home that the ideal trip is to backpack and then hike out and spend a day in the city as a reward. Perhaps. But for now, my travels are mostly done for the year and I'm looking forward to skiing, cooking, working, and just being home in Colorado.