Sunday, February 12th, 2012

Recipe: taiwanese beef noodle soup
Our house sprung a leak. We don't know when it happened because it's somewhat of a slow leak, but when Jeremy discovered it Friday night in the ceiling of our ground floor, it had soaked four shelves' worth of backpacking, ski, and mountaineering gear, as well as drywall. We pitched tents, spread out sleeping bags, poured water from boots, unraveled ropes, removed crampons and bindings from sopping wet boxes. This gear is meant to get wet, after all. Jeremy isolated the cause of the leak and our plumber is coming on Monday.
I kept thinking I should be really upset, but it didn't dampen (ha ha! pun!) our spirits one bit. Freaking out adds nothing. Say NO to Drama, folks. Too many people self-destruct under the weight of their own drama. Energies are better spent on positive things like:

playing with puppies in the snow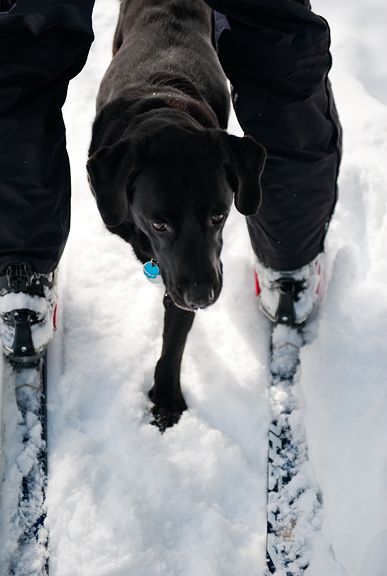 baking carrot cake for your neighbors (and another for yourself)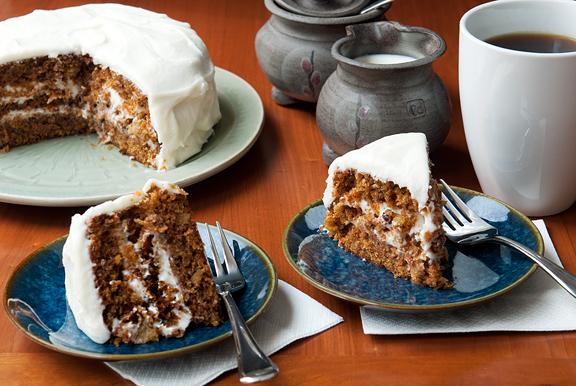 …or sitting down to a bowl of beef noodle soup after ski touring the backcountry with your sweetheart. I'm not talking about western beef noodle soup. That's not even on my radar. No, I am referring to the ultimate beef noodle soup –
Taiwanese beef noodle soup
. This is the noodle soup of my people.
beef shank, beef marrow bones, green onions, ginger, garlic, thai bird chiles
soy sauce, soy paste, dark soy sauce, chili black bean sauce, fermented bean curd, tomato paste
brown sugar, star anise, cinnamon sticks, dried orange peel, bay leaves, fennel seeds, cinnamon bark, sichuan peppercorns, black peppercorns
I've had a variety of homemade and restaurant versions of this beloved soup. I've flipped through many recipes and never found one that really called to me, until the other day when
Carolyn
posted a link to Chef Hou Chun-sheng's winning spicy beef noodle soup recipe. Winning, because Chef Hou dusted his competitors at the Taipei International Beef Noodle Festival in 2011. I had most of the spices, but for those in short supply or those I didn't have, I knew where to go.
got some more fennel seeds, bay leaves, cinnamon sticks, and picked up cassia bark
from savory spice shop, of course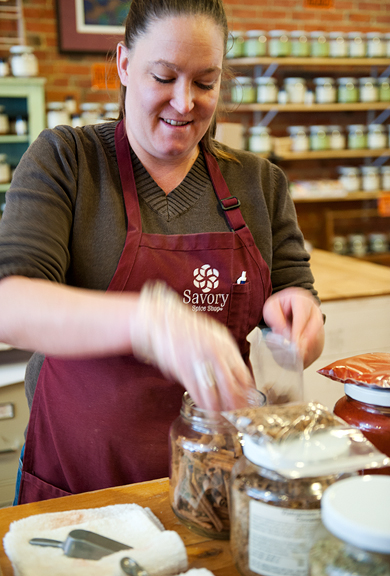 chinese herb bags: cinnamon stick, cinnamon bark, orange peel, anise, fennel seeds, sichuan peppercorns
Savory Spice Shop in Boulder
always has what I'm looking for. However, there were two items that I think are pretty specific to Chinese herbal medicine stores: the cassia buds and the angelica root. They didn't have them (although they looked them up and told me what they were) and I decided it wasn't worth the scavenger hunt at the Asian markets. My parents hadn't heard of those either and my dad suggested I omit them. I don't know if this is kosher or not, but I dried my own organic orange peel. I got beef marrow bones because the butcher said it would lend a deeper flavor to the broth. This soup is ALL about the broth. It costs more, but I am convinced it is worth it. As for beef shank, I rarely find whole beef shank anywhere but in the Asian markets, so I picked up a few pounds of the bone-in cut beef shank.
make broth from the bones
aromatics: green onions, ginger, garlic, thai bird chiles
adding soy sauce, brown sugar, and hot bean paste to the sautéed aromatics
Now, you can make this in one longish day or you can make this over the course of two days. It really depends on a couple of factors: 1) if you use a conventional stock pot or if you use a pressure cooker and 2) if you defat the broth and sauce (at all, the quick way, or the slow way). Personally, I feel the pressure cooker is the better choice because it is so much faster, more energy efficient, and achieves a tenderness in the beef that is effortless. Physics. It is totally your BFF.
let the sauce cook for a minute
then pour it into the beef stock
add fermented tofu, tomato paste, herb bag, bay leaf, and black peppercorns to the broth
**Jump for more butter**