We're back on Pearl Street for this week's sandwich – a panini caldi (hot sandwich) from Frasca's Caffè. Caffè is an unassuming little space wedged between Pizzeria Locale (also part of Frasca's dominion) and The Pinyon just east of the Pearl Street pedestrian mall. It's easy to miss as you walk past, but I'm here to tell you it would be a mistake to miss it. Caffè serves up Italian pastries, breakfasts, cookies, caffeine, beverages, soups, and of course, sandwiches.

frasca's caffè on east pearl street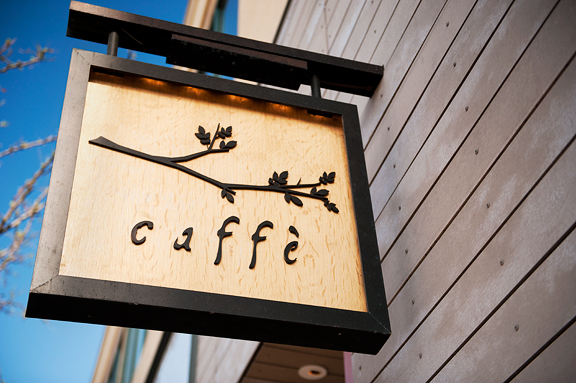 menu on the wall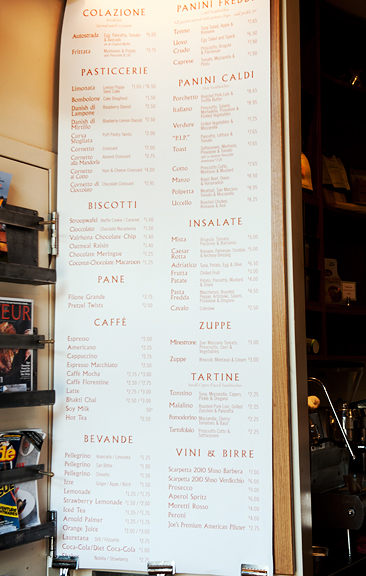 I went straight for the hot paninis, trying a few different offerings. It was a tough call picking just one sandwich to showcase because they're all pretty amazing. Jeremy and I narrowed it down to three favorites: the Polpetta (meatball – Jeremy's favorite), the Manzo (roast beef – just incredible), and the Italiano (prosciutto and salami). Ultimately, I had to make the hard decision.
the italiano panini caldi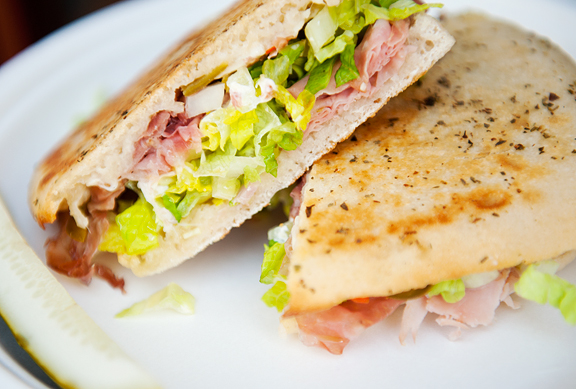 To the sandwich:
For $8.95 you get a hot-pressed sandwich layered with savory prosciutto, salami, mortadella, melted provolone, crispy shredded lettuce, and tangy, crunchy pickled vegetables. Your sandwich comes with a bag of potato chips and for $.30 more, you can add a pickle spear to that. The Italiano panini combines all of the things I love about sandwiches: hot melty stuff, flavorful meat, crisp and cold vegetables, tang, spice, creaminess, crunch. Did I mention the bread? I can't get that bread out of my head. I don't know if it is focaccia or some other bread that I have woefully little knowledge of (maybe one of you fellow Caffè patrons can enlighten me?), but it is flat, soft in the middle, hard and crunchy on the outside, and it doesn't sog up like normal bread. In fact, I've had their sandwiches to go and eaten them an hour later to find the panini's best characteristics well-preserved.
Pro tip: There is enough space for a dozen patrons to squeeze in and dine, but it can be busy during lunch. I prefer to call ahead for take-out orders. Grab a pastry and some caffè while you're there to pick up your sandwich.
Where: Frasca Caffè at 1720 Pearl Street, Boulder, Colorado 80302.
When: Have yourself the Italiano panini caldi or anything else from the menu Monday through Friday from 9:00 am to 5:30 pm or Saturday and Sunday from 9:30 am to 4:00 pm.
Contact: Call Frasca Caffè at 303.442.9464. Visit their Facebook page.
Full Disclosure: My opinions. No comps for the chomps.
Previous sandwich research:
1) The Pinyon's fried chicken sandwich
2) Cafe Blue's blackened tuna sandwich