Thursday, May 10th, 2012

Recipe: roast pork belly on pea purée
The ground is greening up with grasses and the leaves of familiar wildflowers around my house. I spy new bright green tips dotting the conifers on my trail runs and dog walks. It smells good – mountain spring. From my office window, I can see a not-too-distant ridge, white with snow thanks to that recent storm. Neighbors covered their planted flowers with buckets because pretty domesticated plants can't take the abuse of mountain spring. Our native plants (read: weeds) are tough. They can survive the harsh and fickle changes in weather. Yay for natural (read: lazy) landscaping!

always a welcome sight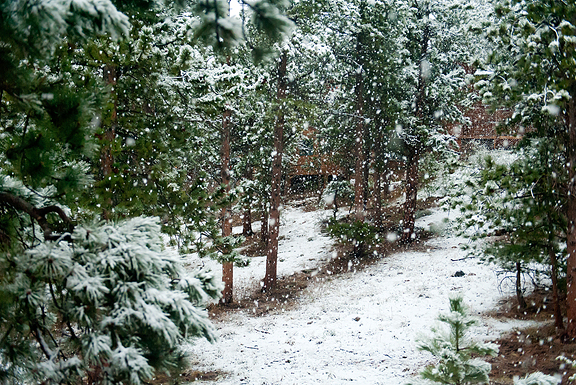 some elk noodling around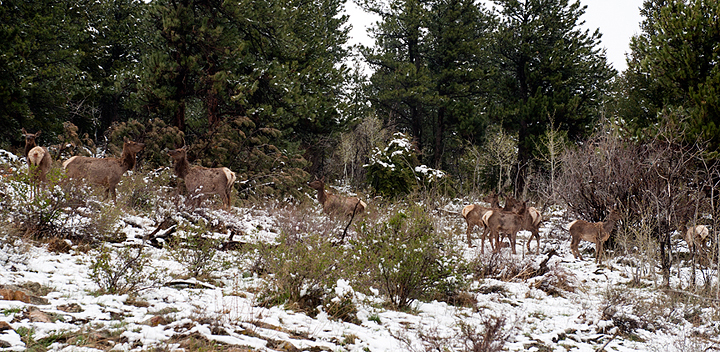 By the time we melted out last spring, it was summer. I live in the mountains, but shop for groceries down on the flats. So when I though it was finally springtime, most of the spring produce had come and gone and I had missed out. Not so this year, and I was quick to pounce on English peas when I found them. They are so green, so spring.
plump
round food is really appealing to me
I've never been a huge fan of peas. Snow peas and sugar snap peas, sure, but not English peas unless they were cooked to death in soup. Over the past few years they've grown on me as I've had them prepared in ways that emphasize the freshness and the sweetness. Also, I like shelling them more than anything else – something mindless to do while lost in thought. My intent was to make a pea purée that I had bookmarked on my friend,
Chris Cina
's blog. But I wanted to pair it with something different.
pork belleh(!!!), kosher salt, and sugar
trimming the skin off
Pork belly is the starting point for precious bacon, but pork belly itself is pretty wonderful noshing. You (we) see it on restaurant menus all the time around here, so I wanted to roast some pork belly at home, to gauge if it was something worth putting on our menu for dinner guests. I had a
straightforward recipe
bookmarked (it's been on my mind for a while) and stripped it down to just a salt and sugar curing mostly because I didn't have the other ingredients on hand.
cover the pork belly in the salt and sugar
place in a small dish, cover, and refrigerate overnight
**Jump for more butter**