Recipe: chicken pot hand pies
We were just gifted 10 inches of snow. In past years this might not have been as big of a deal, but it's the most we've received in one storm this season at my house. Jeremy hit the local hill despite our aversion to weekend crowds. I stayed home to work and to nurse a sore back after running icy moguls just a few days prior. A dump of snow is always welcome, but what lies underneath depends on the weather that came before (this is also critical for avalanche assessment). We have had sun, wind, and warm temperatures interspersed with a few inches here and some frozen spittle there. It can be pretty crunchy stuff. And when you're glad that your skis find ice underneath the powder instead of rocks, you know it's been a paltry winter. So when Jeremy got home in time for lunch, I asked him if he wanted to step out for a ski tour on the local trails.

the snow was coming down all day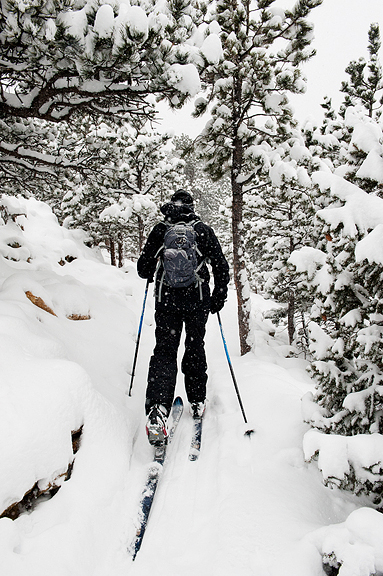 and the trees retained all of their poofballs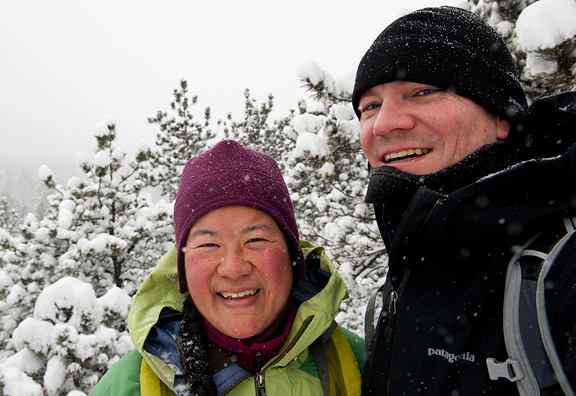 silent and beautiful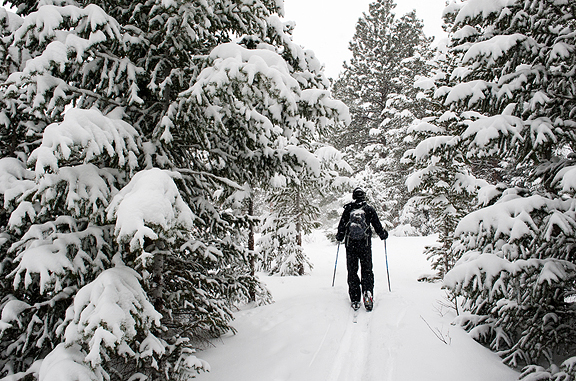 It's a lovely thing to be out in the mountain forests when it snows. It's quiet, peaceful, invigorating. We don't talk much so we can listen for moose, elk, or maybe spy a winter white rabbit before it tears off into the woods. The focus is on our environment, our energy, the weather, the rhythm of the kick and glide. But once we get to the car, all thoughts turn to what there is to eat at home. This is especially true when there is something particularly good and exciting waiting in the kitchen. This time, we had chicken pot hand pies.
chicken, mushrooms, onion, potatoes, carrots, garlic, lima beans, parsley, rosemary, thyme, salt, pepper, olive oil
dice the vegetables
chopped and minced
I love me a good chicken pot pie, but I think I am completely enamored with savory hand pies. The first time I had a proper savory hand pie was in New Zealand where the ubiquitous meat pie won me over… as did their fish and chips. Then I sampled a small fraction of what Australia had to offer. A few years later I was walking with
Todd and Diane
through little Saigon when Diane purchased a pâté chaud for me to try. Heaven. And last summer while I was running on fumes at the Boulder Farmer's Market, I plunked down some cash for the last chicken hand pie at
Sharmane's
booth. So much happiness in one tiny pastry package.
mix the vegetables, herbs, and olive oil together
toss
There are a lot of recipes for chicken pot pie out there in the world and on the interwebs. I figured the hand pies would just be puff pastry with a really good filling, which I refer to as the chicken pot. The chicken pot that appealed to me most was one that roasted the chicken and vegetables. Roasting in winter is like the best thing ever because it heats the house, cooks great food, and makes everything smell like awesome (unless you burn it, then it's not so awesome).
rubbing olive oil, salt, and pepper on the chicken
place the chicken and vegetables in the roasting pan
ready, freddy
I altered the recipe to my tastes. I prefer dark meat, so I got three pounds of whole chicken legs as opposed to a whole chicken. I like lima beans much more than peas, so I made that substitution. I chose crimini mushrooms over white button because the flavor is better. And as some of you learned last week, I really don't like pearl onions, so I used a regular yellow onion instead.
this alone could easily have been dinner
adding the lima beans to the roasted vegetables
After all of that roasting, the only part you need from the chicken is the meat. But I don't like to waste and since the recipe calls for chicken broth, I used all of the bones and the wonderful, crisp skin to make my own chicken stock in my pressure cooker. Fantastic stuff. I let mine chill on the deck and removed the layer of fat on top.
stripping the meat from the bones
chop the meat
ready to make some stock
If you're anything like me, you probably don't enjoy scrubbing stuck browned food from pans. The good news is that you don't have to with this recipe. Once the roasting pan is emptied of the chicken and vegetables, you will be left with some drippings and caramelized stuff. That's where all of the flavor is. Now you're going to make the sauce which will simultaneously clean the pan. Right on.
this is what flavor looks like
the sauce: chicken stock, butter, flour, and flavor
start by melting the fats
For typical chicken pot pie, the resulting sauce should be pretty saucy or fluid. Because I'm making hand pies, I want to minimize the risk of springing a leak. So I reduced the sauce to a fairly thick gravy consistency. This makes it possible to make free-form hand pies if that is your preference (as opposed to molded ones like I make here).
stir in flour to make a roux
add the stock
reduce it down
mix the sauce with the vegetables and chicken
Another hurdle to my quest for the perfect chicken pot hand pie was puff pastry. I've made it from scratch before and I loved how it tasted. None of that nasty synthetic film from hydrogenated fats to coat my mouth that you find in most commercial versions. But it's time consuming. Last year, I noticed that my local Whole Foods had a puff pastry in their frozen section. I looked at the ingredients: butter, flour, water, salt, lemon juice. That's it. I tried it out and really liked the results. I felt like this was a puff pastry worthy of my chicken pot hand pie and of my standards.
dufour frozen puff pastry (excellent)
line the ramekins with pastry and cut tops
fill the ramekins
I wasn't sure how much the pies might stick to the ramekins, so for ease of release I greased the ramekins with some butter. It also helps to make sure the pastry that lines each ramekin doesn't have any tears or leaks where the gravy can ooze out and burn (and thus stick) to the ramekin.
pinching the edges to create a good seal
slicing air vents for steam to escape during baking
mixing cream and egg yolk for the egg wash
brushing egg wash over the tops
baked until deep golden and poofy
You can just imagine how excited one might be to come in from the cold and snow to a house that smells of warm chicken pot hand pies. It's even better when you bite into one of these hearty little pastries releasing a swirl of white steam into the air. These hand pies are heady, rich, and satisfying. And who doesn't love a good hand pie?!?
precious stack of golden goodness
alas, you are mine
Chicken Pot Hand Pies
[print recipe]
adapted from Fine Cooking
3 lbs. chicken (a whole chicken or as I prefer dark meat, whole legs)
3 tbsps olive oil
salt to taste
freshly ground pepper to taste
2 cups potatoes, 1/2-inch dice (about 2-3 medium Yukon gold, peeled)
2 cups carrots, 1/2-inch dice (2-3 medium carrots, peeled)
1 medium onion, 1/4-inch dice
1 clove garlic, peeled and minced
8 crimini mushrooms, cut into eighths
2 tbsps chopped fresh herbs (I used parsley, rosemary, thyme); more to taste
1 cup lima beans (I used frozen organic, original recipe called for peas)
sauce
4 cups chicken stock (homemade or low-salt canned)
6 tbsps unsalted butter
6 tbsps flour
salt to taste
freshly ground pepper to taste
puff pastry
1 tbsp unsalted butter, softened (for greasing the ramekins)
you can make a great homemade recipe
or you can purchase 3 lbs. of puff pastry from the store (I like Dufour puff pastry)
egg wash
1 egg yolk, beaten
1/2 cup cream
Roast the chicken and vegetables: Heat the oven to 375°F. Rub the chicken with olive oil, salt, and pepper. Season under the skin with salt and pepper. If using a whole chicken, set it upside down in a large flameproof roasting pan. If using whole legs, arrange them in a single layer in a large flameproof roasting pan. In a large bowl, toss the potatoes, carrots, onion, garlic, mushrooms, herbs, and a dash of salt and pepper together. Spread the vegetables around the chicken in the roasting pan. Roast the chicken and vegetables for an hour and 15 minutes, giving the vegetables a stir every 15 minutes or so. Remove the chicken from the pan. Remove the vegetables with a slotted spoon to a bowl with the lima beans. DO NOT WASH OR RINSE THE ROASTING PAN. You want to keep the browned bits and the fat for the gravy sauce. When the chicken is cool enough to handle, strip the meat from the bones. Save the skin and bones if you are making your own chicken stock (I tossed mine into a pressure cooker with 8 cups of water, pressure-cooked on high for 30 minutes with natural release). Chop the meat into 1/2-inch chunks.
Make the sauce: If you have grease and juices in your roasting pan, separate the fat from the juices. Measure the fat and then add enough butter to total 6 tablespoons. Pour the juices in the broth. Place the roasting pan (with all of the browned bits and goodies) on the stove over medium heat. Melt the fats until bubbling. Add the flour at once and stir constantly to make a smooth roux. Keep stirring until the roux turns a golden brown (~ 5 minutes). Pour in the chicken stock and juices. Let it come to a boil, then reduce to a simmer, all the while stirring and scraping the bottom of the pan to release the flavorful fond (the browned bits). Cook for a good 20 minutes or until the sauce has reduced to a gravy consistency. Season with salt and pepper. Add more herbs to taste.
Make the hand pies: Heat oven to 425°F. Butter twelve 8-ounce ramekins. Roll the puff pastry out to 1/8-inch thickness. Line each ramekin with a single layer of puff pastry dough, up to the rim. Gently press the pastry dough together to seal seams or cover holes so that the entire ramekin is completely lined. Cut out 12 circles of puff pastry dough just slightly larger than the diameter of the top of the ramekin. In a large bowl, mix the chicken, vegetables, and sauce together. Spoon the filling into each ramekin until even with the lip. Set one circle of dough on each ramekin and press the edges of the dough circle together with the lining pastry to form a tight seal. Pinch the edges, fold over and pinch again (just to prevent leakage). Using a sharp knife, cut slits in the tops of each pie to release steam during baking. Mix the egg yolk and cream together, then brush the egg wash over each pie. Bake for 30 minutes or until the tops are deep golden in color and puffed up.
Remove from heat and let cool. Carefully run a sharp knife along the edge of each pie to ensure proper release from the ramekins. They should come out easily. Makes 12.
more goodness from the use real butter archives