Wednesday, March 6th, 2013

Recipe: stuffed sopaipillas
It's a brilliant sun that has been shining down on Colorado this week, each day warmer than the one before. Whenever Jeremy is on travel, I use the alone time to get as much work done as possible so that we might ski or just spend time together when he gets back. If I were truly alone, I might work from sunrise to the wee hours of the night with nary a pause, but I am not alone. Kaweah requires more attention in her old age. Not that she demands it, just that we want to be sure she is happy and comfortable. One of us will check on her frequently throughout the day and sometimes lie on the floor next to her, rub her belly, or just nuzzle her face. Anything to hear the thump of that wagging tail.

she likes the sun on her coat and her feet in the snow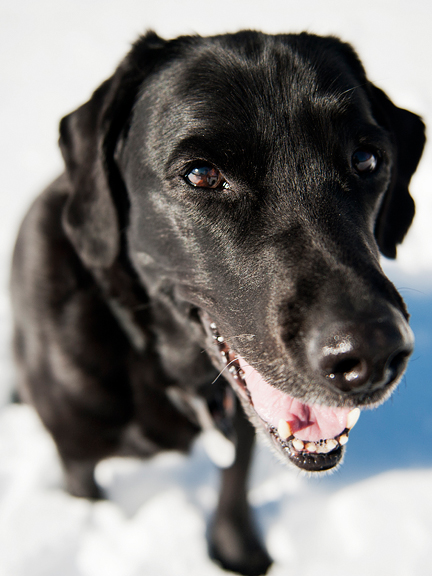 Kaweah's walks take more time and cover less distance. I have to stop myself when I start to feel impatient. Lately, I have been setting aside extra time for Kaweah. It's not a walk anymore, but Kaweah-time. Time for sniffing every tree trunk, every dead leaf, every invisible thing in the snow. Time to walk slowly through powdery drifts, sometimes requiring a quick rescue. Her back paws knuckle under as she grows tired, but her nose is in the air drinking in all the news the wind can deliver. Old age is slowing her down. So far it hasn't stopped her.
checking out the lake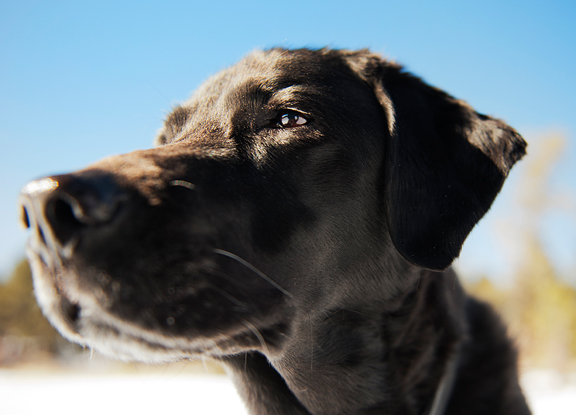 happy to be outside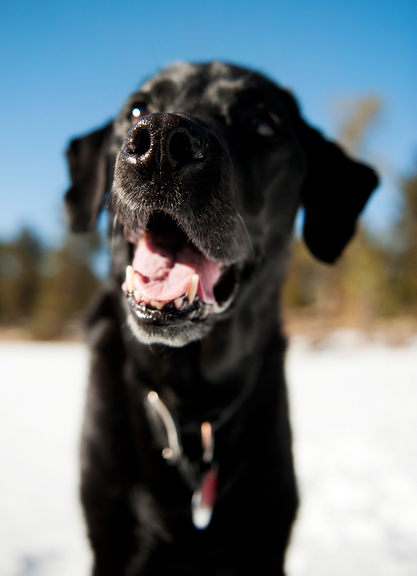 The other day we went to a little lake where the snow lingered and the sun shone bright. Instead of menacing winds, there was a gentle breeze and birds chirped in the woods. I unleashed Kaweah (because she's too slow to outrun me now!) and watched as she went about sniffing what was what, her meandering tracks having absolutely no agenda other than to be a happy black dog on a lovely bluebird day. I knelt down and called her to me. I had to call again, loudly because she's deaf – or she was ignoring me… or both. It doesn't matter. She strolled lazily toward my outstretched hands and rolled her head into them like she always does, her tail doing big circular wags. I gently wrapped my arms around her neck and shoulders and placed my cheek against her warm, black fur. My little girl. Circular wag, circular wag.
time to go home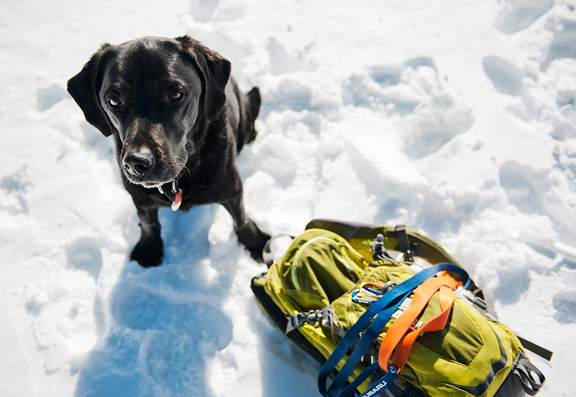 A couple of weeks ago, I was chatting with my friend Trent, who runs
Pica's
in Boulder. I'm always telling Trent what I think he should carry on the menu. "How about a GIANT salsa bar? A GIANT SALSA BAR!!" This time I didn't mention the salsa bar, but I did sing the praises for
sopaipillas
. I've had bad ones (here in Colorado) and I've had amazing ones (in all of New Mexico), but the best are the ones that come straight from your own kitchen. He had never had one before. WHUT?! The next evening, Trent was running a pop-up in my neighborhood, so I made fresh sopaipillas and brought them to his family. Thumbs up all around. They ate them with honey, but another fabulous way to enjoy the sopaipilla is to stuff it with heavenly goodness.
beef, cumin, chile powder, lime, oil, salt, pepper
dice the beef
mix the seasonings
**Jump for more butter**