Happy Mother's Day to all of the wonderful moms out there! I personally feel that every day should be Mother's Day, because it is without a doubt, the most difficult job in the world.

thank you to all of the moms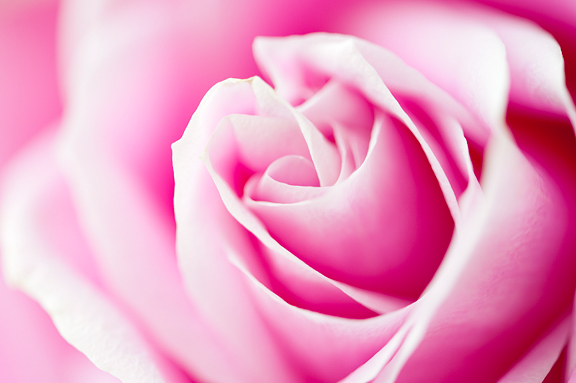 I've written on occasion about my dad on the blog, because that's pretty easy to do. My dad was my pal when I was growing up because he was a big kid at heart – he still is. He's also quite the character. I am, to be sure, my father's daughter. Our relationship has been fairly constant throughout my life.
But my relationship with my mom is a different story. It has evolved over the years and we have both grown and changed in that time. It's complex and I think that happens with mothers and daughters who are close and yet span different cultures, personalities, and ways of thinking.

mom at 18 (as a bride's maid)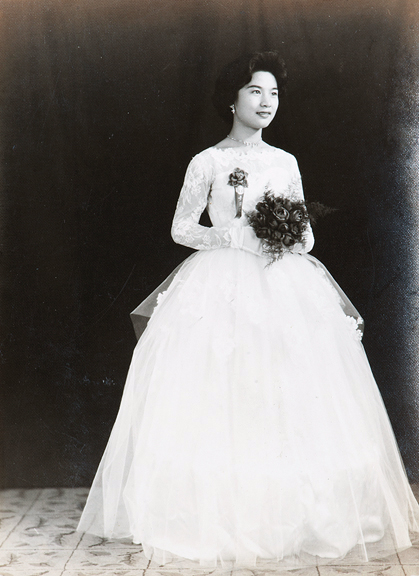 age 22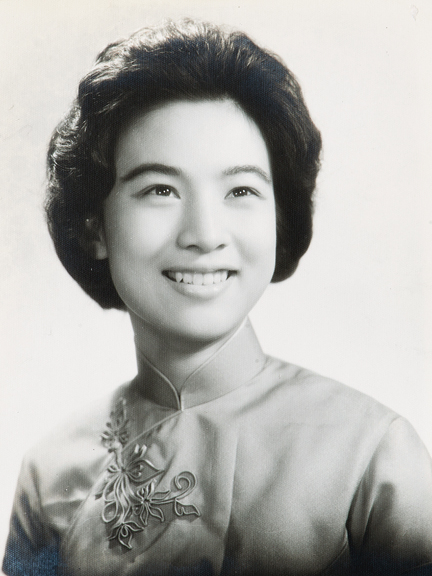 I love these glamorous photos of our parents from the 50s and 60s. I treasure them. When I was little I used to thumb through this collection of old photographs of my parents and other family members. That was another time, another place… far from me and disconnected from my reality. It wasn't until I was in my 30s that I realized I was so much older than my mother in those photos. And it has always been evident to everyone that my mother is elegant and beautiful and I am a tomboy with no fashion sense.
posing with dad's big catch (i'm the goofball on the left – my grandmother dressed me)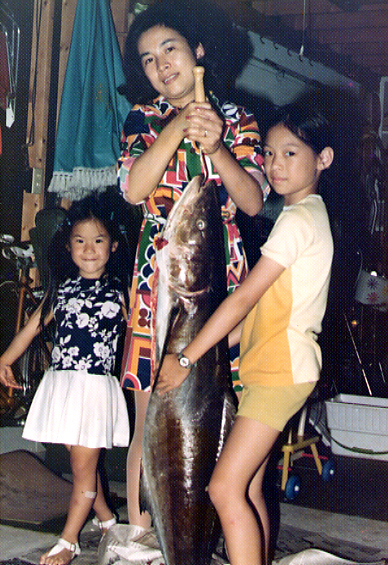 When I was a little girl, my mother was the most beautiful woman in the world to me. I adored her. When I was sick or scared or sad, she would pick me up and I would lay my head on her shoulder, my arms around her neck. Her arms were the safest place to be. Of course, I was fortunate enough to have two mothers: my mom and my maternal grandmother. The difference was that I could get away with ANYTHING with Grandma, whereas Mom could bring the smackdown at any time. And she did, because I was a very silly little girl. What I would come to understand in my adult years was the gift that my mom and grandmother gave me – the chance to witness such a loving and devoted relationship between a mother and a daughter.
christmas 1986 (mom and grandma)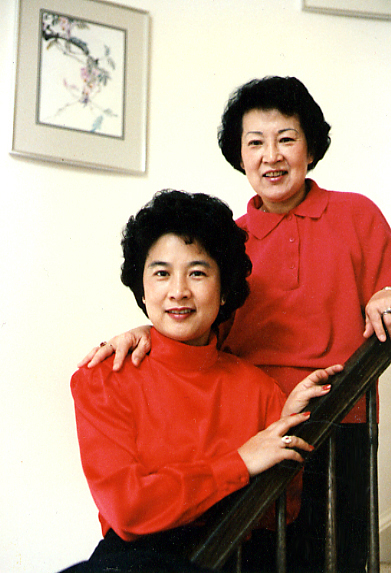 People talk of teenage years and I remember mine well. These were not my happiest years. I was exerting my independence – I was confident, even cocky. Dad had taught me to move assertively through the world. He was quite western in his thinking for a Chinese immigrant father. Mom was more of the traditional Chinese mother and that is where we butted heads. Often. My 790 math score on the SATs was like a knife in her heart, "WHY? Why can't you JUST.GET.IT.RIGHT?!" I defiantly played field hockey despite cries that it would cost me college admissions to ANYWHERE. In our day-to-day exchanges, I intentionally challenged my mom just to be confrontational. It was clear that we were very different personalities and I didn't always think her way was the right way. She would get angry with me and I would get angry with her. I was a pain in the ass. And despite all of my belligerence, there were moments when she would be proud of me or happy with me and say, "JenJen, you will always be my baby."
mom and dad going to a cocktail party in 1989 (my senior year in high school)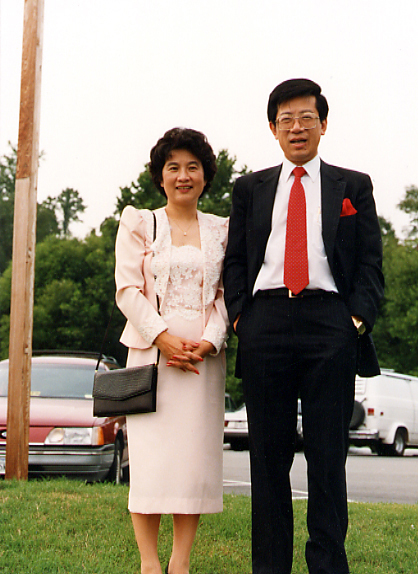 dancing over the holidays when i was home from school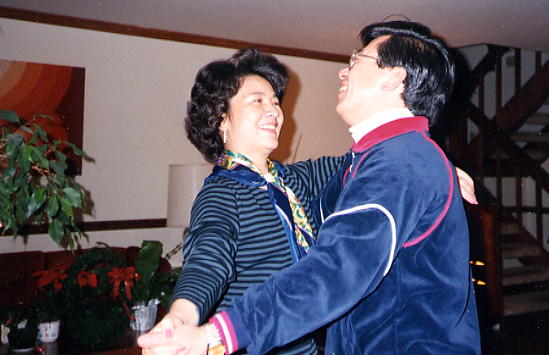 Leaving for college across the country was a good thing. There were more struggles between my desire for independence and Mom's desire to tell me what to do with my life – very much a cultural tug-of-war. I could not see it then, but now I know that my mom has only ever wanted what she thought was best for me. Whether or not it was the best for me is not the point. After my sister died, after I could see through the fog of my own grief, I watched my mom walk through life with a broken heart for several years. I do not have nor do I want children, but I can't imagine something more devastating for a mother than to lose her child. We are a close family and Kris was an integral part of the jokes, the tears, the yelling, the laughter, the joy. That was when I began to understand my mom for the woman she is rather than the mother she had been to me all my life – two very different roles.
mom and dad in 2005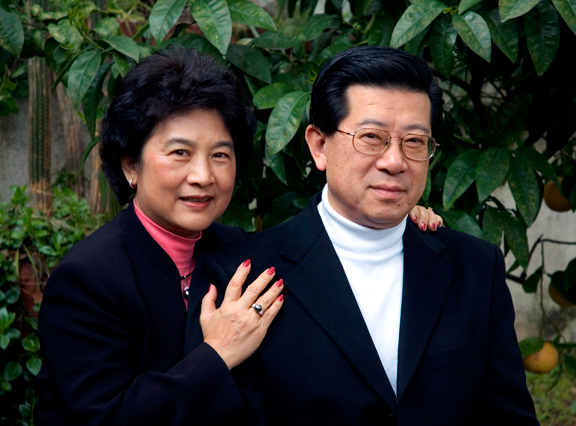 in rocky mountain national park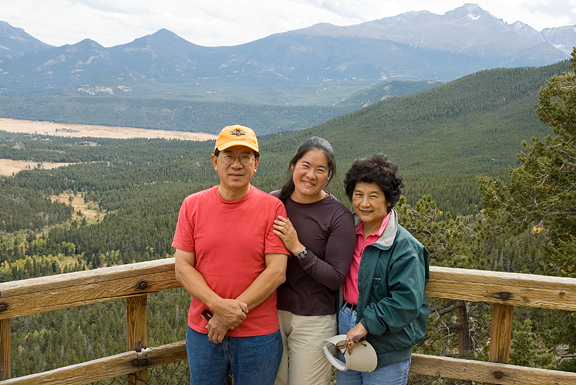 getting gelato in whistler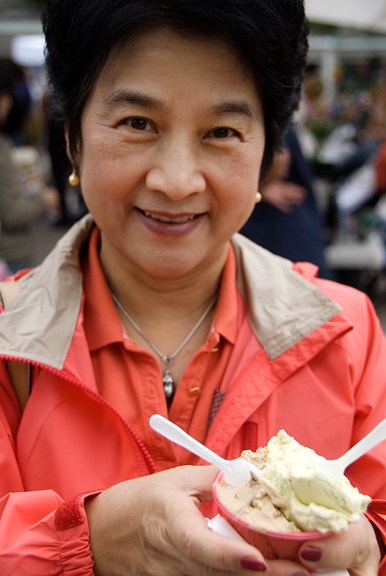 My cancer diagnosis came as a shock to me, but once I gathered my wits I said to Jeremy, "How am I going to tell my mom?" I did not want to do this to her, not after the grief she was still enduring over Kris. I wanted to protect my mom, but I needed to prepare her just in case. So when I told her over the phone that my results were positive for breast cancer, all I could hear was the quiet sound of Mom taking in a breath. Then came the questions and it was obvious that she was trying desperately to understand and cope. That phone call feels like it took place ages ago.
It is my hope that I have learned to be a better daughter over the years and not just because that is what I am supposed to do, but because I really love my mom. I started out very attached to my mother, as I think most children do. During my adolescence there was a clash of personalities and I was resistant to the traditional Chinese ways of doing things which probably hurt my mom's feelings. It was my independence against her desire to have a say in my life. Adulthood is good for us on many levels, not least of which is to appreciate your parents as individuals and not as parents per se. There (hopefully) comes a point in your life when you finally see your mother for all of her flaws and weaknesses, strengths and vulnerabilities, struggles and triumphs, that make her more human and more precious than ever. And there is nothing like the squeeze of my mom's arms around my waist when she tells me I will always be her baby.

happy mother's day, mom. i love you. -jenjen