Recipe: ginger peanut asian slaw
Jeremy has been on travel for the last 8 days and so it has been me and Kaweah. It's been tough – tougher than usual. Jeremy checks in each morning and evening to see how she's doing, but this hasn't been a great week for her. As I was loading the washer with her dirty towels and dog bed covers, the tears spilled down my face and I wondered if this would be the last time I washed her doggy things. [The answer is no, because the following morning at 5 am, she unwittingly dropped a few turds on a freshly laundered towel in her sleep… yay.] She made it to May, but I'm not sure she'll make it past May.
The first of May is the anniversary of my sister's death. 2014 marks a decade. My brain has been grappling with that measure of time. Ten years. All of the things that happened in the last ten years happened without Kris and that gives me a sick feeling in my gut. I started blogging in 2004 as a way to cope with my heartache, as an attempt to unravel the emotions all wound up inside my chest. She still enters my thoughts daily and on rare occasion, she'll appear in a dream. For that brief waking moment, it's like Kris never left.

freesia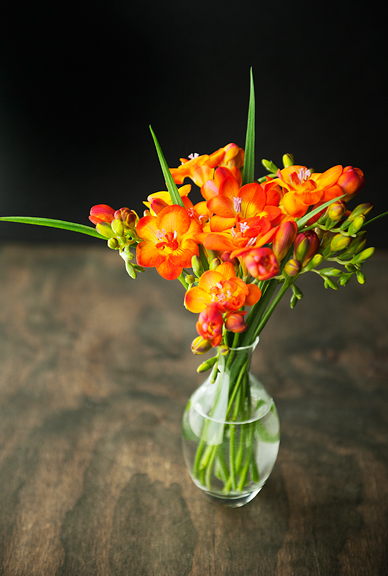 radiant, like kris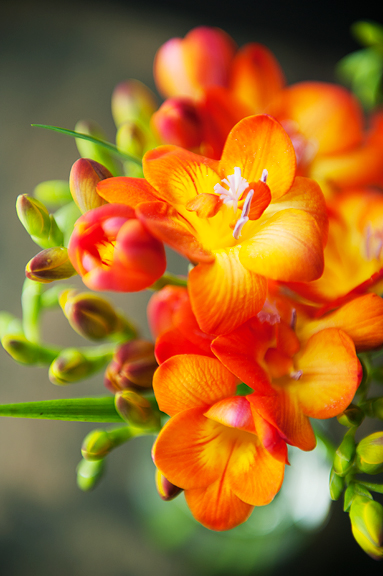 Because of this anniversary and because I know each day that passes brings us closer to saying good-bye to Kaweah, my feelings have been tender of late. That, and my appetite has diminished somewhat… or maybe I'm just tired from all of the 5 am poop surprises. I figure it's partly because cooking for one is a lot less exciting than cooking for two. That will surely change when Jeremy gets home this week, but one of the recipes I've been enjoying this week is a cabbage slaw with an Asian twist. My inspiration came from a particularly busy day a few weeks ago when I picked up a prepared salad at Trader Joe's – the Asian slaw salad.
for the dressing: sesame oil, chili oil, ginger, garlic, soy sauce, rice vinegar, creamy peanut butter, honey
It was so much better than I expected it to be. Being the huge fan of cabbage that I am, I set about making my own version at home. TJ's skimps on some of the good stuff like cilantro, celery, and carrot, so I made sure to bump the quantities. And instead of the crispy fried wonton strips in their salad, I used a healthier crunchy substitute: jicama.
grate the ginger and garlic
add rice vinegar
pour some chili oil (more if you like)
whisk it all together
The combination of half cabbage and half lettuce kept the slaw from feeling too heavy (all cabbage) without making it too wimpy (all lettuce). I recommend a sturdy lettuce like romaine so that it doesn't wilt and get lost in the cabbage. If you really want to get your brassicas on, replace the lettuce with kale. As always, the beauty of any salad is that you can add or omit ingredients as you see fit.
green onions, cilantro, carrots, peanuts, celery, jicama, cabbage, and romaine lettuce
shred the cabbage and lettuce
slice the green onions and the celery
julienne the jicama
Preparation of the ingredients takes little time if you are even moderately proficient with a knife. Once you have everything ready, it's just a matter of finding a large bowl to mix everything together. While you might think there couldn't possibly be enough dressing (that's what I thought), it actually comes out just right. But if you tend to go heavy on dressings in general, you may want to double the dressing recipe.
dressing, carrots, green onions, celery, peanuts, cilantro, jicama, lettuce, cabbage
put it all in a large bowl
toss together
What I love about slaws is that they are satisfying without being too light or too heavy. Sometimes a salad can leave my stomach asking if I actually ate anything. And if the cabbage doesn't provide enough heft or you want something more substantial, then add some shredded roasted chicken or sliced baked tofu to the slaw. Bright ginger plays off of earthy peanuts for a most delightful and refreshing dish.
healthy, colorful
currently my favorite slaw
Ginger Peanut Asian Slaw
[print recipe]
3 cups cabbage, shredded
3 cups romaine lettuce (or kale), shredded
1 cup carrot, shredded
2 cups jicama, julienned
1/4 cup celery, thinly sliced (about 1 stalk)
1/4 cup green onions, sliced thin (about 2 stalks)
1/4 cup cilantro, chopped
1/2 cup roasted unsalted peanuts, chopped
roasted chicken or baked tofu, sliced (optional)
3/4 cup ginger peanut dressing
ginger peanut dressing
1/4 cup creamy peanut butter
2 tbsps honey
1/4 cup rice vinegar
1 tbsp soy sauce
1 tsp sesame oil
dash chili oil
1 tbsp fresh ginger, grated
1 clove garlic, chopped
Make the dressing: Place all of the ingredients in a blender or food processor and mix until smooth. Alternatively, you can grate the ginger and garlic and stir everything together with a whisk.
Assemble the salad: Put the cabbage, lettuce, carrot, jicama, celery, green onions, cilantro, peanuts, chicken or tofu (if using) in a bowl. Top with the ginger peanut dressing. Toss to coat. It might look like there won't be enough dressing, but there is. Serves 4-6.
more goodness from the use real butter archives