Recipe: chocolate hazelnut sandies
This past weekend was closing weekend for our local ski hill. We considered the mobs of people trying to squeeze in one last ski day of the season and decided to head in the opposite direction. Backcountry skiing is more effort than resort skiing. In essence, you are your own ski lift. But the rewards are many and include fresh tracks, solitude, spectacular views, and a great workout. The snow is skiing the way it typically does in early May, so unless we get some promising storms, our ski days are numbered.

skinning up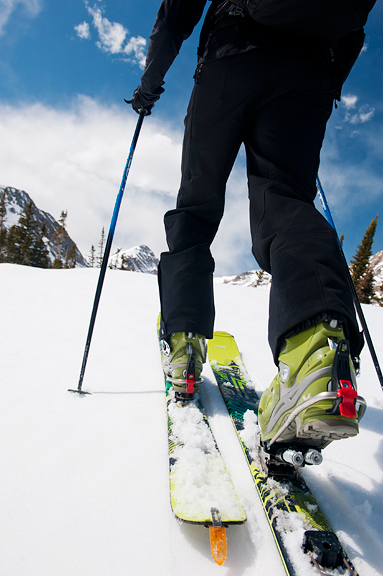 pausing to admire our backyard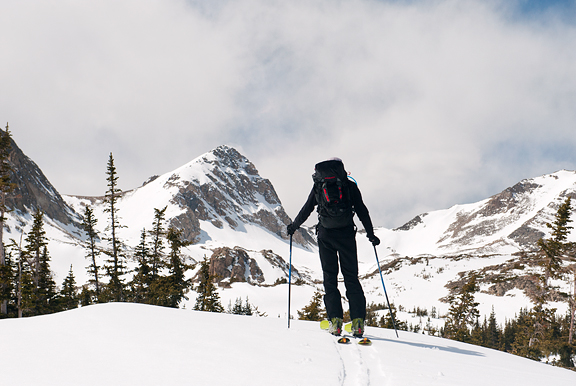 whoop whoop!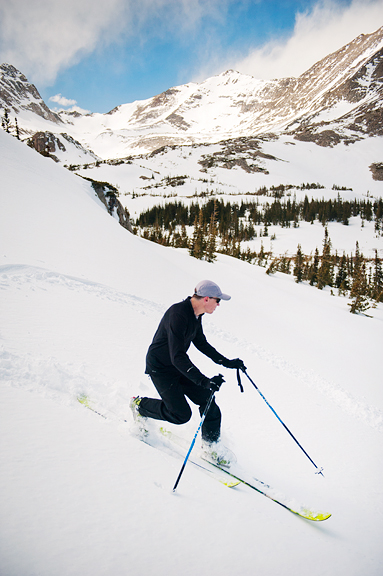 skiing out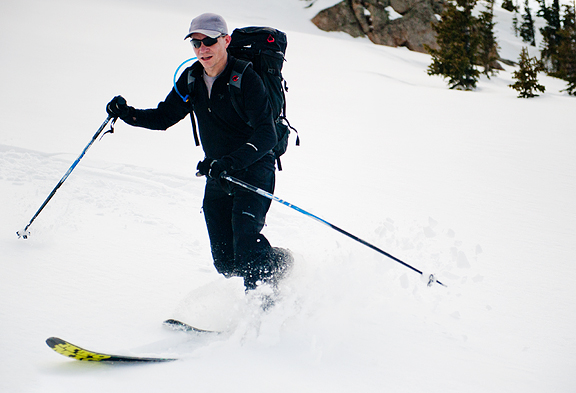 I'm actually okay with the ski season coming to an end – I mean, my big toenail is okay with ski season coming to an end. I injured it in late January on a ski tour and it has since turned dark purple, doing those things that tell you it is going to fall off in 6 or 9 months. The plan is to ski as long as there is snow and just ignore any pain. So far, so good!
Now on to the recipe. As a rule, when I blog a recipe, I try to have double the amount of impossible-to-get-in-my-mountain-town ingredients needed in case something tanks. I'm happy to say that the backup ingredients are rarely (but not never!) required, which leaves me with extra ingredients. Sometimes they get incorporated into our meals, sometimes they get bumped to the next recipe. Other times, they spark new ideas – like these chocolate hazelnut sandies. It's a pecan sandie, but chocolate with a different nut!

toasted hazelnuts, powdered sugar, cocoa powder, salt, butter, flour, vanilla extract, hazelnut liqueur
mix the cocoa powder and flour together
chop the hazelnuts into a coarse grind
ground hazelnuts, flour-cocoa mixture, powdered sugar
This is a reliable cookie in that there aren't any leavening agents or eggs to worry about at my elevation. Get the right measurements and it should work here, there, wherever. And it does! Now if you don't want to use hazelnut liqueur, you can substitute water. The hazelnuts themselves will still give that hazelnut flavor – it just won't be as pronounced.
beat the butter, powdered sugar, half of the flour-cocoa mixture, and salt together
add the frangelico (hazelnut liqueur)
beat in the remaining flour mixture, then add the nuts
mix until just combined
The dough should be on the dry side – not sticky, but will hold its shape when pressed into a ball. You can leave them as a ball on the baking sheet and they will flatten out into little domes when they bake. My preference is to flatten the dough balls a little with the bottom of a drinking glass. They stack more efficiently that way after they've been baked. Let the cookies cool completely before rolling them in powdered sugar, otherwise the sugar will absorb the moisture (steam) from the hot cookies and will turn wet. It will still taste great, but it might not look as good.
shape into 1-inch diameter balls
arrange on a cookie sheet (flatten the dough balls if you like)
cooling
roll in powdered sugar
Chocolate and hazelnut make a great combination of flavors. It's like one of the first principles of physics. They are ideal for tea time or coffee breaks since the cookies are on the dry side. I actually prefer this chocolate-hazelnut version to the (original) pecan sandies, but rest assured that both cookies leave a trail of powdered sugar down the front of your shirt when you bite into them.
with a little coffee
snowy outside, dark chocolatey inside
crumbly, but good
Chocolate Hazelnut Sandies
[print recipe]
2 cups all-purpose flour
1/4 cup cocoa powder
1/3 cup powdered sugar
pinch of salt
8 oz. unsalted butter, softened
1 tsp vanilla extract
1 tbsp hazelnut liqueur or water
1 cup hazelnuts, toasted, skins peeled (as best you can), and coarsely ground
extra powdered sugar for rolling
Preheat oven to 325°F. Whisk the flour, cocoa powder together in a bowl. Beat the butter, half of the flour-cocoa mixture, 1/3 cup of powdered sugar, vanilla extract, and hazelnut liqueur together. Beat in the remaining flour-cocoa mixture until just combined. Stir in the hazelnuts. Roll the dough into 1-inch diameter balls and place at least an inch apart on a baking sheet. Bake 20-25 minutes until the center is just done (you'll have to break one open). Remove from oven and transfer the cookies to a cooling rack. When cooled, roll each cookie in powdered sugar. Makes 3 dozen cookies.
more goodness from the use real butter archives