Anyone who has happened upon this blog between October and May (sometimes June!) will have probably noticed that we like to ski around here. It's hard to avoid when Colorado boasts about thirty ski resorts (give or take a few). Multi-mountain ski passes are popular because a single pass offers unlimited access to a handful of mountains plus a few free days at a sampling of other mountains. This year we have the Rocky Mountain Super Pass Plus which allows unlimited skiing at Copper Mountain, Winter Park, and Eldora (our local hill), as well as some bonus lift tickets at other mountains including six days at Steamboat Ski Resort. Jeremy and I had only ever visited Steamboat Springs in summer, and briefly… but Steamboat always gets the goods when snow falls in Northern Colorado. The resort has even trademarked "Champagne Powder". We had to see what all the fuss was about.

elevation map of colorado (warmer colors correspond to higher elevations)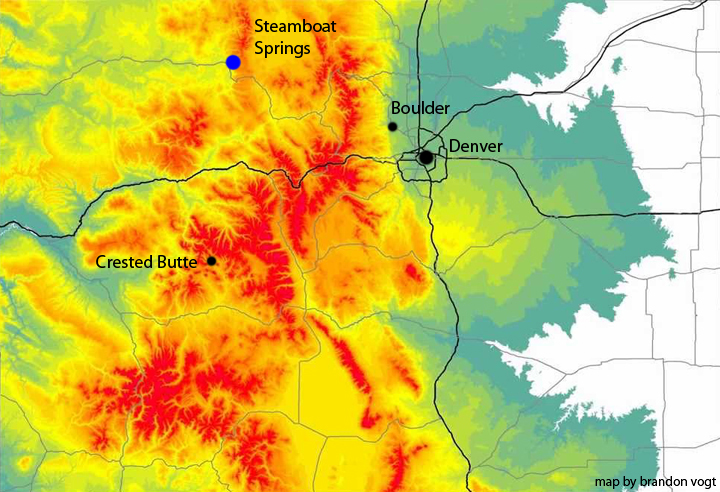 Nestled in the upper valley of the Yampa River, Steamboat Springs rests at the base of the Park Range. As ski towns go, Steamboat is an actual town with services, a bustling pedestrian-friendly main street, cheerful residents (numbering around 12,000), and more terrific restaurants than you could shake a stick at. While the town has spendy options, folks aren't there "to be seen" so much as to simply enjoy mountain living. It's a good vibe.
The day we arrived, Steamboat was reporting seven inches of fresh powder overnight and continued snowfall throughout the day. We parked in the Meadows Lot (free) and caught one of the frequent (and clean) shuttles to the base area. From there, we hopped the gondola to mid-mountain and a lift to the summit where we began exploring a foot of untracked new snow in the trees. This was some of the fluffiest fluffy fluff I've ever had the pleasure to ski. Okay, Steamboat – you get to keep "Champagne Powder".

from the lift – all that new snow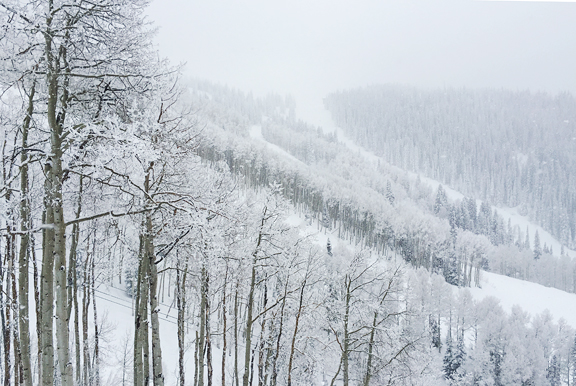 jeremy bounces his way through the aspens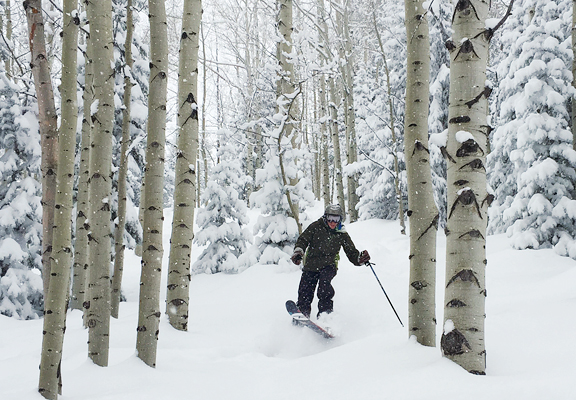 We skied until our legs were jelly and took the gondola back down to the base area, not wanting to waste our energy on blue and green groomers as we had already scoped out more potential powder stashes for the following day. Once in town, we checked into the Rabbit Ears Motel – a good option for folks who are budget travelers. We got an especially good mid-week rate and AAA discount. While the lodging was decent, I think it may have been a little too budget for our tastes as we had almost no room for the both of us to sit down and work. Neva's doggy daycare person suggested The Nordic Inn, which is a little nicer for a little more coin. From the motel, we walked several blocks to Sake2U – a popular spot right on the Yampa River – for a fantastic sushi dinner. Any day you can ski and sushi is a GOOD day.
sake2u under pillows of snow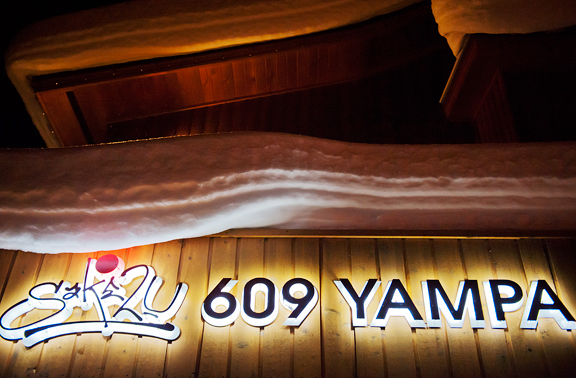 hamachi (yellowtail) poke over seaweed salad with enoki mushrooms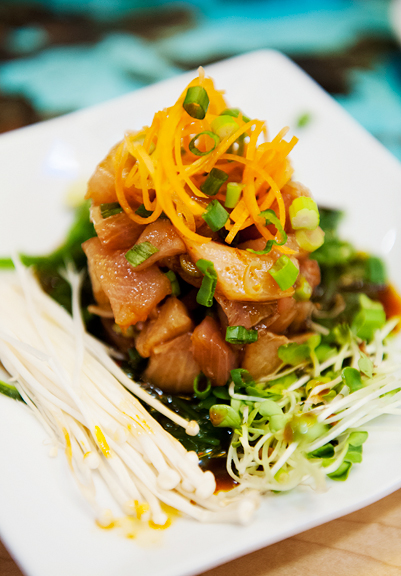 kombat roll: spicy tuna, spicy salmon, spicy hamachi, with three tobiko and house fire sauce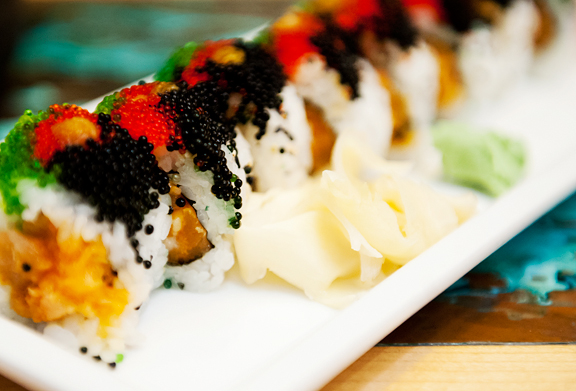 ama ebi (sweet shrimp)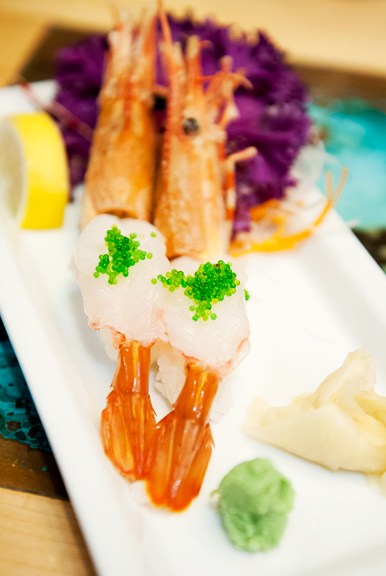 hamachi sashimi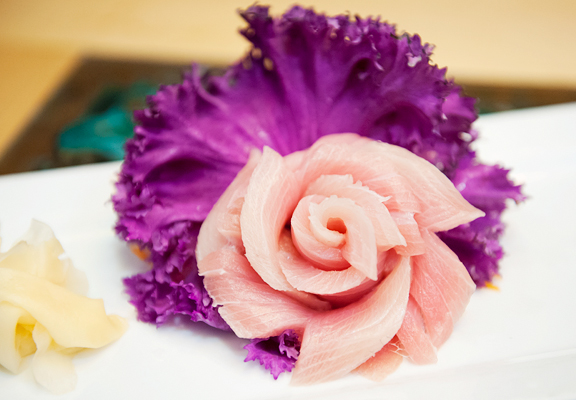 In the morning, we got up early for breakfast at
Creekside Café and Grill
. We were greeted with big smiles and super pleasant staff. Aside from the fact that their sausage gravy isn't as good as mine, the food here is solid. I mean, it is REALLY delicious in addition to being locally sourced. I ordered a side of bacon to go with the malted waffle (so good) and was given a choice of local thick-cut or something else. My ears shut off after I heard "local thick-cut" because that's what I wanted. Oh man… that was hands down the best bacon I've ever had. Ever. Great flavor, melt-in-your-mouth, just the right crispness.
malted waffle with mixed berries and maple syrup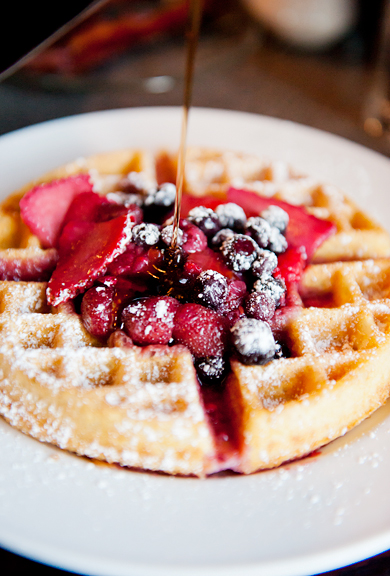 chicken fried steak with sausage gravy, eggs, breakfast potatoes, and biscuit (with apple cinnamon jam)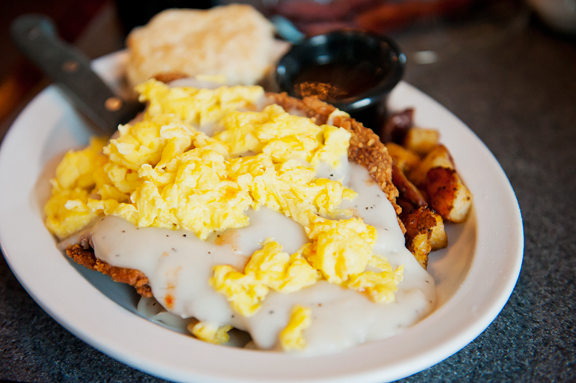 After that huge breakfast, we made our way up the mountain to ski off those calories. The weather was clearing, but the clouds still raced overhead dusting us with light kisses of snow. Most of the beginner runs occupy the lower mountain. You can bypass that by riding the gondola up to mid-mountain and taking one of many lifts that serve the upper mountain. While we didn't ski many groomers, Steamboat does a nice job of grooming and maintaining their runs (hey, it's easy to groom when you have great snow). As for the trees, which we skied the hell out of, Steamboat has some of the nicest glades and tree skiing. Jeremy and I were essentially skiing fresh tracks all day and still finding more stashes of powdery snow as we were leaving.
the view from mid-mountain looking toward four points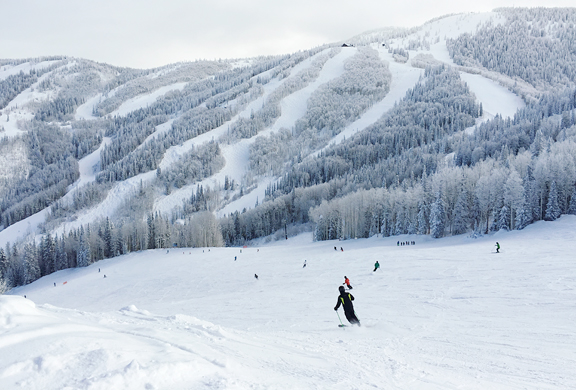 a very happy guy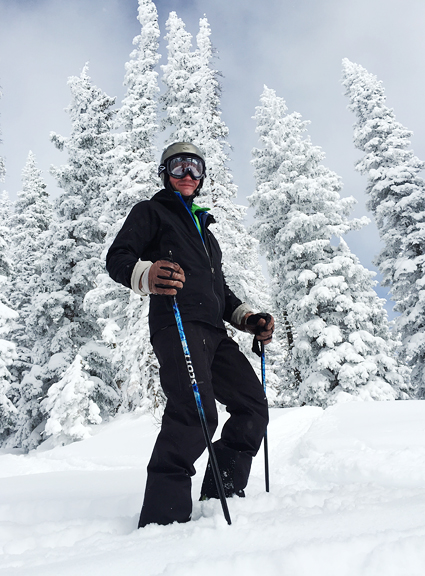 loving some untracked powder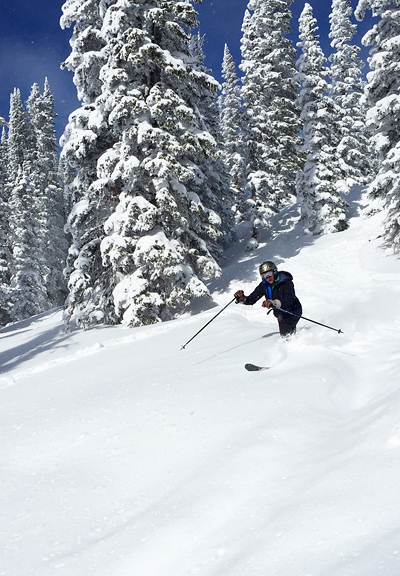 poof!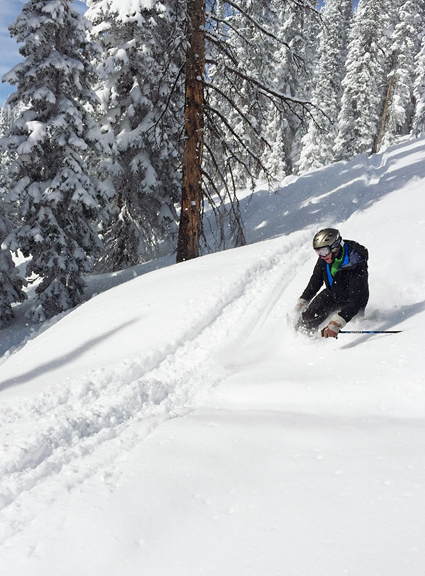 looking west toward town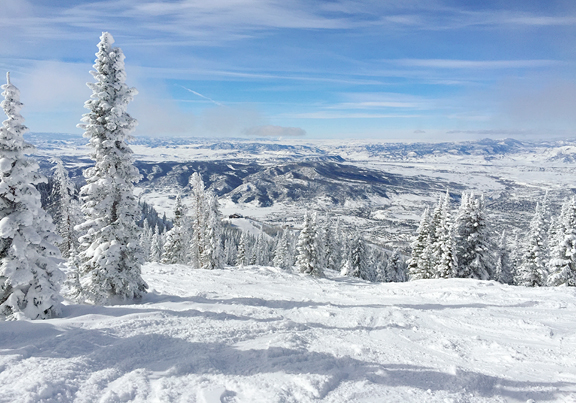 The plan was for those big breakfasts to fuel us through the day to happy hour so we could ski through lunch, but by mid-afternoon our stomachs were growling and our legs were tired from all of the awesomeness. Walking around town afterward, Jeremy popped by
The Ristretto
for a latte which he said was excellent. [For those of you in Boulder, he ranks it above Ozo, but not as high as Boxcar.] The lounge is a nice space for working, relaxing, or chatting.
jeremy's caffeine of choice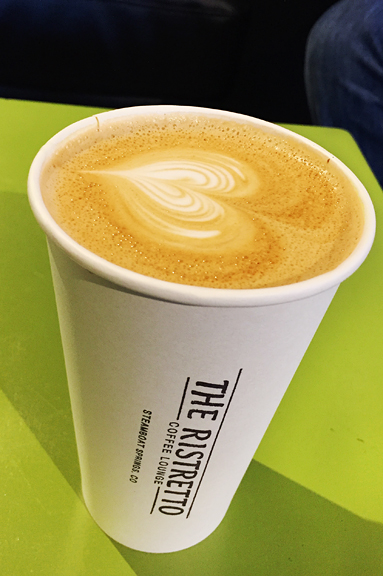 Around 4:00 pm, we returned to the mountain, but this time in street clothes.
Yama
was not on my original dining schedule, but after seeing mention of it online and then reading through the menu, I couldn't pass it up. We arrived slope-side in time for happy hour and added a few items from the dinner menu. Yama's happy hour has got to be one of the best deals on the mountain. The food is off the hook! All of it was well-prepared with fresh ingredients, great flavors, perfect textures. The portions were generous and the happy hour prices were ridiculously affordable for the quality. Jeremy and I basically wanted to move into the restaurant and eat their food forever. This is our current favorite in Steamboat.
jfc – japanese fried chicken with honey sriracha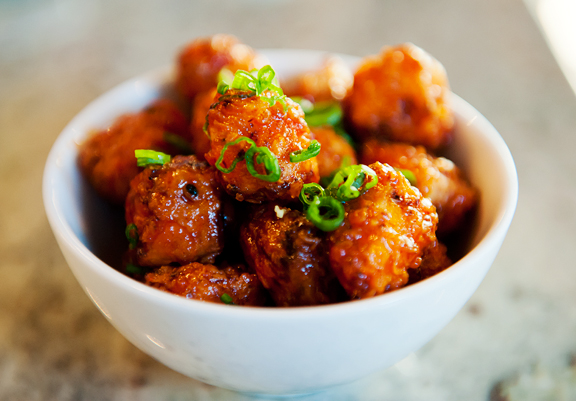 jeremy's yuzu-tini (perfectly balanced)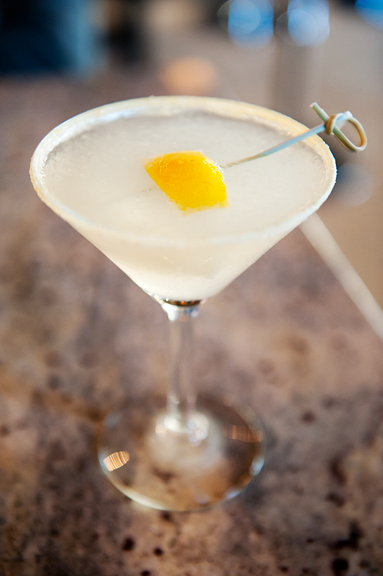 a platter of maki and nigiri sushi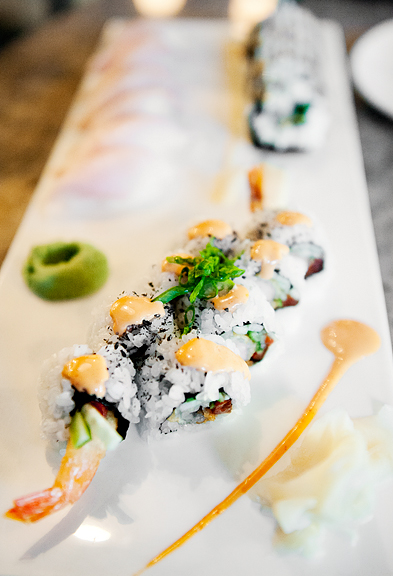 the house ramen with pork belly, mushrooms, and sous vide egg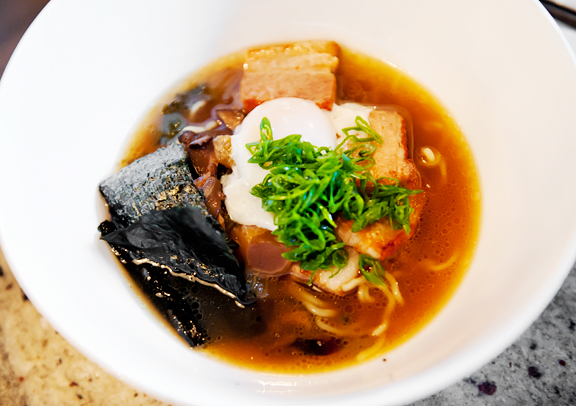 The next day we got ourselves to Milk Run Donut Café before the sun was up. I get excited at the prospect of finding a good doughnut shop and this one had plenty of buzz about it. The selection was okay, but the doughnuts themselves were just meh. Not bad, just not knocking my socks off. My socks remained firmly on my feet. I took a bite or two and packed the doughnuts away for later. Jeremy informed me that the coffee was horrible. So that was a bit of a letdown, but if you want a doughnut, this might be your best bet in town. Someone tell me if you know of a better doughnut or bakery in Steamboat. The masses need to know!
milk run donut café at dawn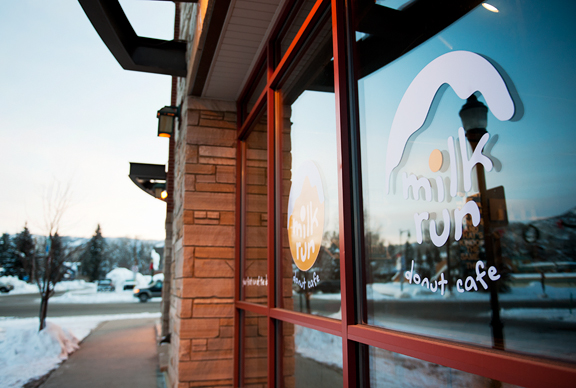 what to choose…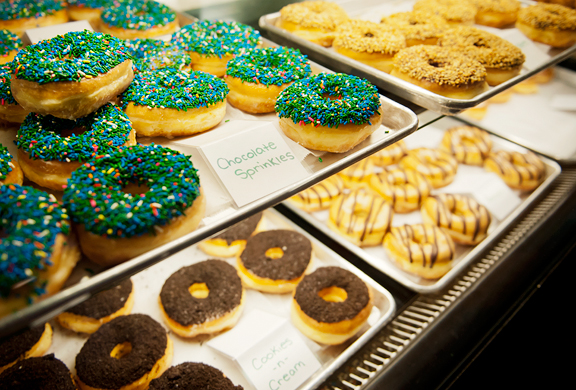 My disappointment melted away as we returned to the ski resort for a few powder runs in the morning. We still found fresh and fluffy snow in the trees – perfectly preserved because the high temperature never got above freezing. The views from the summit (and from most parts of the mountain) are expansive. To the east, we could see our home mountains (the Indian Peaks). To the west, the Western Slope. But all I could think about on our gondola ride down was how I couldn't wait for lunch.
jumping for joy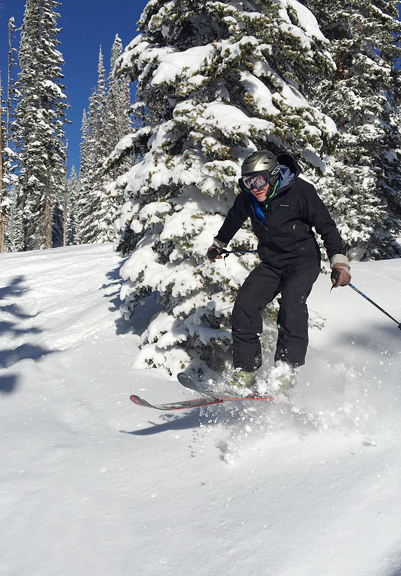 riding down in the gondola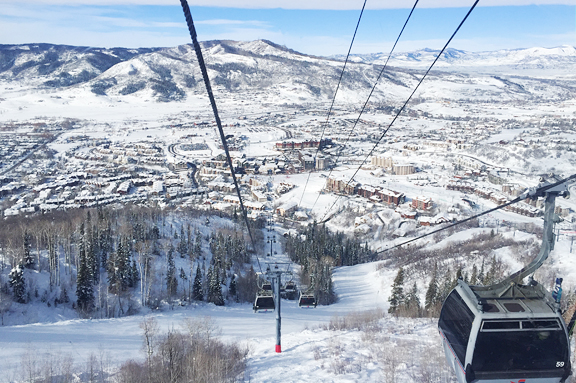 Driving back into town one last time, we made a beeline for
Back Door Grill
. A burger ranks up there as one of the best things to eat after skiing and these burgers fit the bill. I asked Jeremy if he was hungry and he said, "Kinda." I ordered the Twilight Zone (peanut butter, cheddar, bacon, creamy sriracha) because I was curious to try a peanut butter burger and he opted for the Umami burger (Swiss cheese and mushrooms). By the time I had finished photographing my burger, Jeremy was nearly done eating his. Funny how a damn good burger can enhance your appetite. My Twilight Zone was great, but I don't think I'll go out of my way to order a burger with peanut butter in the future. The fries and onion rings? Equally delectable. Jeremy's chocolate milkshake was good. Not awesome, but good.
back door grill in snowy steamboat springs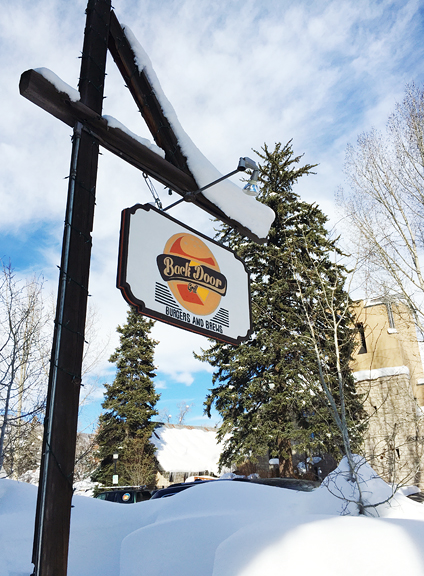 the twilight zone, garlic fries, and chocolate milkshake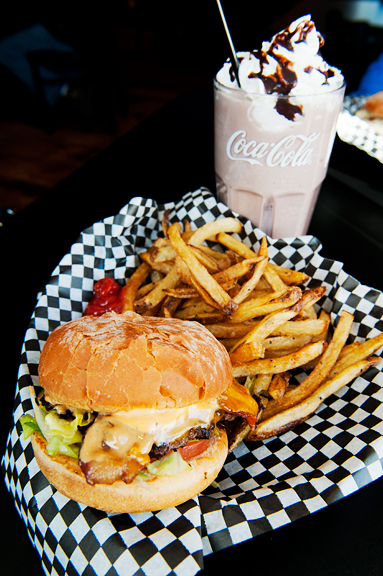 Now, I realize that the town is named for the hot springs and we didn't visit any. I am not supposed to sit in hot tubs or hot springs due to my lymphedema, but friends of mine love soaking in the springs and report that they are quite nice.
And that wraps up 48 hours in Steamboat Springs! We had such a wonderful time skiing the mountain and barely making a dent in the Steamboat food scene that we cannot wait to come back again and again. Steamboat makes for a fun getaway, so definitely put this ski town on your radar.
Full disclosure: All trip expenses were paid for by me. I was not compensated in any way by Steamboat Ski Resort, the town of Steamboat Springs, or any of the dining establishments mentioned in this post. All opinions are my own.

more goodness from the use real butter archives