Wednesday, January 13th, 2016

Recipe: onion rings
We've had a short dry spell of windy, sunny days this week which makes a powder hound whimper and cry. But lack of powder merely means it is high time to hit the Nordic trails. What I love about the network of Nordic trails at our local hill (Eldora) is that they are forested and thus protected from those notorious winds that batter us from October to May. Clouds race across the sky throughout the day, giving us a shot at some nice displays come sunset if the clouds and the sun are in the right place at the right time.

things that make you smile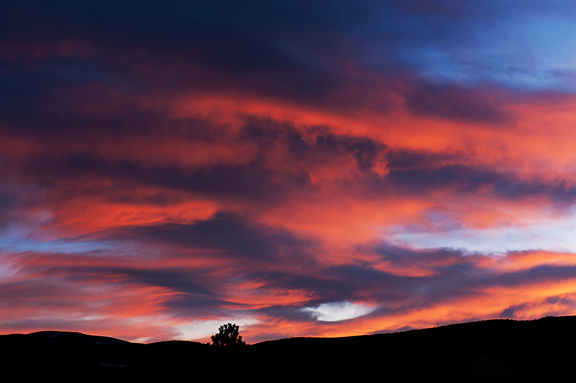 skate skiing in a hall of trees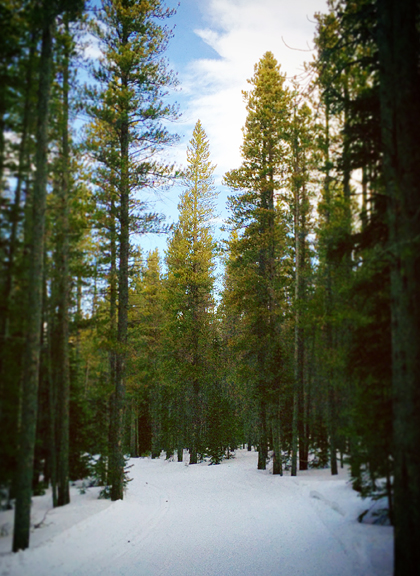 Neva had such a fun time at doggy day care on Tuesday that she was sacked out all of Tuesday night and most of Wednesday day. She curled up in her dog bed while I worked – dozing away or lazily watching me. Each time I walked past her, I would cover her with her blankie (Kaweah's old blanket), add a toy for her to play with, or feed her a treat. Neva was feeling loungy and enjoying it. I enjoyed it, too!
she is still a baby puppy to me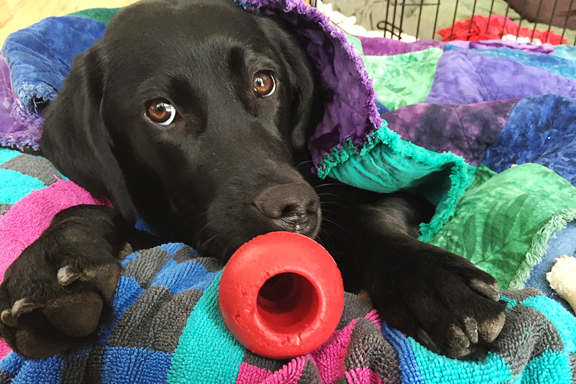 I'm feeling peppier these days and I realized it's because the sun is setting later. I know this because our living room lamp timer was last set to come on when it got dark – around 4:30 in late December. Now, it clicks on while daylight is still spilling into our house. It also means Chinese new year is on the horizon. This year, it starts February 8, requiring all of the preparation and cleaning to be done by February 7 – lunar new year's eve. February 7 is also the Superbowl, which means very little to me other than empty ski slopes Sunday afternoon. But the Superbowl is one of those events that even the non-sportsball fans can enjoy because there are gatherings full of sportsball party foods.
One such staple would have to be the onion ring. Make that a beer-battered onion ring. I have been searching lo these many years for a good onion ring recipe and I finally found one – from the Food Lab at Serious Eats.

onions, cornstarch, beer, paprika, baking powder, baking soda, salt, flour, vodka
A key to J. Kenji López-Alt's foolproof onion rings is to remove the thin inner membrane of each onion ring. This helps to keep the onion tender on the inside and ensures that the onion breaks with each bite instead of snaking out of the fried batter when you first bite into it. The easiest way to get rid of the membrane is to freeze the onion slices, thaw them in lukewarm water, and pull the membrane away.
separate the rings
freeze for an hour or up to a month
thaw in lukewarm water
the membrane should peel right off
**Jump for more butter**