Recipe: baked strawberry doughnuts
I'm ready for it. Ready for spring. The ski resorts are closing one by one in Colorado as the season winds down. I'm okay with that, because spring means spring skiing in the backcountry. It means climbing glazed ice in the mornings when the temperatures still dip below freezing. It means you have to unzip the vents in your ski pants and strip down to short sleeves because the air is warm and the sun beats down on you as you make your way up the mountains. Talk about earning your turns. But by mid-morning, the snow beneath your skis is heavy with water and feels soft when you glide over it. And there aren't those horrible winter winds. It's a great way to gear up for summer trail running, hiking, and backpacking.

neva playing in fresh snow late last week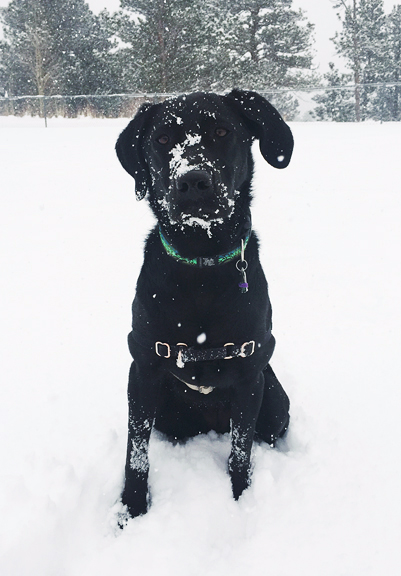 i nabbed last tracks on a local trail the day before it closed for elk calving season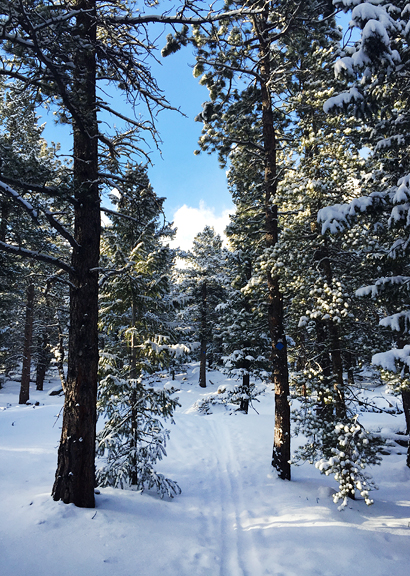 Jeremy and I are preparing for summer, too. We've been updating our summer running and hiking socks (I am a huge fan of Bridgedale socks) as well as some footwear and fuels for endurance training. We are especially excited about taking Neva trail running now that she is a year old. She has been pretty good on our ski tours this winter and we hope that translates well to trail runs. But there is still plenty of snow in the high country with more in the forecast through the end of the month, so we shall ski until we can't ski. Neva seems fine with that.
neva dug a hole to china looking for her tennis ball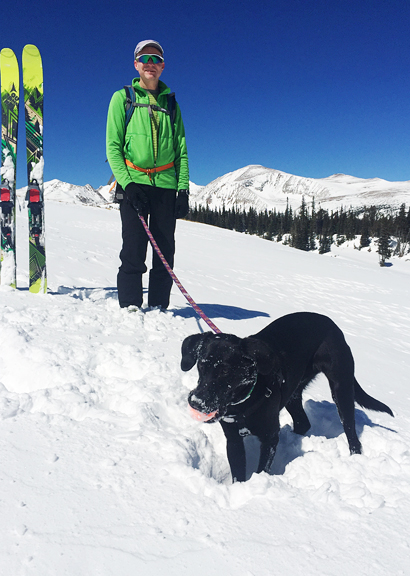 ah, the insanity…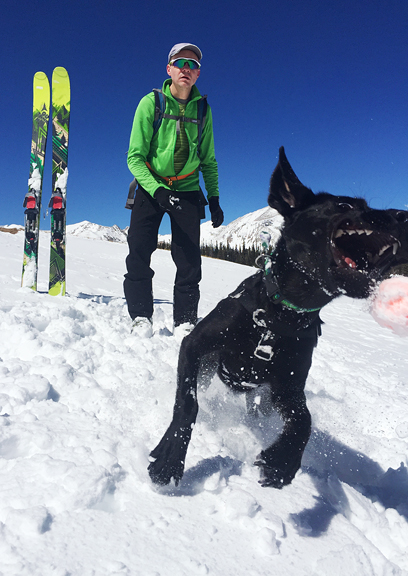 Another reason spring is on my brain is strawberries. You can find strawberries all year in grocery stores, but the winter berries that ship in from the southern hemisphere are flavorless at best. It isn't until spring when the berries start to look, smell, and taste like actual strawberries. I bought a few pounds of organic strawberries last week to see if they were any good. They weren't the best, but they weren't bad! I know in a month or so they will be much better and then I'll set to work making
strawberry jam
and
strawberry vodka
and
strawberry syrup
for summer entertaining. But for now, these baked strawberry doughnuts are the bombdiggity even if the strawberries aren't at their peak.
you'll need to butter your doughnut pans
and flour them
I bought doughnut pans for baking doughnuts a few years ago and liked the results well enough. The doughnuts don't come out like their fried counterparts, but they are still quite good and take a smaller bite out of your caloric allowance. Plus, there is the added bonus of easier cleanup. Cleaning up after deep-frying is a pain. I didn't feel enough excitement about the baked doughnuts to make them very often – partly because I stored the pans in a hard to reach cabinet and partly because I could get a really good cake doughnut on the road between Crested Butte and Nederland (Daylight Donuts makes great doughnuts). And then I found a recipe for strawberry doughnuts made with real strawberries.
flour, vegetable oil, salt, baking soda, eggs, butter (for the pans), strawberries, sugar, vanilla, buttermilk
stir the flour, sugar, salt, and baking soda together
combine the eggs, buttermilk, vegetable oil, and vanilla
it might look curdled, but that's okay
The return of strawberries in doughnut form has everyone in my neighborhood doing the happy dance. That's because I have made a few batches and sent them out for taste testing. These doughnuts are too good not to share. You don't really need a lot of strawberries for the entire recipe, probably 15 or so medium berries. Chop them fine by hand. I think if you drop them in to a food processor, you will get more of a berry mash than chopped berries, and a mash is not what we want.
finely chopped
stir the wet ingredients into the dry ingredients
fold in the chopped berries
It's important to avoid overfilling the doughnut cavities because you'll lose the doughnut hole. If you don't care about the doughnut hole, no problem! The recipe I used recommends 2.5 tablespoons of batter. But this batter is thick enough that measuring it out in tablespoons is a messy business. I find it easiest to pipe the batter with a wide (1/2-inch) plain piping tip, keeping the batter level with the top of the doughnut hole pillar. I baked the first batch (pictured) for 13 minutes and decided I would have preferred a more golden bake on the bottoms. 14 minutes on my subsequent batches worked beautifully – but you will have to see what works best for you. The tops are pale compared to the surface that contacts the pan, so I always glaze the tops.
piping batter into the pans
don't overfill the pans
baked
inverted onto a cooling rack
Let the doughnuts cool completely before glazing or else your glaze will simply run off the doughnut and leave an unsatisfyingly thin layer. To prepare the glaze, you'll want to get your hands on some freeze dried strawberries which are NOT the same as dried strawberries. Freeze dried strawberries are crisp and light like styrofoam, whereas dried strawberries are chewy. You can easily pulverize (crush) freeze dried strawberries into a powder in seconds, but you can't with dried strawberries. I found mine at Trader Joe's, but it looks like there are lots of other sources for freeze dried strawberries.
freeze dried strawberries, strawberries, powdered sugar
freeze dried slices (they weigh almost nothing)
crush them in a plastic ziploc
chopped strawberries, freeze dried strawberry powder, powdered sugar
To make the glaze, stir half of the powdered sugar into the chopped strawberries. It will become a giant clump that doesn't resemble anything close to a glaze. Don't worry. Let the mixture sit for a minute or so while the sugar draws the juices out of the strawberries. This extra liquid will help the glaze to smooth out. You'll notice a difference after it rests. Add the rest of the powdered sugar and the pulverized freeze dried strawberries. Again, it will be a thick mixture, but a minute of rest will help to smooth it out. Just be sure you don't add water or milk to the glaze, because you'll make it too thin.
stir the strawberries and half of the powdered sugar together
after a minute of rest, it will be smoother
stir in the remaining sugar and the freeze dried strawberry powder
you should wind up with a thick glaze
One thing I added to the glaze that wasn't in the original recipe was some vanilla bean paste. I opted for this over using my homemade vanilla extract because I worried the extra liquid from the extract would make the glaze too runny. The paste is more like a thick syrup than a liquid. If you want some vanilla in your glaze – because vanilla and strawberry are a flavor match made in heaven – but you only have extract, just add more powdered sugar if you find the glaze isn't thick enough. I dipped the doughnut tops into the glaze so that the round, golden bottoms would be visible. It doesn't really matter which side you dip, but I thought this method looked better. Set the doughnuts on a cooling rack, glaze-side up, and allow the glaze to set. This takes about ten minutes, but the glaze will still be smooshable if you stack them.
vanilla bean paste (yes, add this)
dipping the doughnut into the glaze
let the glaze set
These doughnuts? DAMN GOOD. Everyone loved these strawberry doughnuts. They have an intensely fruity and authentic strawberry flavor without being overwhelming the way artificial strawberry flavors can be. I thought the first batch was slightly underbaked for my taste, because the doughnuts felt more like cake than cake doughnuts. All subsequent batches were baked for 14 minutes (instead of 13) and I liked the more golden bake as well as a stronger outer crust structure. The interior remained nice and soft and cakey. I think I'll be making these all spring and summer to convert the uninitiated among our friends. Some doughnut shops make great doughnuts, but I have yet to find a strawberry doughnut as good as this one. Until then, my doughnut pans will get plenty of use.
spring in edible form
i especially love the flecks of real strawberry
it's baked, go ahead and have two
Baked Strawberry Doughnuts
[print recipe]
from Cooking Classy
2 tbsps unsalted butter, melted
2 cups all-purpose flour, plus more for dusting
1/2 cup granulated sugar
1/2 tsp baking soda
1/2 tsp salt
2 large eggs
3/4 cup buttermilk
3 oz. vegetable oil
1 tsp vanilla extract
2/3 cup (about 8-10 medium) fresh strawberries, finely chopped
glaze
3 cups powdered sugar
1/2 cup fresh strawberries, finely chopped
1/2 cup (6 g) freeze dried strawberries, crushed to a powder (note: freeze dried is not the same as dried)
1/2 tsp vanilla bean paste (optional)
Make the doughnuts: Preheat oven to 375°F. Brush doughnut pans with melted butter and then dust with flour. Shake out excess flour. In a large bowl, mix the flour, sugar, baking soda, and salt until blended. Make a well in the center of the dry ingredients. In a medium bowl, beat the eggs until well scrambled. Stir in the buttermilk, vegetable oil, and vanilla extract. Pour the wet ingredients into the well of the dry ingredients. Stir together until the batter is just combined. Fold in the strawberries. Spoon or pipe (I find piping easier) about 2 1/2 to 3 tablespoons of batter into each doughnut cavity. Bake 11-14 minutes until the bottoms are golden brown. I found 14 minutes to be perfect for a deep golden base. Remove from oven and invert onto a cooling rack. Allow the doughnuts to cool completely.
Make the glaze: Stir 1 1/2 cups of the powdered sugar and the strawberries together in a medium bowl. The mixture will be thick and dry. Allow it to sit for a minute while the sugar pulls the juices from the berries. Add the rest of the powdered sugar, the powdered freeze dried strawberries, and a half teaspoon of the vanilla bean paste if using. The glaze will be thick. If it is too thick for dipping, then let the glaze rest another minute and give it a good stir (don't add water!). When the glaze is ready, dip the top of each doughnut into the glaze, then set the doughnut glazed-side up on a cooling rack to allow the excess glaze to drip off. Allow the glaze to set (about 10 minutes or more). Makes 14-16 doughnuts. If making ahead of time, store the unglazed doughnuts in an airtight container. Wait to glaze the doughnuts until the day you serve them as the glaze tends to get very liquidy in an airtight container.
more goodness from the use real butter archives