Sunday, April 14th, 2013

Recipe: chili cheese fries
It's been a working weekend over here, both of us sitting at our computers processing photos or data, listening to my recent compilation of songs from the 80s and 90s. [I'm realizing that was a really long time ago.] We took a break on Saturday to go over to our favorite neighbors' house for dinner. They served grouse, which they hunt each year in Canada. We've never had grouse before, although we've seen and heard a lot of them on mountain trails. The meat is sweet and tender, an absolute treat on top of the wonderful evening spent chatting with people we like. As we walked across the driveway to go back home, their flood light caught snowflakes racing past in night. By morning, our local hill had reported a foot of fresh snow for this, their closing day of the season. Dear snow, where the hell were you in December?! We scarfed down some breakfast while pulling on our ski pants and rushing out the door. This is Colorado. You don't turn down a foot of freshies!

happy and rosy-cheeked after catching the powder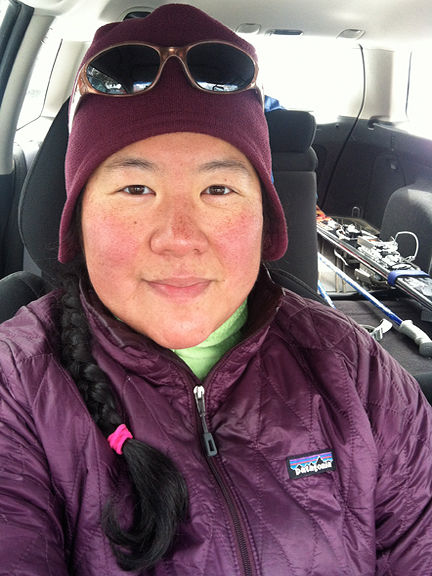 There is MOAR snow on the way too. Folks on the lift were bemoaning the snow that would come after the end of the ski season. Most of the big mountains have shut down their operations. Heck, I'm just getting started. The backcountry beckons (after the snowpack stabilizes – it has been a horrendous avalanche year). I still reminisce about skiing fresh powder on the first day of summer in 2011. One can always hope.
No matter what is flying through the air – be it snowflakes or hummingbirds, there are some foods that have no season… like chili cheese fries. Oh, I remember the first time I was introduced to chili cheese fries my freshman year in Southern California. What insane deliciousness was this?! I'll tell you what it was. It was a pile of greasy hot french fries, fake orange cheese, and a glop of chili (I use the term loosely). These days we still indulge in the occasional chili cheese fries, but we tend to opt for a more flavorful and healthy homemade version.

cheddar cheese, potatoes, chili, salt, pepper, cayenne, olive oil
slice the potatoes
place in a pot and cover with cold water
**Jump for more butter**