Sunday, January 1st, 2017

Recipe: pickled beets
Happy New Year! It's January first and I already feel as if we've accomplished something wonderful over here in our snowy little corner of the world. As many of you know, Neva is on a leash outside of the house 99% of the time unless she is fetching her orange tennis ball. Most of the dogs we meet are roaming free because the dogs are reliable on voice command or because their owners are irresponsible jerks (this is the truth). Off-leash dogs get lots of exercise because they can run and explore and cover so much more distance than their people do. But our sweet Neva has a nose that overrides all brain functionality and she will bolt after the first thing she smells – which is pretty much anything – and follow it until she is lost, hit by a car or snow mobile, or trampled by a moose. We keep her on leash for her safety, because we love her. And because we love her, we want her to get outside for the exercise she needs and enjoys.
In summer, Jeremy will trail run with Neva in addition to the fetch sessions, swim sessions, and long hikes. In winter, we would take her on short walks, ski tour, or backcountry ski with her. All of those are sloooow for a little rocket like Neva (except when we ski downhill). I mean, she's all legs! But last week, Jeremy and I gave her a trial run on a skate ski. Skate skiing is fast. It's like the trail running of winter. Here in Crested Butte, we have groomed Nordic trails right out of our neighborhood that are dog-friendly. Some of the trails in the Crested Butte Nordic trail system are also designated as dog-friendly, allowing ski pups access to miles of running with their ski person, as long as the pup has a Nordic pass. It costs $40 for the season for each dog, but it's incredibly nice of CB Nordic to accommodate dog owners as our other Nordic center prohibits dogs, period. The reason we test drove Neva on our neighborhood trails was to determine if we wanted to spring for a dog pass. Why waste $40 if she's a nightmare and can't have fun?

neva on her first skate ski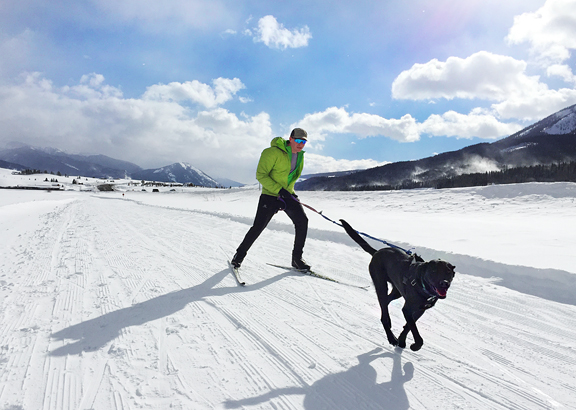 First, Neva LOVED it. Second, Jeremy wasn't dragged to his death. Third, Jeremy worked out a system with her leash, harness, and no poles. Neva can run even faster than on summer trails because Jeremy skate skis faster than he runs. And while she's full speed ahead for the first few miles, she gets into a nice groove and eventually gallops along happily. We decided to pull the trigger and get her a pass, taking her out to our favorite stretch of trail – Mike's Mile, up the Slate River Valley – which is simply beautiful and serene and fast!
neva sports her doggy nordic pass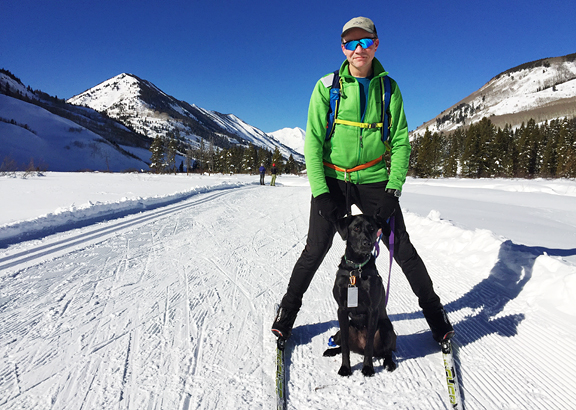 We do try to mix things up for us and for Neva. On New Year's Eve morning, we took her on an uphill ski on the mountain (yes, we're trying to train her to do that, too). She basically pulled, cried, and whined at every skier, snow mobile, ski patrol, lift chair, or leaf blowing by. But she had a blast on the way down because Neva likes to run FAST.
at the top of our uphill ski – neva promptly destroyed the headband after this photo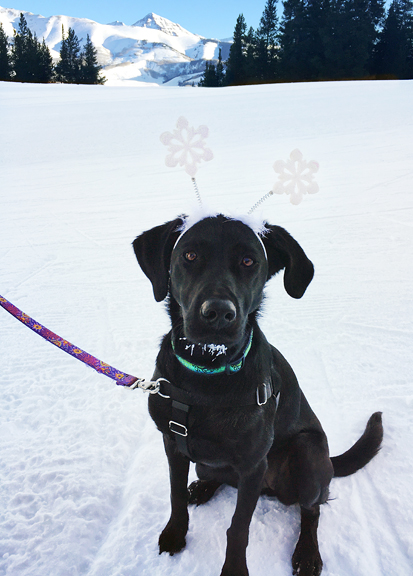 new year's eve fireworks and torchlight parade on the mountain (neva safely at home)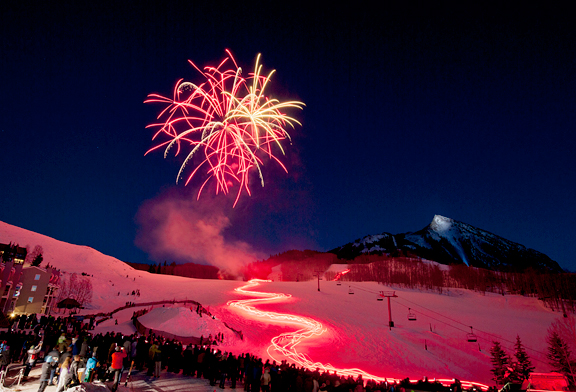 This morning we lay in bed debating what to do – ski uphill, telemark on the mountain, or skate ski? With snow in the forecast all week, this was probably our last opportunity to skate for several days, so we roped up the little doggy and headed for the Nordic trails. We never thought it would be possible to skate with Neva on leash, but she's good about not crossing the skis and she isn't trying to run away from them either (she is scared of our fat skis on the mountain). The other nice thing about skate skiing with Neva is that these skis don't have metal edges, so there's far less danger of cutting her. The things we do for our pup… but she's so worth it.
happy 2017!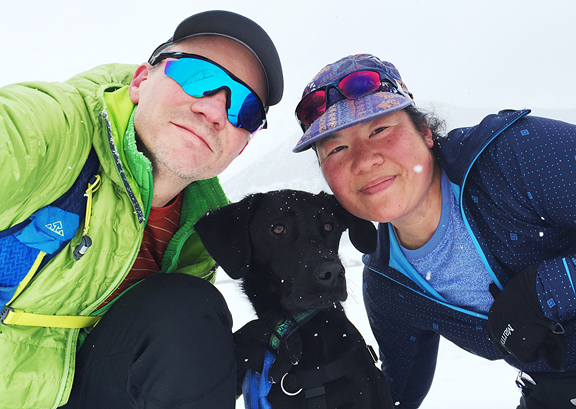 New year, fresh starts. I wasn't going to post some crazy butter-rich dish the first day of the new year. No, I'm sharing something easy, healthy, and delicious because everyone needs to eat their vegetables. Beets are one of those vegetables that I can never get enough of – they taste like corn with the texture of carrots and they are good for you. Save the greens for a nice sauté! Turn your fingers bright pink for days! Pickle the beetroot for a most delightful snack or the starring role in a salad. Yes, please!
beautiful beets
cider vinegar, olive oil, sugar, salt, pepper, dry mustard, beets
roast the beets in foil
**Jump for more butter**