Wednesday, March 2nd, 2016

Recipe: seared duck breast with huckleberry gastrique
I bet you think I think about winter all the time. Well, it's true. When I'm running up a trail in summer, I imagine skiing back down if only it were winter (or even just running straight into a snowbank to cool off). But the converse is also true. I think about summer in winter. Just the other day I took Neva for a hike on the local trails when the snow was falling at a good clip, and pointed out places on the white ground where shinleaf, pasque flowers, and other flora bloom in the months of long daylight. For me, it's all about the place and how it changes so dramatically from season to season, but still remains constant in my heart. I have noted where the best aspen stands reside. I have strong mental associations with those special locales that offer up chanterelles, porcini, wild strawberries, wild raspberries, and most of all – huckleberries. Even more so if I can ski there in winter!

neva digs this weather, and any weather for that matter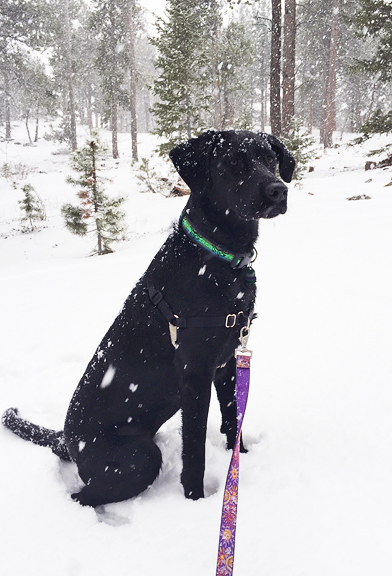 Perhaps I'm mistaking my obsession with huckleberries as "thinking about summer" despite the fact that they only make their entrance in the last half of the season. I forage for (and freeze most of) those blessed berries like crazy for a few weeks and research ways to prepare and share them for the rest of the year. This week I finally tested a seared duck and huckleberry gastrique (a sweet and sour sauce) recipe that has been on my brain for a long while and it just so happened to coincide with our wedding anniversary! Truth be told, our anniversary sneaks up on us each year. We rarely plan anything around it. On a whim, I picked Jeremy up from work and took him to The Kitchen for a light snack of oysters and sparkling rosé as a "celebration". Once home, I realized we had some leftovers from my recipe testing, so I said, "How about that for dinner?" and Jeremy nodded enthusiastically.
happy 19th anniversary!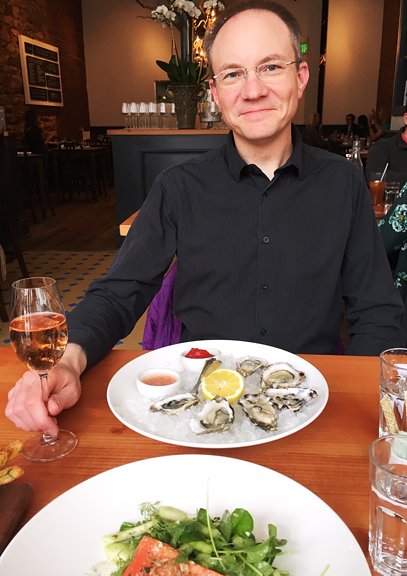 The biggest obstacle for me to make this recipe was not huckleberries, but duck. I've had a lot of trouble tracking down duck breasts in Boulder (go figure – locals, if you have a source, please share the information with me!). As luck would have it, my friends Erin and Jay gave me a couple of frozen wild duck breasts recently. They happen to have friends who like to hunt duck, but don't care to eat them (what the!??!). While that was happening, I went ahead and ordered some frozen farmed duck breasts online. So now I had two kinds of duck breasts! The farmed duck is White Pekin and the flesh is much lighter in color and milder in flavor than the deep burgundy and more "gamey" wild duck. I was psyched to compare the two. The wild duck breasts didn't come with skin, which is a bit of a shame because duck skin is the best thing ever.
duck breasts (farmed and wild), huckleberries, roast chicken stock, beef and chicken stock blend, zinfandel, sugar, red wine vinegar, salt (not pictured: black pepper)
Searing the duck is no big deal and pretty straightforward. Making the huckleberry gastrique is what takes up the bulk of the time and effort – mostly babysitting liquids as you reduce them to syrups. I used roast chicken stock instead of duck stock, because I happen to have that on hand at any given time. [I tend to save all roast chicken carcasses and bones in gallon freezer bags and make large batches of stock in my pressure cooker.] I couldn't find veal stock anywhere and decided to substitute half beef broth and half roast chicken stock instead. The things you can learn from a Google search! If you have access to huckleberries, use them. If you don't, consider ordering frozen hucks online. I don't know how well blueberries will work in place of huckleberries – probably fine, but blueberries lack the nice acidity and floral notes that make the huckleberry so special. As for the zinfandel, the original recipe appears on the Dry Creek Vineyard website and calls for the Dry Creek Heritage Zinfandel, obviously. We were really underwhelmed with the 2014, so I think you can perhaps save yourself some coin and buy a fruity, low-tannin zinfandel for the gastrique.
To start the gastrique, you essentially make a caramel syrup from the sugar and the red wine vinegar. This is what gives the gastrique its signature tart-sweet flavor which pairs so perfectly with huckleberries and duck. I reduced the vinegar-sugar mixture down to about a third of the initial volume until it was syrupy, but not too syrupy. It will thicken quite a bit when it cools.

combine the sugar and red wine vinegar
reduce until syrupy
it should be thick, but flowing when cooled
**Jump for more butter**