Monday, March 5th, 2018

Recipe: stir-fried fresh rice noodles with beef
I'm always on the lookout for a good Chinese cookbook, and I tend to make tiny mental notes when my cooking friends rave about the same book. Last month, I got an email asking if I wanted a review copy of Chinese Soul Food by Hsiao-Ching Chou. I usually decline book reviews – it's not worth my time unless it is something I am personally interested in checking out – but recalled a couple of pals had sung its praises.

chinese soul food by hsiao-ching chou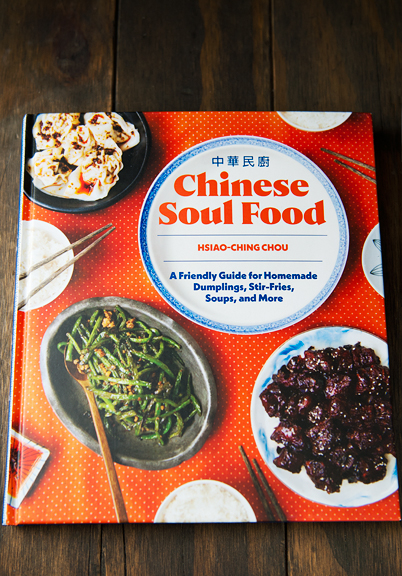 The good news is that the book is full of accessible and delicious home-style Chinese recipes and good information on ingredients, equipment, and techniques that are commonly utilized in Chinese cooking. The bad news (for me) is that I've already made and blogged some version of most of the recipes in the book. Happily, I was able to find a handful of recipes that I haven't blogged before, and settled on a noodle dish. I will choose noodles over rice any day, but this stir-fried noodles with beef uses fresh rice noodles. A delightful compromise.
you can find fresh rice noodles in the refrigerated section of better stocked asian markets
mung bean sprouts, gai lan (chinese broccoli), water, hoisin sauce, kosher salt, cornstarch, flank steak, soy sauce, vegetable oil, fresh rice noodles
In her notes, Chou says if you cannot find
gai lan
, you can substitute other leafy greens including Chinese broccoli.
Gai lan
IS Chinese broccoli, so I think that may have been an editorial oversight. It's true that you can use other leafy greens, but
gai lan
has great flavor and texture that pairs well with the chewy, delicate rice noodles. I increased the amounts of greens and sprouts and omitted the carrots because they do absolutely nothing for me. When the rice noodles are cold (they are usually refrigerated at my market), they are quite brittle. Allow them to come to room temperature or gently warm them in the microwave so they are pliable and easily separated. If you try to cook the noodles unseparated, you will have a giant blob of rice noodles with an uncooked center.
washed and chopped chinese broccoli, separated noodles, sliced beef, washed sprouts
mix the beef with soy sauce and cornstarch
stir-fry the beef
**Jump for more butter**