Being relatively new to the Boulder restaurant scene, I had polled my coworkers about good places to eat in town. Nicole immediately piped up and said, "I love Jax!" If someone else had said that, I might be take that recommendation with a grain of doubt, but not with Nicole – she is that rare being who says what she means, knows what she likes and dislikes, and doesn't waste time in between. Righto then!

jax fish house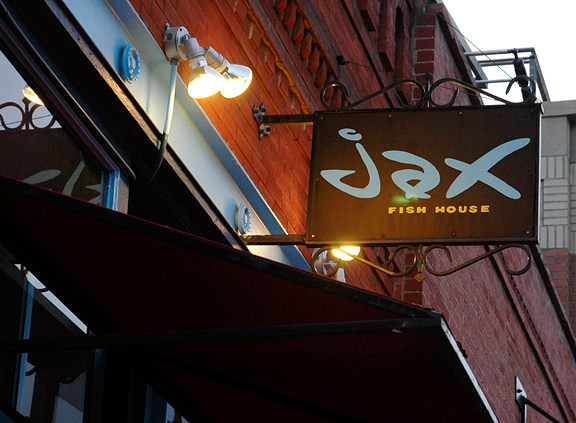 The atmosphere is that of a hoppin' joint and raw bar that started filling up around 5:30 pm for dinner and as early as 4:30 for the happy hour raw oyster bar. The interior decor consists of fish, fish, fish, and jellies. It's a casual place where the crowd quickly overpowers the volume of the music. The staff are prompt, attentive, friendly, knowledgeable, and hip. There are so many enticing choices on the menu that you would do well to go with others and sample their plates or return several times before finding a favorite.
fishes floating above at jax
One of the wait staff greeted us with a small plate of fresh and delicious french bread and soft butter as soon as we were seated (thank you, I despise chilled butter – who the hell can spread that?). I started with a strawberry lemonade for $3 which was a delightful blend of strawberry infused vodka and lemonade. It went down easily. Jax offers daily vodka infusions like strawberry, pineapple, pomegranate and pear, cucumber, and coffee to name just a few. Their cocktail list is enticing. We tried the happy hour ceviche for $3. This was a spicy tuna, pineapple ceviche served in a martini glass with two large fried wonton skins. I found the tuna to be too delicate a flavor for this combination because the large chunks of green onion were overly dominant. There was too much pineapple and not enough tuna, which may have also helped mask the presence of the raw fish. I also prefer ceviche with a little more lime – well, a lot more lime!
ceviche of spicy tuna and pineapple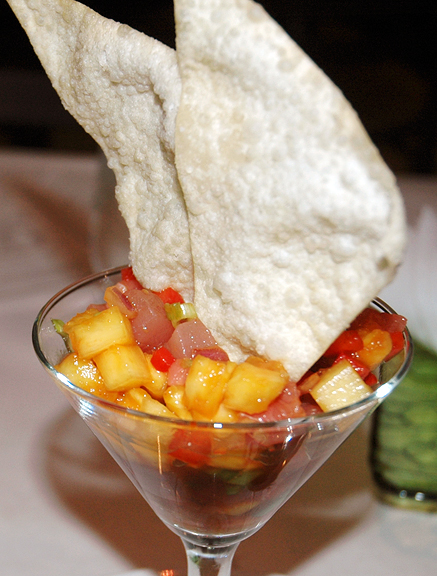 Next came the lobster tempura appetizer ($14) which won us both over with the creative presentation. It moved into first place when my teeth sunk into the delicate, sweet, and plump lobster after dipping it into the ponzu sauce. The seaweed salad and bean thread noodles were well seasoned with sesame, soy sauce, and some combination of vinegar or citrus. We emptied the contents of the little takeout box into the plate and discovered a delightful Asian salad of bok choy, cucumbers, shitakes, peppers, onions, peanuts, green beans tossed in a soy sauce based dressing.
lobster tempura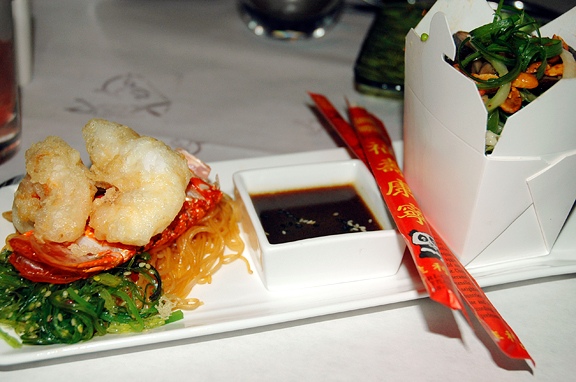 Thoughts of the lobster tempura lingered in our minds and on our palates when the large bowl of lobster and shrimp chowder arrived. I failed to indicate that we wanted a small bowl ($4) and so we were served the larger size ($7.50). This was a rich soup, chock full of fresh ingredients. I cannot stand a chowder that skimps on ingredients. I was not disappointed. The overall flavor was a subtle sweetness of corn, lobster, shrimp, and cream all mingled together. Medium chunks of potato, bits of bacon, and onion also graced this full bodied chowder.
lobster and shrimp chowder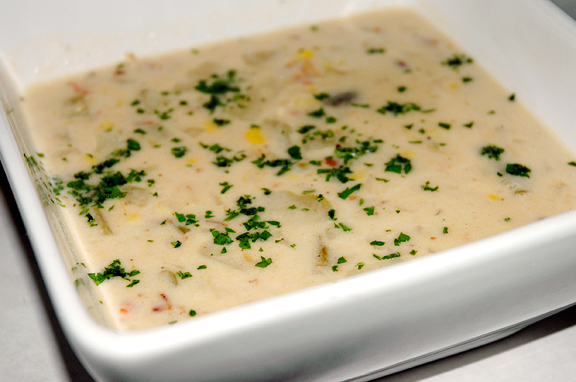 The bouillabaisse ($22) came in a deceptively shallow-looking bowl, filled with a tomato-based saffron broth with mussels, clams, and king crab in-shell poking up through the surface. Shrimp and bits of fish also swam around below the surface. The seafood was cooked to tender perfection. The saffron flavor of the broth was delightful. I think the tomato was too strong and I also did not care for the heavy mayonnaise-based sauce that was poured over the two pieces of crostini on the side. It seemed to overwhelm the delicate balance of the soup.
jax bouillabaisse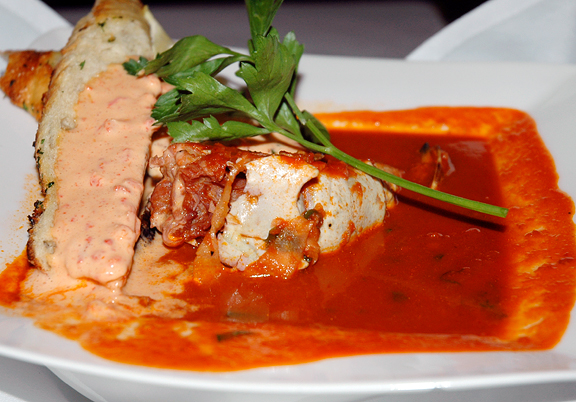 The filet of New Zealand bluenose ($19) was to die for. Our server described it as being similar to grouper. I found the bluenose to be lighter than grouper with smaller flakes, but still a firm and delicate fish. It was crusted in tempura batter dotted with black sesame, and set upon a bed of spinach, snap pea, pepper, and shitake stir fry. Next to the stir fry was a cake of coconut rice – creamy and soft in the middle, but crisp on the outside. The rice cake was just slightly sweet. Quite aromatic. All of this was set in a delicious pool of sweet and milk green curry and drizzled with what I think was sweet anago sauce. An excellent dish, coming very close, but not quite dethroning the lobster tempura for first place that evening.
new zealand bluenose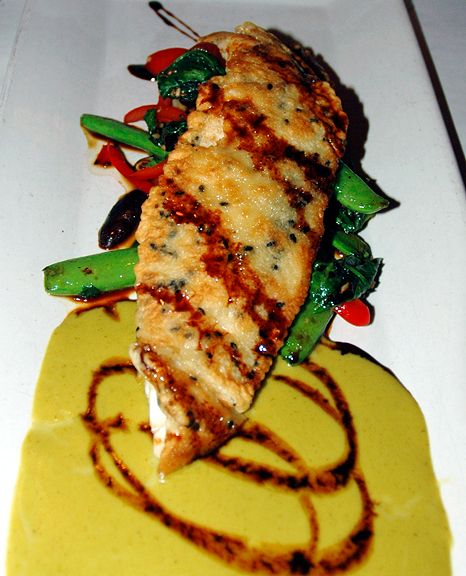 We were too full for dessert, although the dessert menu was a good read. Overall, Jax is an excellent place for fresh seafood, cooked to perfection and with creativity.
Jax Fish House
928 Pearl St.
Boulder, CO 80302
303.441.1811
December 2, 2005
Seafood
$75 including tax (not including tip) for 2 diners
Rating: 95/100 (A)